New 14-inch ID Series Pioneers New Ultra-Compact Chassis; Stylish Designs Complement Social Media and Entertainment Features
IRVINE, Calif., July 7, 2011 - Gateway today introduces the revamped style of its two lines of Gateway notebook PCs - the Gateway ID Series and Gateway NV Series. Both updated lines feature incredibly stylish designs in the most in-demand sizes, powered by the latest in mobile technology.
The Gateway ID47 Series breaks new ground by fitting its 14-inch HD widescreen back-lit LED display with full edge-to-edge glass into a chassis typically used for smaller 13.3-inch models. The Gateway NV Series features a new sleek design with a large 15.6-inch display and instant social media connections. Both feature USB 3.0 for fast transfers and device charging.
Gateway ID Series for Creativity, Mobility with an Attitude The fashionable look and feel of the new Gateway ID Series is the perfect complement for today's on-the-go savvy computer user. The sculpted edges, elegant blend of finishes and sleek form factor of the ID Series will inspire creativity for digital media creation and enjoyment as well as fluid social networking. It comes in two designs - the "Infinity Blue Liquid" design resembles tranquil water; while the "Brushed Platinum" design conveys an industrial modern feel. Both designs come in an aluminum cover with a stainless steel laser-engraved logo.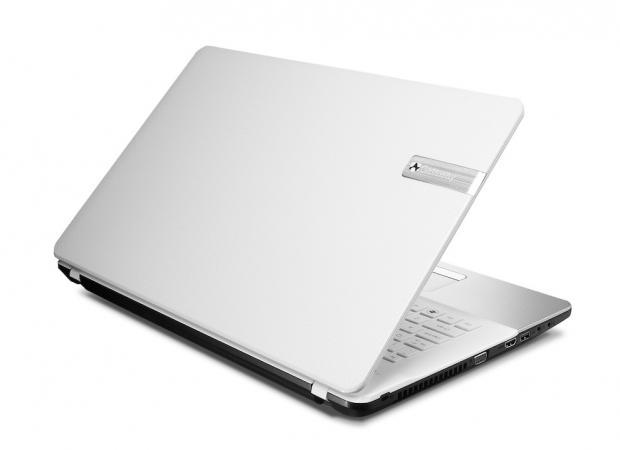 The Gateway ID47 Series' ultra slim design and 14-inch HD widescreen LED display with eye-catching sleek edge-to-edge glass delivers maximum enjoyment and usefulness in an ultra-compact design. In addition to the larger display, customers will be able to enjoy an integrated DVD drive.
Customer usability was top-of-mind when designing the comfortable keyboard and wrapped edgeless touchpad, which is more than 20 percent larger than the previous generation, giving customers more room to navigate and use multi-gestures.
In addition, the Gateway ID Series gives quick access to digital media with capacitive touch media keys for easy control of features such as play, forward, pause and volume control. The Gateway ID Series boasts High-Definition audio support with Dolby Home Theater v4 Audio that delivers crisp and clear sound through its full-length mesh speaker bar.
All of these capabilities fit into the ID Series' slim chassis that measures only 12.97(W) x 8.95(D) x 0.85-1.13(H) inches, so it is comfortable to carry and fits easily into a briefcase or book bag. The notebooks are powered by second-generation Intel(r) Core(tm) processors.
"Notebook PCs are a constant companion in today's mobile savvy culture, as we transition through recreation and productivity," said Steve Smith, senior product marketing manager, for Gateway notebooks. "The stylish new Gateway ID and Gateway NV Series deliver very useful extras for entertainment and social networking and a big boost in performance wrapped up in elegant designs. They are ideal for customers who want the latest in chic, modern style and don't want to compromise in performance."
NV Series Elegant Design with Cinematic Entertainment The Gateway NV Series balances exceptional performance for everyday HD entertainment and seamless social networking with a large gorgeous 15.6-inch HD widescreen LED-backlit display for cinematic widescreen viewing of movies, games, websites and more.
The new Gateway NV Series models feature an elegant and modern design that is ideal for today's style-conscious mobile PC users. The system features either a subtle geometric pattern or the digital wave pattern on the matte chassis lid. The interior is clean and uncluttered with a comfortable chiclet-style keyboard and corresponding pattern on the palm rest.
The new NV57 Series provides excellent mobile performance with second-generation Intel(r) Core(tm) processors with Intel HD Graphics 3000 with 128MB of dedicated system memory. The new NV55 Series provides great performance while maximizing battery-life with new AMD A-Series processors.
USB 3.0 for Speedy Transfers and Additional Connections The new Gateway ID and Gateway NV lines both feature a USB 3.0 port, which works up to 10 times faster than the standard USB 2.0, a 25GB HD movie can be transferred in just over a minute. The USB 3.0 port will even charge USB devices when asleep, in hibernation mode, or when turned off completely. With the notebook acting as a charging station, consumers can leave behind a plethora of consumer electronic power adapters, such as those used to charge phones, MP3 players and digital cameras. In addition to the USB 3.0 port, both feature USB 2.0 ports.
Both the ID Series and NV Series are ideal for entertainment and productivity, providing all the ports customers need to connect to their devices such as camcorders and digital cameras, printers and more. They feature HDMI 1080p output, so customers can use a convenient single-cable connection to deliver HD video and audio to an external source. The notebooks feature media card readers that accept popular media cards.
Social Networking, Connectivity and Long Battery Life Both the new Gateway ID and Gateway NV Series deliver instant social networking with quick-use hot keys that gives customers quick access to their social networks on Facebook, YouTube and Flickr. Pushing the button launches an integrated widget that lets customers easily make updates to their own sites by posting information, images and video, while also enjoying updated status feeds of friends, family and colleagues.
Keeping up on social networks is incredibly easy with the connectivity options in the new Gateway ID and Gateway NV Series. The notebook PCs come with integrated 802.11b/g/n Wi-Fi Certified for a fast, reliable connection to hotspots and wireless networks. Plus, the integrated HD 1.3MP webcam provides top-quality audio and video recording for crisp and clear high-resolution images for online chats and capturing video and photos.
In addition to providing superb performance, PowerSmart Technology provides extra long battery uptime. The Gateway ID Series can provide up to 8 hours of battery life, while the Gateway NV Series provides up to 4 hours of battery life. In addition, customers will enjoy a long battery lifecycle of up to four years(1).
Back-up with a Single Touch
Since today's mobile-savvy customers want to take their videos, photos and other files with them, the Gateway ID and Gateway NV Series notebooks feature MyBackup functionality. With it, customers can protect, save and migrate data, so they can keep enjoying all their important files.
Select Models in Canada Deliver Enhanced Performance with NVIDIA Optimus Graphics In Canada, the Gateway ID Series is also available with a large 15.6-inch HD widescreen LED backlit display. In addition, select models of the new Gateway ID Series feature NVIDIA Optimus graphics technology, which intelligently balances the notebook's use of dedicated NVIDIA GeForce GT graphics or integrated Intel HD graphics, depending on the task its performing. The notebooks will use NVIDIA GeForce GT dedicated graphics while running video, games and multimedia applications to ensure visuals are incredibly crisp and clear. Alternately, the notebook will switch to integrated Intel HD graphics when less demanding programs are being used, such as browsing websites, or working on documents and spreadsheets. As a result, the NVIDIA Optimus technology ensures that battery life is extended for longer enjoyment.(1)
Software, Pricing and Availability
The new Gateway ID and Gateway NV Series notebooks are ready to use right out of the box with Windows(r) Home 7 as well as useful extras including Nook for PC, Adobe Flash Player 10.1, Adobe Reader, WildTangent Demo Games, Skype, Norton Online Backup, and Microsoft(r) Office 2010 (preloaded for online purchase).
The Gateway ID notebooks are available at retailers now in the United States and Canada at Manufacturer's Suggested Retail Prices (MSRP) starting at $699.99 US and $799.00 CAD. The Gateway NV notebooks are available at retailers now in the United States at MSRPs starting at
$529.99 US and $499.00 CAD.
Gateway Limited Warranty, Service and Support The Gateway ID Series notebook PCs are backed by a one year warranty.(2) Gateway's commitment to quality and reliability is evident in its award-winning line of PCs as well as in its exceptional service and support programs. In addition to the company's standard limited warranty options,, its extensive online support center helps customers maximize their PC investment; it gives them easy access to customer support representatives and information on important issues such as warranties, technical issues and upgrading.(3)
About Gateway
Since its founding in 1985, Irvine, Calif.-based Gateway has been a technology pioneer, offering stylish, user-friendly products and world-class customer service. Gateway is a wholly owned subsidiary of Acer Inc., the world's second-largest PC company.(4) Through collaboration with suppliers, the company strives to design environmentally friendly products and establish a green supply chain.
See http://www.gateway.com for more information.
Last updated: Apr 7, 2020 at 12:05 pm CDT