- New high-performance line takes full advantage of SATA 6Gb/s technology -
FREMONT, California - June 30th, 2011 - Corsair®, a worldwide designer and supplier of high-performance components to the PC gaming hardware market, today announced the first shipments of the Force Series™ GT line of solid-state drives.
The new Force Series GT is designed for enthusiasts who demand the fastest performance available. It uses the new SandForce SF-2280 SSD Processor, with native support for SATA 6Gb/s (SATA 3), combined with ONFI synchronous flash memory. Force Series GT SSDs deliver outstanding read/write performance and significantly faster system response, boot times, and application load times than SATA 2 solid-state drives, with out-of-box performance of up to 85K Random Write IOPS, read speeds of up to 555 MB/s, and write speeds of up to 525 MB/s. The use of synchronous flash memory makes the Force GT Series particularly adept at reading and writing non-compressible data, such as video and music files.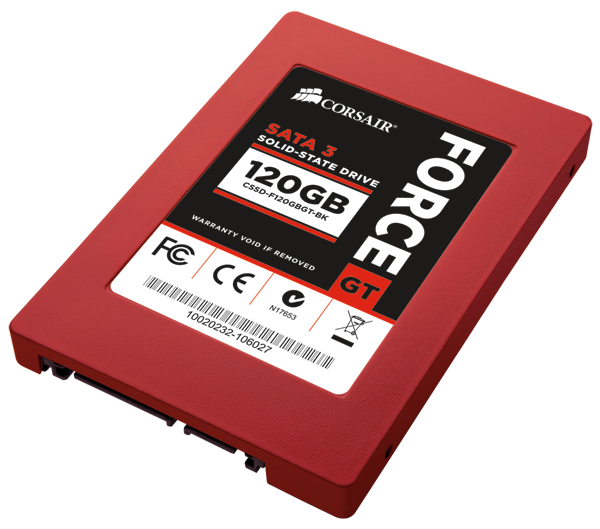 All Force Series GT models are also backward compatible with SATA 2, and include an easy-to-use 3.5" adapter for use in both notebook and desktop PCs.
"With the rapid adoption of systems with SATA 3 support, enthusiasts are demanding SSDs that can push the limit of SATA 3 bandwidth," said Thi La, Vice President of Memory Products at Corsair. "The new Force Series GT line delivers amazing speed under the most demanding conditions, making them ideal for high-performance systems."
Images can be downloaded here.
Force Series GT SSDs are currently shipping to Corsair's network of authorized distributors and retailers worldwide and will be available in July at a US suggested retail price of $149 USD for the 60GB model and $279 USD for the 120GB model. Note that stated capacities are unformatted and actual capacities will vary depending on the formatting and operating system used. For more information on Force Series GT solid-state drives, please visit the Corsair web site.
About Corsair
Founded in 1994, Corsair supplies high performance products purchased primarily by PC gaming enthusiasts who build their own PCs or buy pre-assembled customized systems. The company's award-winning products include DRAM memory modules, USB flash drives, power supply units, solid-state drives, PC headsets and speaker systems, cooling systems and computer cases.
Last updated: Apr 7, 2020 at 12:05 pm CDT