SanDisk Corporation, a global leader in flash memory storage solutions, today expanded its Lightning(R) Enterprise Flash Drive (EFD) family with six new 2.5-inch 6Gb SAS (6 gigabits per second Serial Attached SCSI) models. The Lightning products are part of the new Enterprise Storage Solutions (ESS) division that SanDisk created following its recent acquisition of Pliant Technology.
The new drives include three SLC (single-level cell) flash drives with capacities of 100 gigabytes (GB), 200GB and 400GB; and three MLC (multi-level cell) flash drives with capacities of 200GB, 400GB and 800GB. The new drives extend SanDisk's position as the industry leader in EFD performance, performance predictability and reliability. SanDisk also confirmed today that HP has qualified and integrated the new Lightning 6Gb SAS drives into its HP Qualified storage drive offerings.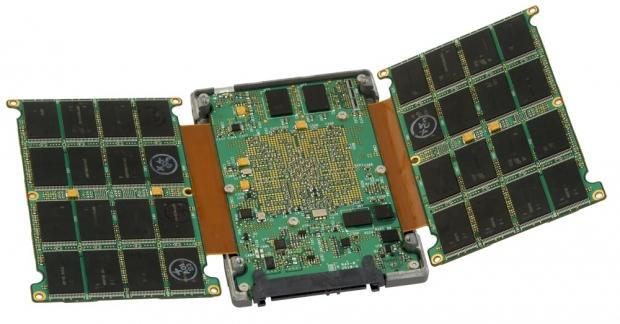 "With ever-increasing demands being placed on cloud and enterprise IT, our OEM partners require data storage solutions that don't just keep up, but help their customers stay ahead," said Greg Goelz, vice president and general manager, Enterprise Storage Solutions (ESS), SanDisk. "Our new Lightning drives advance SanDisk's industry-leading enterprise-class performance, reliability and endurance. Meeting HP's stringent qualification requirements underscores our current leadership with EFDs as well as our commitment to continue to deliver breakthrough capabilities."
The six new SanDisk Lightning 6Gb SAS EFDs provide IT managers and OEMs with new levels of system design flexibility. The SLC- and MLC-based models feature a new Single Firmware Binary technology that reduces customer qualification time and speeds time-to-market. These models feature Write Through Logging (WTL) technology, a superior solution that delivers high performance at low queue depths to avoid volatility that would otherwise require battery back-up or supercapacitors for protection. WTL operation is completely transparent to the host and maintains a predictable performance profile across different workloads.
SanDisk's enterprise-class Lightning products are integrated into HP Qualified storage drives and available to customers on HP ProLiant servers, providing benefits that include performance, reliability and efficiency for storage applications. The ProLiant DL380 G7 server has been named one of the top 10 systems in terms of price and performance by the Transaction Processing Performance Council and is included on the TPC-C list.
Today's announcement of the six new 6Gb SAS drives extends the Lighting family to 11 models, making it the industry's broadest offering of SAS SSD solutions to fit a wide range of solutions. All SanDisk Lightning EFDs are based on an advanced controller design and software architecture that delivers dramatic I/O performance and reliability improvements over competing SSD technology and low energy consumption in demanding enterprise computing environments.
The Lightning EFD Product Family
SanDisk Lightning products are available in a 2.5-inch and 3.5-inch standard form factor with capacities ranging from 100GB to 800GB. The new drives are designed to integrate seamlessly into existing SAS enterprise storage and server systems without the need for modifications to existing applications, operating systems or infrastructure. For real-world workloads, Lightning drives perform 2X to 4X better than the competition and maintain very low response times under the heaviest of workloads. This enables system designers to build high-performance RAID storage solutions with multi-terabyte capacities using fewer Lightning drives.
SanDisk Lightning EFDs Feature:
• Predictable performance profile across enterprise workloads with mixed read/write workloads, stability over time and during peak demands
• Full duplex, fully independent, dual-port SAS interface for high performance and data reliability; wide port support for integrators needing to aggregate bandwidth from both SAS ports for the highest levels of throughput
• Write cache-less design eliminating data loss on power interruptions, delivering consistent performance across a wide range of workloads
• Complete end-to-end data protection and reliability features: including background Patrol Read and Memory Reclaim, extended ECC, triple-redundant ECC protected metadata, and support for the T10 Data Integrity Field (DIF) standard
New Lightning 6Gb SAS EFD Availability
The new SanDisk Lightning 6Gb SAS models are being delivered for OEM qualification, and will be available via authorized channel partners in Q3, 2011.
Last updated: Apr 7, 2020 at 12:04 pm CDT