Panasonic Toughbook today announced its plans to deliver an enterprise-grade Android tablet to the market. The new Toughbook tablet will address a gap in the market for a rugged enterprise tablet designed with security, functionality and real-world reliability in mind. By delivering this purpose-built business solution, the new Toughbook tablet will appeal to a wide variety of users, including mission critical government personnel, highly mobile field forces, SMB's looking for a competitive edge, security conscious IT managers and bottom-line focused CFOs.
From a functionality standpoint, the Toughbook tablet will avoid the typical glossy screens-found on current tablet offerings-that are all but unreadable in outdoor environments. The Toughbook tablet will include a high brightness, daylight viewable screen so that mobile workers, in markets like field service, home healthcare and public safety, can easily see critical data and operate the device regardless of lighting conditions. The new tablet will also include an active stylus, allowing mobile workers in sales, customer service and mobile point-of-sale environments to capture signatures on the device's 10.1" XGA multi-touch display.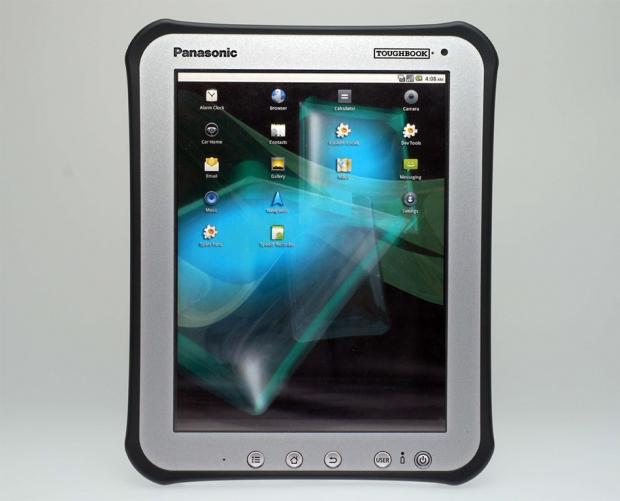 Enterprise-class mobile computing requires a heightened level of device security that is not currently available in today's tablet market. To address this need, the new Toughbook tablet is being designed with security embedded at the hardware level.
The Toughbook brand is widely known for its reliability and durability, even in extreme operating environments. The new Toughbook tablet will be no exception, offering durability and ingress protection consistent with its other fully-rugged devices.
Other features to be offered on the Toughbook tablet include satellite-based GPS, full-shift battery life, professional-grade accessories and optional embedded 3G mobile broadband connectivity.
Combined with mobile broadband connectivity, the Android-based Toughbook tablet will offer quick access to applications and data that could significantly improve a field worker's ability to make critical decisions that enhance customer service, improve response times and deliver results.
Last updated: Apr 7, 2020 at 12:04 pm CDT