iChill CPU Coolers are the ultimate thermal solution for the heat, especially in summer, that can damage your PC's CPU (main brain). A CPU that constantly runs too hot will have a shorter life than one that runs cooler, and could also cause problems like random shutdowns and the loss of important data. iChill brings you the X5, XXX and Storm CPU thermal solution!
When looking for ways to cool a PC's CPU, the first thing to do is reduce the overall temperature inside the PC's case, because that's where the CPU "lives." The best way to do that is to create an airflow that brings in cool air from the lower front of the case and exhausts hot air out the back of the case. After all, the fan that cools your PC's CPU can't work very well if it's blowing hot air onto your CPU. Don't make the mistake of thinking that your power supply's fan will cool your entire PC, like it did in older PCs.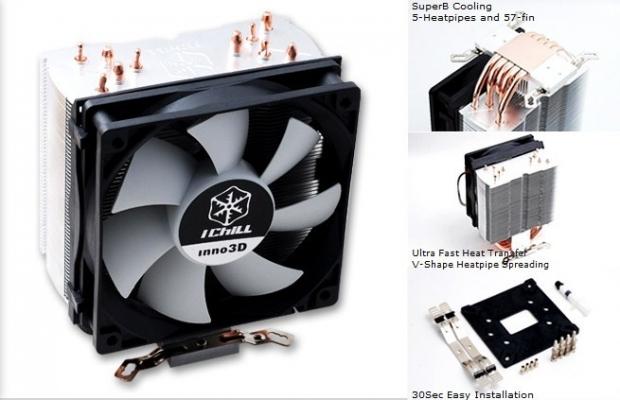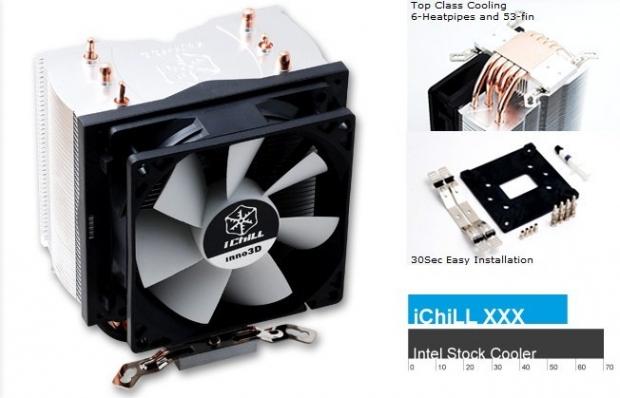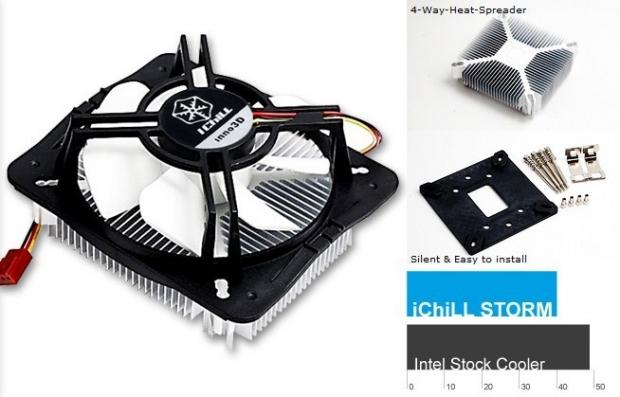 A power supply fan is designed to keep the power supply cool, not circulate fresh air throughout an entire PC. Add to that the fact that modern high-speed CPUs, hard drives, graphics cards, sound cards, and other components generate much more heat than slower, older components. The result is that modern PCs often need 2 or more fans in addition to their power supply fan, to draw cool, fresh room air into the PC and to exhaust hot air out of it.
Once you have established a system for good airflow through the PC's case, it's time to maximize the cooling of your CPU, and this is where the iChill CPU thermal solution comes into the equation. iChill CPU Coolers specifications ranges from ultra fast heat transfer with V-Shape heatpipe spreading to superB cooling, sporting 5 heatpipes and 55 fins. With over 40,00 hours of life with F.D.B bearing type, PWM supported and a 6 year warranty it will surely keep your PC iChill cool for the summer, and many summers after that.
iChill X5
Specifications:
• Cooler Dimensions: 158 x 124 x 82mm
• Fan Size: 120 mm
• Weight: 804g
• Fan Speed: 800-1500RPM
• Max. Air Flow: 38CFM
• Noise: 15-29dBA
• Fluid Dynamic Bearing
• Life Time: 40000Hrs
Applications:
• Intel: Core i7 / Core i5 / Socket 775 up to 200W
• AMD: Socket AM3 / AM2+ / 939 up to 200W
iChill XXX
Specifications:
• Cooler Dimensions: 127 x 110 x 87mm
• Fan Size: 90 mm
• Weight: 556g
• Fan Speed: 900-2000RPM
• Max. Air Flow: 35CFM
• Noise: 15-29dBA
• Fluid Dynamic Bearing Life Time: 40000Hrs
Applications
• Intel: Core i7 / Core i5 / Socket 775 up to 120W
• AMD: Socket AM3 / AM2+ / 939 up to 120W
iChill Storm
Specifications:
• Cooler Dimensions: 120 x 94 x 58mm
• Fan Size: 90 mm
• Weight: 410g
• Fan Speed: 2500RPM
• Max. Air Flow: 40CFM
• Noise: 19dBA
• Fluid Dynamic Bearing Life Time: 40000Hrs
Applications
• Intel: Core i7 / Core i5 / Socket 775 up to 90W
• AMD: Socket AM3 / AM2+ / 939 up to 90W
Last updated: Apr 7, 2020 at 12:04 pm CDT