Consumer/Prosumer SSD Available in Capacities up to 480GB Starting at $229.99

Provide Incredible Performance at an Exceptional Price -- Unmatched Data Reliability & Longevity

Highest Quality Components Including Tier 1/Grade A NAND

Makes any Mac or PC "Faster in a Flash" with Sustained Data Rates over 500MB/s
June 15, 2011 Woodstock, IL -- Other World Computing (OWC®) http://www.macsales.com, a leading zero emissions Mac® and PC technology company, today announced the OWC Mercury Electra™ 6G SSD, a new consumer/prosumer targeted SandForce Driven™ SATA Revision 3.0 6Gb/s Solid State Drive. Designed and built in the USA utilizing the highest quality components available, including Tier 1/Grade A NAND, the OWC Mercury Electra delivers 556MB/s read and 523MB/s write sustained data rates for over 7X faster performance than a standard factory hard drive found in Mac and PC computers.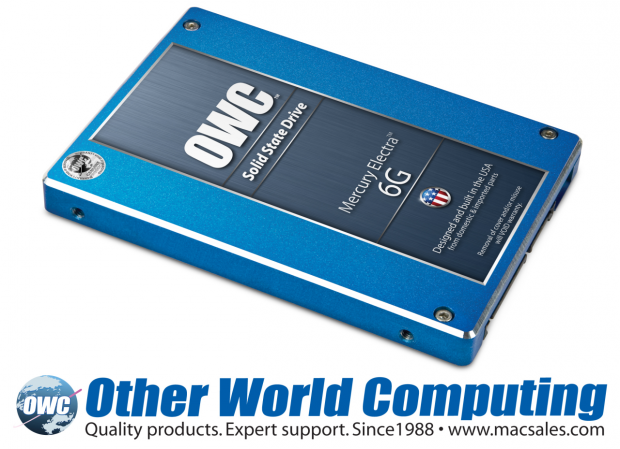 Three Consumer/Prosumer Models Offered Starting At $229.99
Offering the SATA Revision 3.0 performance of a 6G SSD, but aggressively priced like a SATA Revision 2.0 3G SSD, the OWC Mercury Electra 6G is ideal for high speed personal computing, home office environments, gaming, and production workstations, can be incorporated into a RAID 1 or SPAN configuration, and is available for immediate ordering in three capacity sizes:
• 120GB OWC Mercury Electra 6G with Tier 1/Grade A NAND $229.99 MSRP
• 240GB OWC Mercury Electra 6G with Tier 1/Grade A NAND $479.99 MSRP
• 480GB OWC Mercury Electra 6G with Tier 1/Grade A NAND $929.99 MSRP
For more information on the OWC Mercury Electra 6G SSD, including reseller inquiries, visit:
http://eshop.macsales.com/shop/SSD/OWC/Mercury_Electra_6G/
For more information on the complete OWC Mercury SSD line, including expert reviews and user comments, visit: http://eshop.macsales.com/shop/SSD/OWC/
Maximizes Any Computer's 3G And 6G Data Bus
Whether a consumer has a Mac or PC with the SATA Revision 2.0 (3Gb/s) data bus or computer with the latest SATA Revision 3.0 (6Gb/s) interface, the OWC Mercury Electra 6G SSD is able to deliver near bus saturating speed when installed in either interface. OWC benchmark testing confirms the Mercury Electra 6G SSD delivers up to 284MB/s sustained reads and 268MB/s writes in the "3G's" 300MB/s max speed bus. Taking advantage of "6G's" interface's maximum bandwidth of 600MB/s, the Mercury Electra 6G SSD provides up to 556MB/s sustained reads and 523MB/s writes.
Doesn't Slow Down With Use Like Ordinary SSDs
Ordinary SSDs offer fast read/write performance during first initial uses, but can then experience significant write speed degradation over repeated, long-term usage. Independent simulation tests by leading drive performance experts confirm OWC Mercury SSDs' ultra-efficient block management, wear leveling technologies, and real-time data redundancies enable incredibly high performance and extreme reliability, both of which are maintained over long-term intensive use.
Up To 100X Greater Data Protection
Speed doesn't matter if it can compromise data integrity. Thanks to SandForce® DuraClass™ technology, the OWC Mercury Electra 6G is able to provide up to 100X higher data protection than provided by ordinary SSDs as well as leading enterprise class hard disk drives. By combining the highest level of Error Correction Code (ECC) and SandForce RAISE™ (Redundant Array of Independent Silicon Elements) technology along with 7% over provisioning reserve/overhead flash allocation, the OWC Mercury Electra 6G provides RAID like data protection and reliability in a single drive application.
Risk-Free 30-Day Satisfaction Guarantee
To ensure the highest level of customer satisfaction and confidence, OWC is extending its renowned 30-Day Money Back Guarantee on its SSD line to include the new Mercury Electra 6G SSD. If a consumer is not completely satisfied with an OWC Mercury Electra 6G SSD for any reason, they simply need to contact OWC's award-winning Customer Service department - which offers 24/7 Live Chat support - to request a full, hassle-free refund.
"We're very excited to continue the evolution of our solid state drive line with this new Electra model," said Larry O'Connor, Founder and CEO, Other World Computing. "We're being very aggressive in pricing this model to appeal to consumers and prosumers who have yet to make the SSD switch. With over 500MB/s of highly reliable performance, the OWC Mercury Electra 6G helps Mac and PC owners make their machines quickly and easily 'faster in a flash'".
"The new SandForce Driven 6Gb/s Mercury Electra line, using our latest SF-2000 SSD Processors, is well suited for further expanding the deployment of SSDs into both the Mac and PC environments," said Kent Smith, Sr. Director of Product Marketing for SandForce. "SandForce is already in volume production with these latest award-winning SSD Processors and fully prepared to support this new OWC product line expansion."
Expands Most Comprehensive SSD Line For Macs And PCs
The new Mercury Electra 6G SSD joins OWC's existing line of performance leading, world speed record breaking Mercury Pro SSDs for nearly every Mac and PC produced over the past decade available in capacities from 40GB to 480GB starting from $99.97:
• OWC Mercury Aura™ Pro
First and only high performance SandForce processor based SSD for 2008-2010 Apple MacBook® Air models for up to 4X the maximum factory available SSD capacity; as well as a SandForce processor based model specifically for use with netbook/subnotebook computers that use an internal 1.8" sized SATA drive.
• OWC Mercury Legacy™ Pro
First and only SandForce processor based IDE/ATA SSDs available for pre-Intel PowerPC based Mac and PC notebook/laptop and desktop/tower computers.
• OWC Mercury EXTREME™ Pro 3G SSD
High performance 2.5" SATA Revision 2.0 SSD with up to 285MB/s sustained reads and 275MB/s writes for demanding portable and desktop tower use.
• OWC Mercury EXTREME Pro 3G RE SSD
RAID-Ready Enhanced performance with 28% over-provisioning for data centers, network operation centers, and dedicated RAID installations. Used to set overclocking world record: http://eshop.macsales.com/NewsRoom/Framework.cfm?page=PR/ssdre_032411.html
• OWC Mercury EXTREME Pro 6G SSD
Ultra high performance 2.5" SATA Revision 3.0 SSD with over 500MB/s sustained data rates and up to 479MB/s incompressible data rates for nearly SATA 3.0 bus saturating speed for prosumers and A/V, photography, and graphic production professionals.
About Other World Computing (OWC)
Other World Computing (OWC) has been providing quality hardware products and support to the computer industry since 1988 and features one of the largest online catalogs of computer, iPod®, iPhone®, and iPad® enhancement products through its e-commerce portal www.macsales.com. As a member of the Apple Developer Program, OWC also provides extensive US based technical support for Macintosh users around the world as well as Internet access via www.fastermac.net and www.owc.net
Last updated: Apr 7, 2020 at 12:04 pm CDT