Lenovo today announced two new additions to the ThinkServer family - the TS130 and the TS430 - that give small-to-medium businesses and corporate branch offices a performance boost and powerful manageability tools. A perfect fit for businesses with few or no IT staff, they feature the latest Intel Xeon processor technology, are loaded with remote management tools and offer easy setup.
Lenovo also announced the ThinkCentre M71e, an entry-level desktop to give mainstream corporate offices the technologies they need to conduct business productively, securely and reliably every day. The desktop features 2nd generation Intel Core i processors, rapid boot up and security authentication features.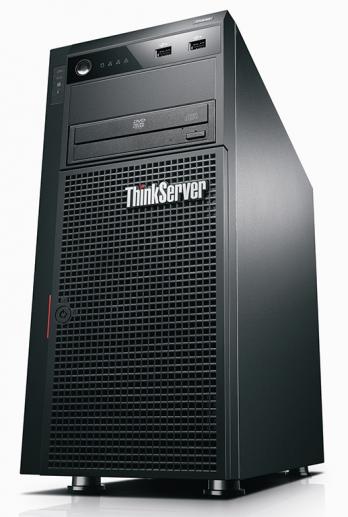 "The ThinkServer TS430 changes the game for small business servers," said Tom Ribble, director of worldwide marketing, ThinkServer Business Unit, Lenovo. "With outstanding storage scalability, premium SAS RAID and redundant power choices, the ThinkServer TS430 delivers all these features and world-class quality at unmatched prices."
Feature-Rich Servers at Unbeatable Value
The single processor TS130 and TS430 leverage the latest Intel Xeon E3-1200 processors, which offer up to 30 percent better performance than previous generations. Ideal for front-office, retail or back office deployment, these whisper-quiet servers boast powerful RAID and storage configurations to meet the needs of growing businesses. They also offer a compelling solution for managed service providers, thanks to their sophisticated remote manageability features that efficiently manage customers' networks. Fewer onsite visits results in improved productivity and lower costs.
Equipped with new Intel AMT 7.0 manageability tools, the ThinkServer TS130 comes with enterprise-class storage choices, onboard RAID and outstanding remote manageability features that are ideal for small businesses who demand true server-grade quality without a budget-busting price tag.
The all-new, highly scalable ThinkServer TS430 sets a new standard in its class with options for an enormous 16 TB of hot swap storage capacity, powerful SAS RAID data protection and redundant power choices for peace of mind. It suits demanding environments requiring high capacity, high performance and 24x7 uptime. The rack-able TS430 also offers front-side drive access and a sophisticated ThinkServer Management Module with available iKVM. The ThinkServer TS430 makes a perfect solution for customers who demand a powerful, scalable server to meet their growing business needs.
"The Lenovo ThinkServer TS130 delivers capabilities that small business owners need in a server by including features like the latest Intel Active Management Technology -- an outstanding remote manageability solution," said Boyd Davis, VP and GM of Data Center Group Marketing at Intel. "By combining rich features like AMT, Lenovo makes it easy for small businesses to implement server technology."
The ThinkServers TS130 and TS430 offer the total server solution with a broad array of ThinkServer Ready components that address specific business needs. Customers can choose data backup options like LTO and RDX tape storage, UPS for network protection as well as battery backup. Each are tested and certified for the ThinkServer from industry leaders TrippLite and Tandberg Data. In addition, users have access to a variety of popular Microsoft solutions such as Small Business Server 2011 Essentials or Standard - a perfect choice for value-conscious customers who demand networking, security, PC backup choices and email and database capabilities.
ThinkCentre M71e - When Productivity & Security Count
The ThinkCentre M71e desktop caters to large companies seeking a PC to keep its workforce productive and secure. Imagine starting the desktop and beginning work in less than 15 seconds. With Lenovo's Enhanced Experience 2.0 capability, office professionals can do just that. Add to this capability, processors up to Intel Core i7, and employees can now work the way they want to, multitasking among several applications. Additionally, the desktop's View Management Utility and Password Manager Software to manage passwords for encrypted drives give workers a securable and reliable machine. The desktop also supports up to four individual monitors for working with lots of visual information. The desktop also meets ENERGY STAR guidelines and U.S. EPEAT Gold specifications1 to help reduce costs through efficient power consumption.
Pricing and Availability
Models of the ThinkServer TS130 and TS430 server and ThinkCentre M71e desktop start at $499, $699 and $529, respectively, through business partners and www.lenovo.com. The servers will be available at the end of June, and the ThinkCentre M71e desktop will be available beginning in July.
Last updated: Apr 7, 2020 at 12:04 pm CDT