WD Nomad(TM) Rugged Case Protects My Passport® Hard Drives for Outdoor Photographers, Adventurers and Other Road Warriors IRVINE, Calif., June 14, 2011 /PRNewswire via COMTEX/ --
WD® (NYSE: WDC), the world's leader in external storage solutions, today introduced the WD Nomad(TM) rugged case (
photos
), a durable case designed to protect My Passport® portable hard drives from drops as high as seven feet, moisture and spills and other mishaps associated with active, on-the-go lifestyles, such as those of outdoor photographers, adventurers and other road warriors.
The WD Nomad rugged case features a polycarbonate exterior and shock-absorbing elastomer cushion inside. It conforms to strict military standards (MIL-STD-810G) for ruggedness. The heavy-duty latch and silicon liner seal out dirt, dust, and moisture.
The WD Nomad rugged case is ideal for hikers, business travelers, outdoor and travel photographers, and others who professionally or personally bring their digital equipment and assets with them. The uniquely functional design includes an opening for the drive's USB connector, so the user can access the drive while it remains in the case. In addition, a molded exterior ring allows users to attach a carabiner, cable, or nylon strap for more convenient accessibility.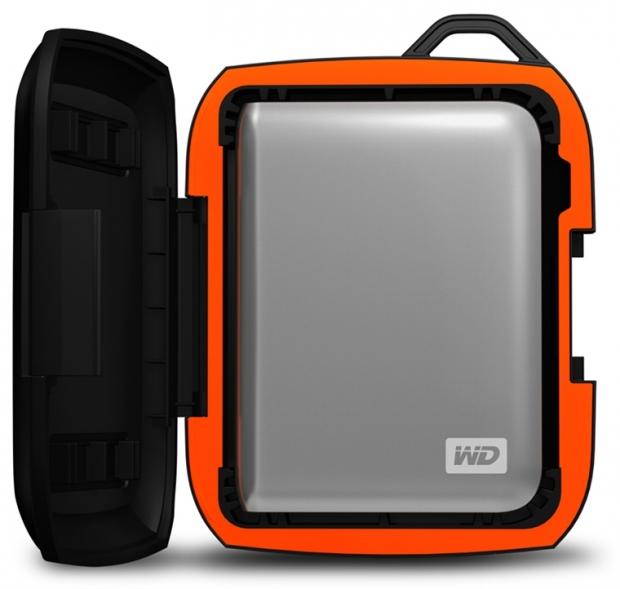 "Consumers and professionals are more mobile than ever before and portable hard drives allow them to take their videos, photos and other files everywhere they go," said Dale Pistilli, vice president of marketing for WD's branded products group. "As the worldwide leader in external storage, WD understands how to protect data on hard drives, and we have put the same commitment to quality into the design of this rugged case. With the My Passport drive and WD Nomad rugged case, owners can rest assured they are doing everything they can to protect their digital lives whether they're traveling for fun or doing their daily commute."
"My work as an adventure photographer/filmmaker takes me to remote locations all over the planet. I have always depended upon the ultra-reliable My Passport portable hard drives to back-up my images and video, but Mother Nature has often made this task a bit of a challenge," said Bruce Dorn of the Directors Guild of America and WD Creative Master. "I am often in the wettest, nastiest, grimiest, and most remote locations, so I am thrilled by the new WD Nomad rugged case. Tough as a vault, these handsome new cases are now a permanent part of my kit."
The new WD Nomad rugged case is compatible with My Passport drives including My Passport Essential(TM), My Passport Essential SE, My Passport Elite(TM), My Passport for Mac®, and My Passport SE for Mac.
The WD Nomad rugged case is available now at WD's online store (www.wdstore.com) and select U.S. retailers. MSRP is $29.95 USD.
About WD
WD, one of the storage industry's pioneers and long-time leaders, provides products and services for people and organizations that collect, manage and use digital information. The company designs and produces reliable, high-performance hard drives and solid state drives that keep users' data accessible and secure from loss. Its advanced technologies are configured into applications for client and enterprise computing, embedded systems and consumer electronics, as well as its own consumer storage and home entertainment products.
Last updated: Apr 7, 2020 at 12:04 pm CDT