Acer America Corp. announced today that the slim and stylish Acer Revo RL100 media center is now available at leading technology retailers in the United States. A digital hub for a den or living room, it connects to a flat-screen TV and comes with a dual-mode wireless touchpad/keyboard for smooth navigation from the comfort of the couch. There are two models available, including one with Blu-ray.
Outfitted with Acer clear.fi, the Acer RL100 automatically interconnects all Acer home-based and mobile devices, including smartphones, making it easy to consolidate and share HD multimedia throughout the household. This means users can access HD movies and personal content from any Acer device in the house for enjoying on a big screen TV.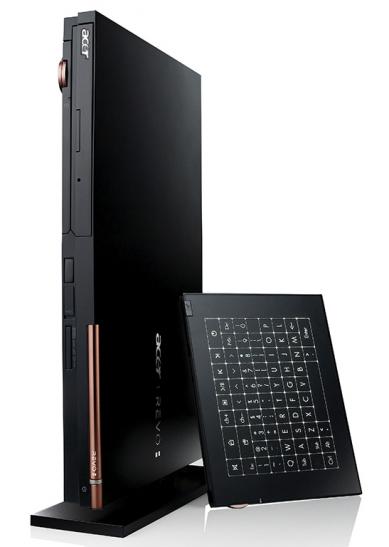 This unique system won both Best Choice and Design & Innovation awards at Computex 2011 in Taipei. The Best Choice awards jury selects Taiwan's best information and communications technologies (ICT) products in the overseas market each year. The Design & Innovation awards, organized in cooperation with the world-leading industrial design institution iF Design, honors products showcasing excellence and originality in construction.
Available in a very slim, low profile black chassis that's about the size of a game console, the Acer Revo RL100 measures just 1.0 inches (H) x 11.81 inches (W) x 7.09 inches (L). It's sleek, understated and flexible with the ability to lay flat or upright on a stand depending on the user's preference. It connects directly to a TV via an HDMI port and seamlessly integrates with a high-definition 5.1 channel surround sound system. Enhanced with Dolby Home Theater v3, the Acer Revo RL100 provides an immersive, crystal-clear audio experience.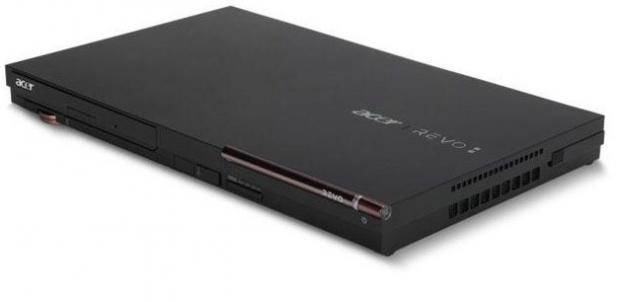 The smooth acceleration for HD home cinema features next generation NVIDIA ION discrete graphics with support for 1080p/720p HD video playback and Web HD Flash acceleration. Equipped with an AMD Athlon II K325 processor (1.30 GHz), a 750GB SATA hard drive(1) and 4GB DDR3 SDRAM, the Acer Revo RL100 has plenty of power and storage for cinematic entertainment.
Flexible Dual-Mode Wireless Touchpad/Keyboard
The Acer Revo RL100 comes with a dual-mode wireless touchpad/keyboard. With the press of a toggle button, the wireless multi-gesture touchpad transforms between a back-lit full-function keyboard and a simple touch-based mouse. The keyboard is about the size of an index card that enables a large amount of text to be typed using fingers or thumbs.
A feature called Free Touch provides screen navigation, cursor movement and application control with the use of just one finger. Using two-finger pivot motion, PDF files can be rotated 90 degrees. Users can also pinch for zooming and browse photos, web pages, documents or media albums back and forth by sliding three fingers horizontally and vertically.
Acer clear.fi: Simple Sharing, Set-Up, Search and Scalability
The integrated Acer clear.fi media sharing system is based on the concept that it's easier if all personal multimedia content is integrated into a single system with a common interface. clear.fi works by automatically detecting the clear.fi-enabled devices connected to the wireless home network and allowing digital content stored on these to be shared with other devices leveraging the same interface. clear.fi is Digital Living Network Alliance (DLNA) compatible, allowing users to access media on DLNA-capable devices such as network attached storage (NAS), Microsoft Xbox 360, Playstation 3, some digital cameras and cell phones. Highly scalable, all Acer-branded consumer devices now have clear.fi embedded and can instantly join the wireless home network to share stored multimedia.
Connectivity and Software
Acer Revo RL100 has three USB 2.0 ports (one in front, two in back) for connection to a wide gamut of digital devices. The integrated multi-in-one card reader supports MultiMediaCard (MMC), Secure Digital (SD) Card, xD-Picture Card and Memory Stick. It also offers an optical S/PDIF port for connecting to an external home theater audio system and both wired and wireless connections to the internet via integrated 802.11b/g/n wireless and an Ethernet port.
Practical software includes Microsoft Windows 7 Home Premium, Microsoft Office Starter 2010, Adobe Acrobat Reader, Adobe Flash Player, Acer Recovery Management, Nero Essentials, Clear.fi, eSobi, Wild Tangent Zone and NetFlix.
Pricing, Availability and Warranty
The new Acer Revo RL100 is available now at leading retailers. It comes with a one year parts and labor limited warranty and toll-free technical support. The Acer Revo RL100-U1002 has a manufacturer's suggested retail price (MSRP) of $499.99 and the Acer Revo RL100-UR20P with a Blu-ray drive has a MSRP of $569.99.
Last updated: Apr 7, 2020 at 12:04 pm CDT