The New Diablo® III Mouse and Headset Feature "Demon Red" Illuminated Designs and Technology Specifically Tailored for this Mouse-Intensive, Dark Fantasy Game
LOS ANGELES - E3 - JUNE 6, 2011 - As the game industry waits for E3 to kick off this week, SteelSeries, a leading manufacturer of professional gaming peripherals today announced a co-branding partnership with Blizzard Entertainment on the SteelSeries Diablo® III family of products. The Diablo III Mouse, Diablo III Headset, and two Diablo III QcK mousepads - Witch Doctor and Barbarian Editions, were co-designed with technology, hardware, and illumination features that support the look and feel of the third installment of Blizzard Entertainment's highly anticipated, mouse-intensive Diablo series.
"The level of excitement for the Diablo III release is massive. When the opportunity was presented to partner up with Blizzard for a new family of co-branded peripherals, we knew that they had to be engineered for this particular type of gameplay by being both durable and able to bring out the Diablo III theme onto a player's desktop," said Kim Rom, SteelSeries CMO. "The mouse offers both simplicity for new players and unprecedented durability that will support the series' distinctive mouse-driven gameplay, while the headset optimizes the high, spine-chilling snarls of otherworldly creatures and the booming lows of a barbarian battle cry. Together, the headset and mouse will help immerse players into the game through their extended comfort, compelling designs and high performance."
SteelSeries Diablo III Mouse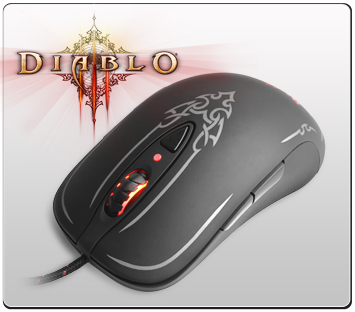 The fast-paced, dark fantasy world of Diablo III features high-velocity gameplay that benefits from quick response times and a weapon that will withstand the punishment of rapid clicks. The SteelSeries Diablo III Mouse features a laser sensor with up to 5,000 CPI, 7 ergonomically positioned buttons that can survive relentless punishment with a guaranteed lifespan of 10 million clicks - more than 3x the click lifespan of an average mouse. The mouse's ambidextrous shape and comfortable matte grip coating makes it a versatile option for all gaming grip styles.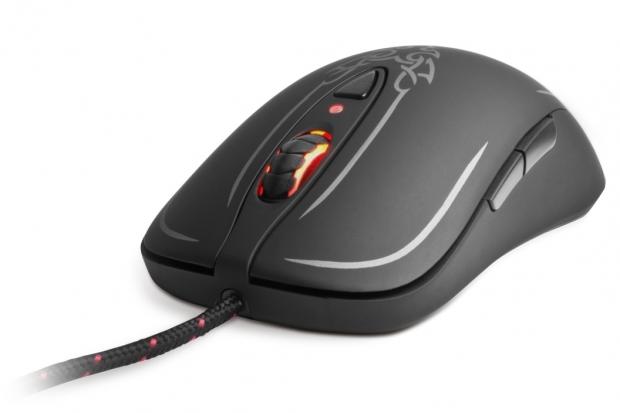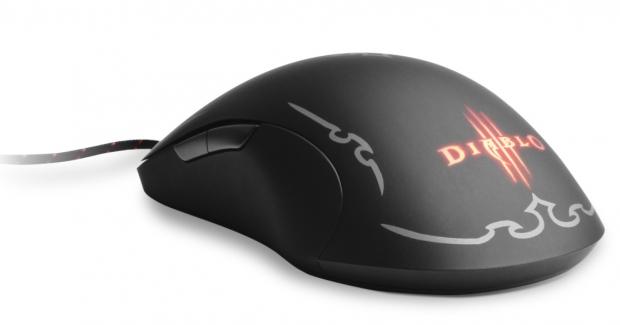 In true Diablo III style, the SteelSeries mouse is enhanced with "demon red" illumination in 3 areas on the mouse - the scroll wheel, CPI Indicator, and Diablo III logo. You can also customize the logo with ON/OFF illumination and 3 levels of pulsation. While the mouse hardware was built for battle, including the double-braided nylon cord and gold-plated USB connection, the software and setting capabilities are easy to navigate through preloaded, SteelSeries Engine software. Compatible with both Mac® and PC, the software offers players a drag & drop Diablo III-themed interface with pre-defined skills and game commands. All 7 mouse buttons can also be quickly remapped for a personalized set-up. The SteelSeries Diablo® III Mouse's MSRP will be $69.99 / €69.99.
SteelSeries Diablo III Headset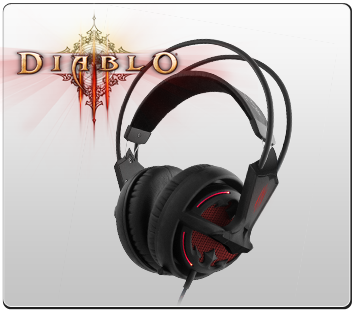 Whether it's the faint clinks of loot dropping or the booming bass of demon spawn meeting their end, Diablo III is a game that must be heard. The SteelSeries Diablo III Headset has a lightweight, over-the-head suspension design that provides players with closed-type, leather earcups keeping the outside world out and the game sound in. Its earcups comfortably surround the ear and reproduce an optimized soundscape through 50mm driver units that are meant to immerse a player even further into the Burning Hells.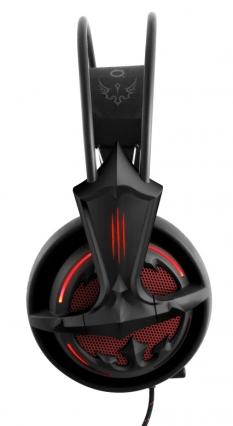 Its matte-black finish replicates the SteelSeries Diablo III Mouse theme by featuring a unique, knot-work design on the headband, together with "demon red" illumination. The first illuminated headset designed by SteelSeries, it will offer players ON/OFF illumination and 3 levels of pulsation options. Coming from a total of 18 LED lights throughout the headset, the red glow is seen in two places each on the right and left side - surrounding the edge of each ear cup, and the three Diablo slashes.
The headset will also include SteelSeries' signature, uni-directional retractable microphone-system for clear voice communication through Battle.net®. Its in-line volume and mute controls are found on a durable, double-braided nylon cord with a USB connector. For players looking for more control over their sound settings, the headset is also powered through SteelSeries Engine software, where they will find microphone volume and equalizer settings via an easy-to-navigate Diablo III interface. The Headset MSRP will be $119.99 / €119.99.
SteelSeries Diablo III Mousepads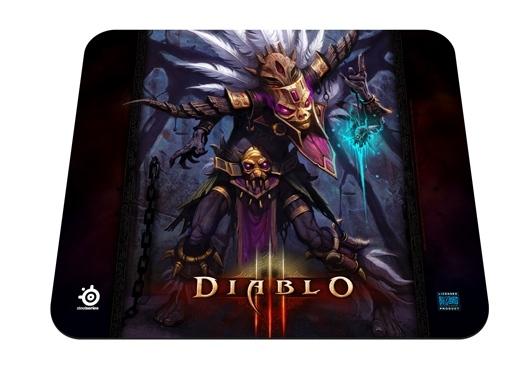 To accompany the SteelSeries Diablo III Mouse, players can choose between two high-quality, cloth mousepad designs. The SteelSeries award-winning QcK mousepads have a non-slip rubber base to keep the mousepad from moving and an optimized texture surface featuring Diablo III artwork. The SteelSeries Diablo III QcK Barbarian Edition includes official character artwork of the barbarian class along with the deep reds and earthy tones associated with this brutal fighter. The SteelSeries Diablo III QcK Witch Doctor Edition summons the cooler, green and purple tones that are linked to this new and powerful summoning character. Each will have a $14.99 / €14.99 MSRP.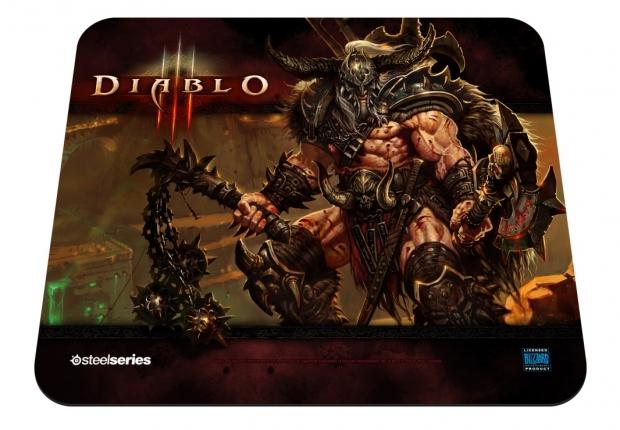 Available at game launch, the SteelSeries Diablo III family of products will be available online and in select retail locations. To catch hands-on previews of the new products, and news about all things SteelSeries and Diablo III check out http://steelseries.com/diablo3. Be sure to follow SteelSeries to stay up to date throughout E3 at http://steelseries.com as well as on Facebook, Twitter, and Tumblr.
About SteelSeries
SteelSeries is a leading manufacturer of gaming peripherals and accessories, including headsets, keyboards, mice, software and gaming surfaces. SteelSeries has been on the forefront of professional gaming gear since its inception in 2001, thanks to continued innovation and product development in cooperation with leading professional gamers. All SteelSeries products are developed in cooperation with professional gamers to ensure optimum performance and durability. SteelSeries supports the growth of competitive gaming and electronic sports through professional team sponsorships and community support all over the world. For more information, please visit www.SteelSeries.com.
About Blizzard Entertainment, Inc.
Best known for blockbuster hits including World of Warcraft® and the Warcraft®, StarCraft®, and Diablo® franchises, Blizzard Entertainment, Inc. (www.blizzard.com), a division of Activision Blizzard (NASDAQ: ATVI), is a premier developer and publisher of entertainment software renowned for creating some of the industry's most critically acclaimed games. Blizzard Entertainment's track record includes thirteen #1-selling games and multiple Game of the Year awards. The company's online-gaming service, Battle.net®, is one of the largest in the world, with millions of active players.
Last updated: Apr 7, 2020 at 12:04 pm CDT