SAN JOSE, CA (June 6, 2011) -- Addonics Technologies (http://www.addonics.com) today announced the Blu-Ray/DVD DigiCopier, an advanced duplicator that lets you make copies of Blu-Ray, DVD or CD discs (that are not copy protected) without a computer.
Equipped with the latest high-speed SATA optical drives, the new product duplicates media by simply by placing the master disc into a source drive on top of the unit and a blank media into another drive.
Among its applications are education, corporate training, audio/video publishing, and marketing/advertising.
Four models are available and offer simultaneous disc duplication from one to 11 copies. Each model is equipped with a user-friendly LCM control module that provides a rich set of configuration choices.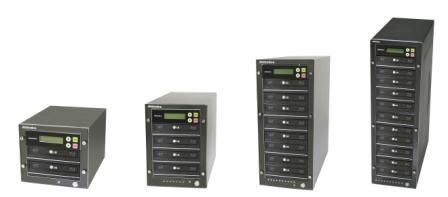 An eSATA port is also available on the back of each DigiCopier for attaching an optional external eSATA hard drive. With the addition of an eSATA hard drive, CD or DVD, images can be copied onto the hard drive. By using the hard drive as a source, all optical drives in the DigiCopier can be used as the target drive, further increasing copying capacity. For example, with the 1:1 DigiCopier, instead of making only one copy at a time, you can double the volume by making two copies at a time when using the hard drive as the image source.
Other features of the stand-alone appliance include an user-friendly interface and intuitive message display on the LCM control module, a high speed 10X Blu-Ray / 22X SATA DVD target drive for maximum throughput, and a copy-per-cycle that completes in thirty minutes or less for a 25G Blu-Ray disc source image when copying onto 2X Blu-Ray media.
List prices range from $459 for the product that will duplicate one Blu-Ray, DVD or CD disc to $2,359 for a version that will make 11 duplicate copies.
For more information, visit: http://www.addonics.com/products/duplicator_burner/brdvd_digicopier.asp
Addonics Technologies Inc. designs, manufactures, and markets a broad line of internal/external and mobile storage products, which are available through www.shopaddonics.com, major catalog companies, resellers, VARs and distributors, including Amazon.com, PC Connection, CDW, Buy.com, Provantage.com, Insight, and Ingram Micro.
All products/company names are either trademarks or trade names of their respective holders.
Last updated: Apr 7, 2020 at 12:04 pm CDT