ASUS, a global leader in the new digital era, today announced a number of exciting new products for high-performance gaming PCs to further expand its Republic of Gamers (ROG) range. Established five years ago, ROG is committed to developing the ultimate high-performance hardware.
"The ROG philosophy is based on the core ideals of class-leading performance, innovative user controls and gamer-focused design," said ASUS Vice President and GM of Worldwide Sales, Jackie Hsu. The products announced today not only hold true to these ideals, but also introduce a host of new innovations that push high-end PC performance to even greater extremes.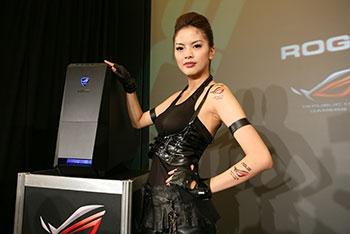 Designed for hardcore gamers who want to be able to play anywhere, the G74Sx gaming notebook uses a second generation Intel Core processor and NVIDIA GTX 560M graphics for outstanding performance. Gamers looking for similar instant action in desktop form are well-served by the new CG8565 Gaming System with a Z68 chipset-based motherboard, stealth fighter-inspired case design and a host of easy-to-use overclocking features.
Also unveiled today are three new ROG motherboards based on the latest Intel and AMD chipsets that bring new levels of performance for PC builders. The Maximus IV GENE-Z and Maximus IV Extreme-Z both use the new Intel Z68 chipset to deliver unparalleled gaming and overclocking features, while the Crosshair V Formula is the first AMD 990FX-based motherboard supporting both 3-Way SLI and CrossFireX, and with a graphical UEFI BIOS. Two new NVIDIA GTX 580-based graphics cards, the MATRIX GTX580 and MARS II, further expand the ROG range.
Recognizing that a successful gaming experience depends on more than just what is inside a PC, ROG now also includes new PC peripherals. The first peripheral in the ROG family is the Vulcan ANC gaming headset with active noise-cancelling technology, which ensures an immersive audio experience, whatever the gaming environment. Combine all the great ROG hardware and attach it to an ASUS VG278H 3D 27-inch display that is designed for gaming, and gamers can become immersed in the latest titles.
Zane Ball, General Manager for Desktops at Intel, said: "We've had great success in the gaming market and we appreciate that a vendor like ASUS is devoted to this field. Brands such as ROG demonstrate the best practice for gaming and overclocking PC hardware, and the two new motherboards and one desktop with Intel Z68-based chipsets announced today offer exciting new performance-turning opportunities."
Over the past five years, ROG products have been recognized by a number of renowned industrial design awards bodies such as iF Design, Red Dot and Good Design and have been well received by power PC users worldwide. Over 1,200 awards from the media are testament to the quality and innovation delivered by ROG and its commitment to delivering total domination in the high-performance PC field. Rest assured that ROG will continue to annihilate records and crush the competition for years to come.
"We are keen to provide the most innovative and powerful solutions for our users, which is why ROG has a team dedicated to researching and developing ideas that go well beyond what you might expect," said Jackie Hsu.
ROG G74Sx 3D gaming notebook
The G74Sx 3D is a high-performance notebook for gamers who don't want to drag a full PC around to gaming events, or do not have room at home for a full desktop set up. The G74Sw 3D has the clean, angular lines of a stealth fighter and the power to match, thanks to the latest second generation Intel Core quad-core i5 and i7 processors. NVIDIA GTX 560M graphics ensure blistering frame rates at native resolutions and high detail settings on the 17-inch Full HD screen, while NVIDIA 3D Vision offers players a new dimension to games and movies.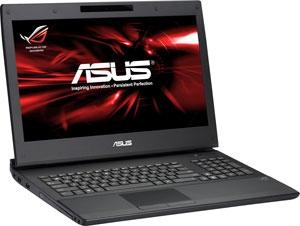 Powerful it may be, but the G74Sx 3D always keeps its cool with an innovative thermal design that uses twin fans to draw cool air from the front of the case and twin rear exhausts to expel warm air out the back. The gamer-friendly keyboard brings an extra edge to the playing field, too. The metallic base is does not flex, the backlit keys ensure frags in dimly lit environments and a large cursor key cluster sits away from the main keyboard to minimize mistyped keys in the midst of the action.
ROG Crosshair V Formula series motherboard
The Crosshair V Formula with AMD 990FX chipset-based is not only the first ROG motherboard with AM3+ CPU support, but it is also the first ever AMD motherboard to support both 3-Way NVDIA SLI and AMD CrossFireX as well as offer UEFI BIOS. The usual selection of advanced ROG overclocking tools are on hand too, while onboard SupremeFX X-Fi 2 delivers the most intense and immersive gaming audio experience. Better still, high-performance Intel Ethernet with GameFirst technology creates a LAN connection that is fast enough to keep up with the pace of modern multiplayer gaming over an internet connection that is also used being used for other online tasks.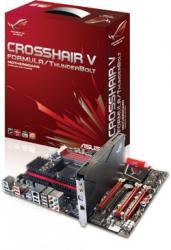 To really make it the ultimate gaming motherboard, the Crosshair V Formula/ThunderBolt also comes with the ThunderBolt audio/LAN combo expansion card. The class-leading XONAR audio technology provides dramatically better sound quality than any standard audio card, while its built-in headphone amplifier with adjustable impedance settings make it perfect for getting the drop on the gaming competition. The Crosshair V Formula/Thunderbolt also incorporates the award-winning Bigfoot Networks Killer E2100 networking platform with exclusive Advanced Stream Detect technology that automatically classifies and prioritizes traffic for online games, HD video and audio streams for optimum performance, even when performing these tasks simultaneously. The Crosshair V Formula motherboard is available now; the Crosshair V Formula/ThunderBolt will be available for purchase in the end of July.
ROG Maximus IV Extreme-Z and ROG Maximus IV GENE-Z motherboards
Although both are based on the new Intel Z68 chipset, the ROG Maximus IV Extreme-Z and ROG Maximus IV GENE-Z offer two different takes on the high-performance motherboard.
The Maximus IV Extreme-Z is the latest model in a long line of ROG motherboards designed from the ground up to be an overclocking enthusiast's dream come true. The Maximus IV GENE-Z takes the successful ROG motherboard recipe and shrinks it to a microATX form factor that will appeal to speed freaks and case modders alike. Support for both NVIDIA SLI and AMD CrossFireX offers the ultimate in flexibility for 3D graphics, but that does not mean the integrated GPU features of the Intel Z68 chipset are wasted. Full support for the Lucid® Virtu graphics virtualization engine means the Maximus IV GENE-Z can seamlessly switch between discrete and integrated graphics on-the-fly as the application demands, while SupremeFX X-Fi 2 audio and Intel Ethernet with GameFirst ensure a first-class gaming experience.
ROG MATRIX GTX 580 graphics card
The ROG MATRIX GTX 580 is a high-performance graphics card for enthusiasts and gamers who demand the very best with NVIDIA GeForce GTX 580 GPU. Enhanced TweakIt, ProbeIt and Safe Mode overclocking utilities offer unparalleled hardware adjustment, while GPU Tweak provides instant settings adjustment and monitoring. The 19-Phase Super Alloy Power technology provides greater overclocking headroom with enhanced power efficiency and component durability.
ASUS DirectCU II technology also provides extremely effective cooling by combining copper heatpipes that fix in direct contact with the GPU core with two huge sound-dampened fans that suck through 600% more air and achieving 20% cooler operation than the reference design.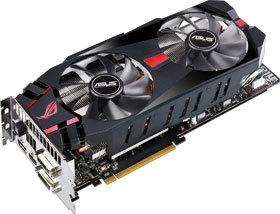 ROG MARS II graphics card
The ROG MARS II/2DIS/3GD5 elevates extreme high-performance gaming to greater heights. The dual NVIDIA GeForce GTX 580 design ensures phenomenally high frame rates in the latest games at maxed-out detail settings, while the all-new GPU Tweak overclocking utility with real-time clock and fan speed adjustment offers unparalleled tweaking opportunities. 19-Phase Super Alloy Power technology and Direct CU dual-fan cooling makes for cool, rock-solid operation too.
ROG CG8565 Gaming System
With its stealth fighter-inspired design, the angular, matte black exterior of the ROG CG8565 Gaming System belies the power that lurks within. Built for gamers who want a ready-made high-end gaming experience, this stunning desktop PC delivers awe-inspiring amounts of power, thanks to the second generation Intel Core i7 processor with Z68 chipset and NVIDIA GeForce GTX 590 GPU.
Overclocking features form an integral part of this competition-destroying desktop, with a one-touch 'Level Up' button built directly into the chassis for an instant real-time speed boost. Exclusive ASUS DIGI+ VRM technology and innovative thermal management ensures that the ROG CG8565 stays cool even when it is pushed to the limit, while the ASUS Xonar sound card provides immersive gaming audio.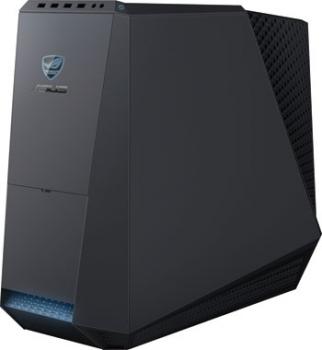 ROG Vulcan ANC Headset
The ROG Vulcan ANC Gaming Headset completes the new range of Republic of Gamers accessories. It is perfect for gaming in noisy environments, or just those times when external speakers are not appropriate. The Vulcan ANC Gaming Headset uses active noise cancelling technology specially designed to filter external noise from both its high-quality speakers and boom microphone. The result is crystal-clear sound quality for music, movies, games and even VoIP calls.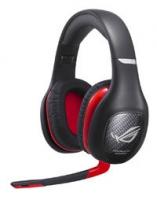 ASUS VG278 3D 27" desktop monitor
Recognizing that a successful gaming experience depends on more than just what is inside a PC; ASUS has also introduced a new range of PC peripherals to enhance that experience with the VG278H 3D display. Designed for gamers who want complete immersion in the latest titles, this 27-inch LED backlit screen has full support for 3D graphics cards via HDMI 1.4 and a built-in infrared emitter for a wire-free desktop.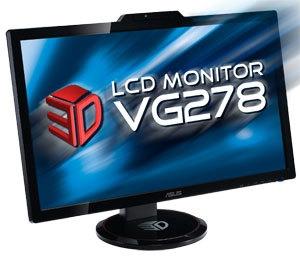 Last updated: Apr 7, 2020 at 12:04 pm CDT