Elitegroup Computer Systems (ECS), the world's leading motherboard, graphics card, barebone system, and notebook manufacturer is pleased to announce the latest AMD AM3+ support motherboard - ECS Black Extreme A990FXM-A. Coming with unbelievable gaming power, ECS Black Extreme A990FXM-A is going to bring about the storm of next gaming generation.
ECS Black Extreme A990FXM-A motherboard support 8-Core AMD CPU with AM3+ socket enables users to experience the most-core CPU of next generation. ECS Black Extreme A990FXM-A also supports 3-way AMD ATI CrossFireX and even 3-way NVIDIA SLI technology to support NVIDIA graphic cards to empower graphics ability firing up your gaming accelerating speed. Moreover, ECS A990FXM-A supports DDR3 2133(OC) with two sets of dual channel architecture up to 32GB.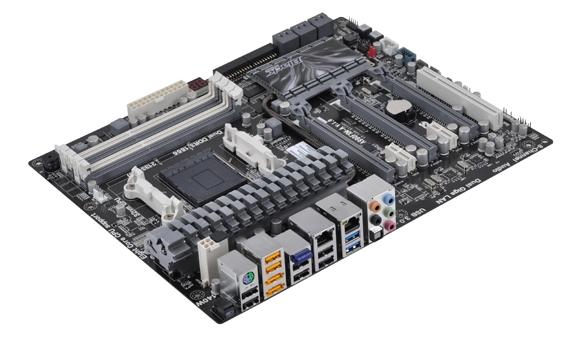 QoolTech IV, Chameleon in Your PC
ECS Black Extreme A990FXM-A motherboard adopts the cutting-edge and exclusive technology-QoolTech IV, using unique thermochromic dyes on heat sink which changes colors to identify the temperature and including three heat pipes and innovative welding technology, which help to achieve more heat dissipation up to 20% efficiency.
The thermochromic heat sink with unique dyes responds to heat and transfers between solid and liquid forms to display different color, which is the first time the technology is adopted in the industry. Three heat pipes with welding technology help to connect the bottom of cooler with heat pipe; in this way, the heat will directly transfer to heat pipe without the intermediary of a piece of copper to achieve higher heat dissipation.
Black Extreme Equipment, Power up Every Possibility
Beside AM3+ support strength and QoolTechTM IV technology, as one of Black Extreme series, A990FXM-A motherboard of course would be equipped with the best equipments to maximize its power. 3333 technology includes 15ìgold contact, USB 3.0, SATA 3.0, eSATA 3.0, which not only enhances better system and plug-in stability but also provides the fastest transportation technology. ECS Black Extreme A990FXM-A also supplies Bluetooth on board to lift up the transportation ability of your PC in wireless strength.
Last updated: Apr 7, 2020 at 12:04 pm CDT