MSI, the global leading brand in motherboards, announced the upgraded version of IM-QM67 which is powered by the 2nd generation Intel Core processor family, Intel Sandy Bridge processor, and Intel QM67 Express chipset. IM-QM67 supports multiple display outputs in a mini-ITX form factor board and utilizes Intel's 32nm process technology products to give the competitive advantage through the performance enhancements and scalability.
MSI debuts the IM-QM67 based on the Intel Core i7, Core i5 and Core i3 processors to offer lower power consumption and enhanced graphic and media performance. The IM-QM67 is equipped with dual-channel DDR3 1067/1333/1600 MHz memory up to a maximum of 16 GB in dual SO-DIMM slots and is ideally suited to applications requiring multi-tasking capabilities, high computing power. This combination of CPU, chipset and memory provides the MSI IM-QM67 with improved power efficiency and high-speed data transfer for performance-driven industrial applications, such as industrial control, automation, digital signage, kiosk, POS, gaming, ATM and medical electronic.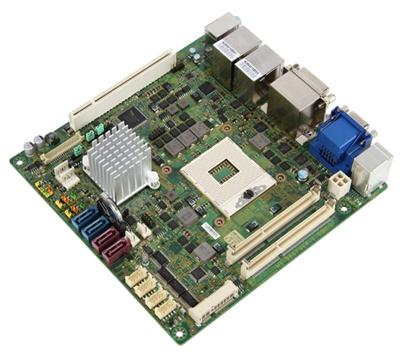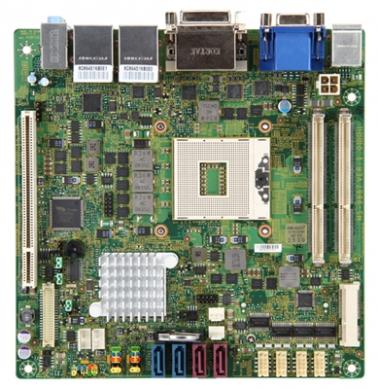 MSI IM-QM67 supports multi-display outputs, including Dual Channel 18/24 bit LVDS, VGA, dual DVI, HDMI and dual display configurations. It has great 3D graphics performance and support for up to 1080P high definition video. IM-QM67 also features support for Intel® Active Management Technology 7.0 which enables remote networking manageability for easy monitoring and communication between the server and end user, offering optimized system management capability, even if the power is off. IM-QM67 supports Direct-X 10 shader model 4.0, and full hardware acceleration. MSI IM-QM67 forsook the traditional ATX power source for a DC power adapter input. IM-QM67 provides a wide range of storage, I/O, and expansion connectivity, including 4 COM ports, 8 USB ports, and 4 SATA ports. Expansion takes the form of one CFast slot, one PCI slot and one Mini-PCIe slot. The MSI IM-QM67 is revolutionizing the traditional definition of a low power and cost-effective motherboard.
Features and specifications listed for the MSI IM-QM67 include:
- Processor:o Intel Sandy Bridge platform
o Intel Core i7/i5/i3 Processor
o Intel Celeron Processor
- Chipset:o SKU1:Intel QM67 Express Chipset (support iAMT 7.0)
o SKU2:Intel HM65 Express Chipset (Without iAMT function)
- Memory: Dual channel DDR3 1067/1333/1600 MTs via 2 x SODIMM, up to 16 GB
- Display:o LVDS interface:Dual-channel 18/24-bit
o HDMI interface:Support 1.4a, up to Up to 10180P (1920x1200)
o DVI interface:Dual DVI-D, up to Up to 10180P (1920x1200)
o VGA interface
- LAN interface:o Intel 82579LM GbE LAN and Intel 82574L GbE LAN
- I/O Interface:o 8 x USB 2.0
o 1 x GPIO pin-header (4 x GPI, 4 x GPO)
o 2 x PS2 port
- Expansion I/O:o 1 x PCI Solt, 32bit 33/66MHz, 3.3V
o 1 x Mini-PCIe
- Storage:o 5 x SATA (2 x SATA 3.0, 2 x SATA 2.0, 1 x SATA 2.0 for CFast, support Raid 0/1/5/10)
o 1 x CFast slot
- Power source: 12V for DC
- Operating temperature: -0 to 60 deg. C
- Dimensions: Mini-ITX 170 mm x 170 mm (6.69" x 6.69")

Last updated: Apr 7, 2020 at 12:04 pm CDT