-- SSD Bundle Enables Users to Effortlessly Take Advantage of Intel® Smart Response Technology for an Instant System Performance Boost --
City of Industry, California, May 31st , 2011 - GIGABYTE TECHNOLOGY Co., Ltd, a leading manufacturer of motherboards, graphics cards and computing hardware solutions today announced the new GIGABYTE Z68XP-UD3-iSSD motherboard based on the Intel® Z68 Express chipset and pre-bundled with the 20GB Intel® Solid-State Drive 311 Series. The included mSATA-based single level cell (SLC) solid-state drive (SSD), allows users to take advantage of the performance benefits of Intel® Smart Response Technology straight out of the box. The package is expected to be available to end-users in early June from selected online retailers internationally.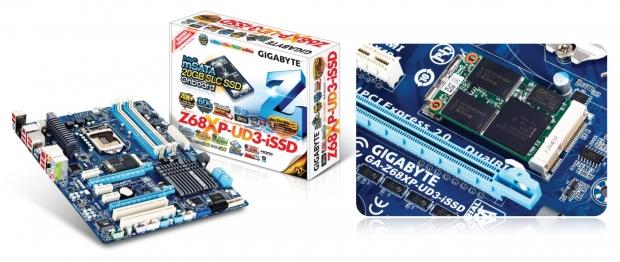 "We are thrilled to deliver the world's first motherboard to come pre-bundled with an Intel SSD 311," commented Richard Chen, VP of Worldwide Sales and Marketing at GIGABYTE. "Our customers realize the performance benefits that Intel Smart Response Technology has to offer, and the Z68XP-UD3-iSSD is the easiest way for them to instantly take advantage of the performance boost."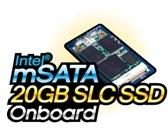 "By offering the Intel SSD 311 Series, optimized for Intel Smart Response Technology, with GIGABYTE's Z68XP-UD3-iSSD MOTHERBOARD, we can bring the benefits of increased system responsiveness to more users," said Pete Hazen, director of marketing for Intel's Non-Volatile Memory Solutions Group. "A bundle such as this offers users an easy, plug-and-play entry into the quicker response environment of caching with an SSD."
Intel® Smart Response Technology
GIGABYTE Z68 series motherboards are equipped with the much anticipated Intel® Smart Response Technology, allowing users to experience system performance similar to SSD-only systems. Intel® Smart Response technology works by using intelligent block-based caching of frequently used applications to improve system performance and responsiveness. In fact, GIGABYTE Z68 motherboards with Intel® Smart Response Technology are able to outperform hybrid drive systems by more than 4X (PC Mark Vantage HDD test score) and deliver a 60% performance improvement over HDD-only systems in PC Mark Vantage Suite.
GIGABYTE mSATA Ready Motherboards (Total of 5 models)

GIGABYTE is displaying the GA-Z68XP-UD3-iSSD package at Computex 2011. To find out more about the GA-Z68XP-UD3-iSSD, please visit: http://www.gigabyte.us/products/product-page.aspx?pid=3896#ov and keep an eye on the
GIGABYTE Tech Daily Blog
.
About GIGABYTE Upgrade Your Life
GIGABYTE Technology Co. Ltd., headquartered in Taipei, Taiwan, is known as a leading brand in the IT industry with branch offices located in 24 countries around the world. Founded in 1986, GIGABYTE started as a small research and development team and has since taken a position as one of the in the world's top motherboard manufacturers. In addition to motherboards and graphics cards, GIGABYTE further expanded its product portfolio to include notebook and desktop PCs, datacenter servers, networking products, mobile handsets, and home entertainment devices to serve each facet of the digital life in the home and office. Everyday GIGABYTE aims to "Upgrade Your Life" with innovative technology, exceptional quality, and unmatched customer service. Visit www.gigabyte.us for more information.
Last updated: Apr 7, 2020 at 12:04 pm CDT