"Passion For Innovation"
TAIPEI, Taiwan, May 26, 2011 - A new generation of tech products is upon us. ASRock kicks off COMPUTEX 2011 with its multidimensional products, including a wide range of motherboard and HTPC series. Echoing the COMPUTEX theme of "Passion for Innovation", ASRock will showcase its innovative computer offerings at COMPUTEX 2011, along with the latest Fatal1ty gaming motherboard equipped with Intel Z68 chipset - Fatal1ty Z68 Professional, the highly anticipated AMD 990FX and A75 APU platforms featuring the fabulous kit and the 3D-oriented HTPC lineups.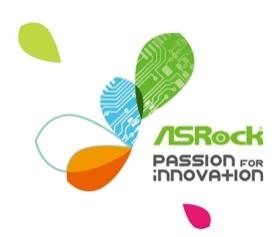 Commenting on the event release, James Lee, V.P. of ASRock Sales and Marketing, is with confidence. "ASRock has always had a strong sense of the value of tech products. As we applied the world's best technology to our architecture - every generation better than the last." he states. Not only focusing on demoing the superb performance of Intel Z68-based motherboards, ASRock will also "offer an exclusive sneak peek of its soon-to-be-released 990FX Extreme4 and A75 Extreme6 boards in this show." ASRock believes they could give a wonderful experience of visiting their booth at Nangang Hall L317a, COMPUTEX 2011. "We have an unique attitude and a commitment to our key themes, including creativity, functionality and sustainability - these all enable ASRock to remain distinctive!" said James Lee.
MOTHERBOARD
Build Up Your Own Gaming Masterpiece - Fatal1ty Z68 Professional
Gaming is a way of life. A high-spec system is a must for playing heavy-loading games. For unbelievably powerful gaming without being tied to a desktop, the serious gamers should look no further than the Fatal1ty Z68 Professional: the world's most powerful Z68 motherboard.
Supporting the Intel Smart Response technology, this board can make the SSD become the "Cache of the HDD" to boost up the HDD access speed. ASRock will be also showing live demo of Fatal1ty Z68 Professional with the ultimate Lucid Virtu Switchable Graphics technology, demonstrating the dynamic GPU switching without rebooting. Lucid Virtu is a software GPU virtualisation technology that allows dynamic switching between the GPU of the Sandy Bridge processors and a discrete graphics card, without the need for a system reboot. Come to ASRock COMPUTEX 2011, visitors will be amazed by this interesting piece of technology!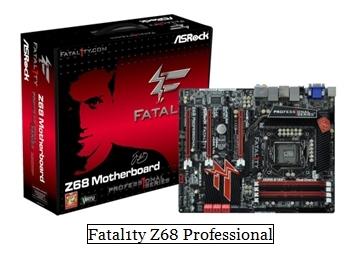 This is a premium motherboard, aimed at the highest end gaming machines. It has a large number of features, slots and overclocking capabilities; as you would expect from such an ultimate board. The red and black colored board suggests its function is impressed as well as its stylish look. One of the unique features, for instance, is Fatal1ty Mouse Port, a customizable technology for F-Stream PC gamers; with a wide range from 125 Hz to 1000 Hz to make adjustment, gamers can obtain more precise control of their mouse. To build up your unique gaming masterpiece, the Fatal1ty Z68 Professional motherboard will surely serve all gamers' needs very well.
Stunning Board Packed With Power And Features - Z68 Extreme7
Another spotlight of Z68 lineup is ASRock's flagship board: Z68 Extreme7. The board comes with a bucketful of technologies aimed at bringing the best kit to users. Exclusively equipped with NVIDIA NF200 chip, this board offers sufficient PCIE x16 lanes when users are using multi-GPU settings. Each card will be fully running at X16 speed without having to sacrifice performance. Based on Intel Z68 chipset and featuring several state-of-the-art onboard solutions from industry heavy hitters such as Intel Smart Response Technology and Lucid Virtu Switchable Graphics Capability, together with a range of new and exclusive ASRock features, the Z68 Extreme7 motherboard is equipped to make geeks swoon!
This board is marked by its versatile solutions, to name a few, advanced V8 + 4 power phase design, 5 PCI Express X16 slots cater for Quad CrossFireX and Quad SLI, Intel HD Graphics with built-in Visuals, 4 VGA options (D-Sub, DVI-D, HDMI and DisplayPort), front USB 3.0 panel, manageable smart switches, and Dr. Debug, offering flexible options which will appeal to DIY users. Beside its onboard equipments, this board also features Graphical UEFI, AXTU, On/Off Play and XFast USB to optimize USB drive speed performance. With a wide range of prominent functions, advanced DIY users should not miss Z68 Extreme7!
Motherboard Expert - 990FX Extreme4
On the AMD side, ASRock will unveil the long-awaited 990FX platform motherboard at COMPUTEX 2011 - its top-of-the-range model: 990FX Extreme4. Powered by AMD 990FX and SB950 chipsets, this board features Premium Gold Caps, advanced V8 + 2 Power Phase Design and multi-GPU options. ASRock 9 series also allows users to easily unleash their system's hidden monster performance with ASRock's innovative XFast USB Technology. Designed for the next generation computing, this board supports AM3+ socket and is compatible of 8-Core series processors.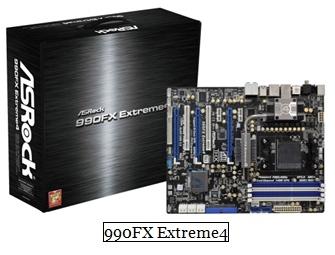 Do you hedge your bets and pick up a standard, CrossFireX-ready motherboard, or spend the extra cash and look out for an SLI-certified board? Well, the ASRock 990FX Extreme4 allows users to make a twin purchase of the motherboard. In the demo of 990FX Extreme4, ASRock will present an eye-opening technology to visitors: for the very first time, SLI is applied on AMD board. Since SLI and CrossFireX were never juxtaposed on one board before, ASRock will show you how to apply multi-GPU SLI settings on AMD board at COMPUTEX 2011.
What's New At The Show - A75 Extreme6
A must-see motherboard at ASRock COMPUTEX 2011 is the A75 Extreme6. Utilizing AMD's next microarchitecture A75 Hudson D3 chipset series, the much-anticipated APU platform, this board comes with plenty of options for upgrading PC system. Key features of A75 Extreme6 include the support for Socket FM1 processor, AMD A75 Hudson D3 chipset allowing native support for USB 3.0 and SATA3, integrated AMD Radeon HD 65XX/64XX graphics, DX11, PS5.0, the support for Quad CrossFireX, 3-Way CrossFireX, CrossFireX and Dual Graphics, as well as a host of unique high-end ASRock features such as XFast USB, graphical UEFI, AXTU and On/Off Play. Special highlight here is the latest AMD Dual Graphics Technology which combines APU and discrete GPU computing power to optimize user's visual experience.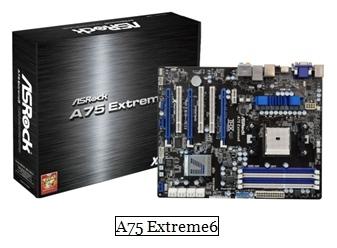 Another technology pointed out to be part of the A75 is AMD's Steady Video. It provides new video post processing capability for automatic jitter reduction on home/online video. The AMD Steady Video feature can be found on all A75 motherboard series.
Fresh technology, straight to your eye. ASRock plans an extensive showing during COMPUTEX 2011, taking place May 31 - June 4 in Taipei, Taiwan. The ASRock booth can be found at Nangang Hall, stand L317a. ASRock COMPUTEX 2011 is the only IT show you'll need to know before purchasing your new set.
For more detail information, please visit http://www.asrock.com/news/show/COMPUTEX2011/index.asp?c=Events http://www.asrock.com/.
About ASRock
ASRock Inc. is established in 2002, specialized in the field of motherboards. ASRock strives to build up its own brand. With the 3C design concept, "Creativity, Consideration, Cost-effectiveness", the company explores the limit of motherboards manufacturing while paying attention on the eco issue at the same time, developing products with the consideration of eco-friendly concept.
ASRock has been growing fast and become world third largest motherboard brand with headquarter in Taipei, Taiwan and branches in Europe and the USA. The young and vibrant company targets at entry to mainstream segment MB business, owning reputation around the world market with its reliability and proficiency. Further information, please visit http://www.asrock.com/.
Last updated: Apr 7, 2020 at 12:04 pm CDT