STEELSERIES ANNOUNCES AVAILABILITY OF LICENSED MEDAL OF HONOR HEADSETS FOR XBOX 360 AND PC GAMERS
Medal of Honor Players Can Now Arm Themselves with SteelSeries' Newest Award-Winning Headsets Optimized and Branded for the Ultimate First Person Shooter Experience
CHICAGO - May 24, 2011 - SteelSeries, the leading manufacturer of gaming peripherals today announced the availability of licensed headsets for Electronic Arts' first person shooter game, Medal of Honor™. The SteelSeries 5Hv2 Headset Medal of Honor Edition for PC and the SteelSeries Spectrum 5xb Medal of Honor Edition for Xbox 360® headsets are the latest addition to the family of SteelSeries branded peripherals co-developed with Electronic Arts for Medal of Honor gamers. The headsets deliver premium quality sound and comfort along with SteelSeries' signature features including a retractable microphone system and the ability to dismantle into 3 pieces for safe travel.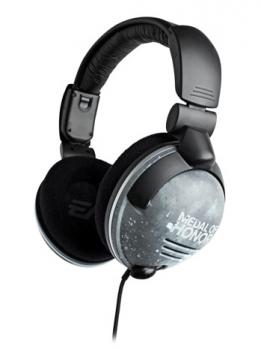 "It was a pleasure to work with the EA team to optimize and create an amazing design for these new PC and Xbox 360 headsets," said Bruce Hawver, SteelSeries CEO. "Medal of Honor players will enjoy comfort and incredible sound reproduction, improving their precision and performance in game."
Both headsets feature the SteelSeries retractable microphone system that can be pulled out during game play and then easily stored in the left ear cup. The headsets also provide the ability to breakdown into three pieces for easy storage or travel. The SteelSeries 5Hv2 Medal of Honor Edition for PC has an optimized soundscape for gaming in a hear-through, cloth ear-cup design.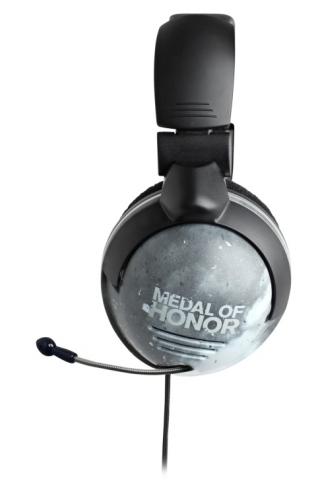 The SteelSeries Spectrum 5xb Medal of Honor Edition presents Xbox 360 players with an advanced soundscape that enables the player to pinpoint directional sounds of footsteps and weapon fire without being drowned out by the deep bass from explosions. To enhance the audio experience, the included AudioMixer provides easy access to independent audio and voice controls. The SteelSeries LiveMix feature, found within fingers reach on the AudioMixer, is the quick-button option that balances Xbox LIVE® chat with in-game audio, so that voice communication is mixed perfectly with the sounds of gunfire and explosions, without having to increase the volume of the headset and risk hearing damage.
The SteelSeries Spectrum 5xb Medal of Honor Edition as well as the SteelSeries 5Hv2 Medal of Honor Edition will be available soon, in late Q2. For more product details as well as online and retail availability, visit http://www.steelseries.com/medalofhonor. Be sure to stay up to date with contests, promotions, and information on where to buy locations on SteelSeries' Facebook and Twitter pages.
About SteelSeries
SteelSeries is a leading manufacturer of gaming peripherals, including headsets, keyboards, mice, software and gaming surfaces. For the past decade, SteelSeries has been on the forefront of competitive gaming gear thanks to continued innovation and product development in cooperation with leading professional gaming teams. SteelSeries also helps to support the growth of competitive gaming tournaments and electronic sports leagues through professional team sponsorships, partnerships, and community support all over the world. For more information, please visit http://steelseries.com.
About EA Electronic Arts Inc. (EA), headquartered in Redwood City, California, is a leading global interactive entertainment software company. Founded in 1982, the Company develops, publishes, and distributes interactive software worldwide for video game systems, personal computers, wireless devices and the Internet. Electronic Arts markets its products under four brand names: EA SPORTS™, EA™, EA Mobile™ and POGO™. In fiscal 2010, EA posted GAAP net revenue of $3.7 billion and had 27 titles that sold more than one million units. EA's homepage and online game site is www.ea.com. More information about EA's products and full text of press releases can be found on the Internet at http://info.ea.com.
Last updated: Apr 7, 2020 at 12:04 pm CDT
PRICING: You can find products similar to this one for sale below.

United States: Find other tech and computer products like this over at Amazon.com

United Kingdom: Find other tech and computer products like this over at Amazon.co.uk

Australia: Find other tech and computer products like this over at Amazon.com.au

Canada: Find other tech and computer products like this over at Amazon.ca

Deutschland: Finde andere Technik- und Computerprodukte wie dieses auf Amazon.de
Related Tags