$24.99 MSRP converter bracket enables use of ANY 2.5" SATA drive - including latest SATA '6G' 6Gb/s Solid State Drives - in 3.5" bays for SSD speed benefits of over 500MB/s or reuse of existing notebook hard drive
May 23, 2011, Woodstock, IL -- Newer Technology, Inc. (NewerTech®) http://www.newertech.com, a leading developer of Macintosh®, PC, iPod®, iPhone®, and iPad® performance upgrades and accessories, announced today the NewerTech AdaptaDrive™ converter bracket for installing any capacity size 2.5" SATA hard drive or Solid State Drive in a 3.5" SATA drive bay equipped desktop Mac®, PC or external enclosure.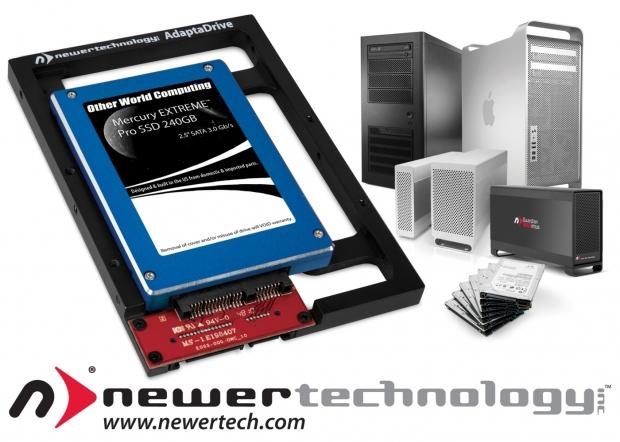 The NewerTech AdaptaDrive is available immediately starting at $24.99 MSRP from NewerTech's exclusive distributor, Other World Computing (OWC®), as well as through the retail channel. For more information on the NewerTech AdaptaDrive, visit: http://www.newertech.com/products/adaptadrive.php
For more information on NewerTech's complete line of computer accessories and upgrades for Macs, PCs, and iOS Devices, visit: http://www.newertech.com/products.
Works With All 2.5" Drives, Including Latest SATA '6G' 6Gb/s SSDs
The AdaptaDrive supports 1.5Gb/s and 3.0Gb/s drives, so existing notebook hard drives can be utilized for extra storage; or a high performance 3G SSD such as the Mercury Extreme Pro http://eshop.macsales.com/shop/internal_storage/Mercury_Extreme_SSD_Sandforce/Solid_State_Pro
can be added for an incredible system speed boost. Power users and gamers seeking maximum drive speed can now easily add the latest high performance '6G' SSDs, like the Mercury Extreme Pro 6G http://eshop.macsales.com/shop/SSD/OWC/Mercury_Extreme_Pro_6G/ , and experience data transfer rates over 500MB/s from their SATA Revision 3.0 (6Gb/s) compatible home/office computer or external drive.
Maintains Highest Performance While Offering Ultimate Convenience
The NewerTech AdaptaDrive has been benchmark test proven to deliver the same data transfer rates as is experienced when a drive is connected directly to the SATA data bus. The AdaptaDrive doesn't create a bottleneck or any performance throttling...it delivers pure data pass-through performance and drive use convenience from any 2.5" SATA hard drive or SSD.
AdaptaDrive Features And Specifications:
• Compatible with any 2.5" SATA hard drive or Solid State drive
• Fits all 3.5" SATA drive bays, including backplane trays found in the Mac Pro
• Fully SATA 3.0 Revision (6Gb/s) compatible
• Backward compatible with SATA 2.0 Revision (3Gb/s) and 1.0 Revision (1.5Gb/s) drives
• Open design allows for full air flow for proper drive cooling
• Material: Black painted aluminum
• Measurements: 5.77" L (146.7mm) x 3.98" W (101.2mm) x .35" H (9mm)
• Weight: 3.5 ounces
• Warranty: Five years
• Includes all drive and drive bay mounting screws
"AdaptaDrive offers Mac and PC desktop and tower users a Plug and Play method to experience the performance advantage SSDs offer," said Grant Dahlke, Brand Manager, Newer Technology, Inc. "With industry standard 3.5" drive screw mounting locations and all mounting hardware included, adding a state of the art SSD like the OWC Mercury Extreme Pro is a breeze."
About Newer Technology, Inc.
Since 1984, Newer Technology, Inc. (NewerTech) has been recognized as the leading developer of performance upgrades and accessories for Macintosh and PC computers, iPods, iPhones, and iPads. NewerTech is headquartered in Woodstock, Illinois. Dealer inquiries are welcome by calling 815-308-7001 or by emailing sales@newertech.com.
Last updated: Apr 7, 2020 at 12:04 pm CDT