ADATA Technology, a worldwide leading manufacturer in high-performance DRAM modules and NAND Flash application products, today introduced its latest XPG Series DDR3L 1333MHz 4GB dual-channel kit memory. The modules feature high-density, low timing and low voltage, enhanced system stability, and improved performance to meet market needs and especially those of gamers.
The latest XPG Plus series DDR3L 1333+ is available in 2GB single channel and 4GB dual channel kits, with latency of 8-8-8-24. The utilization of an exclusively designed aluminum heat sink and high quality circuit board ensures high efficiency and stability of the memory modules. The Gaming Series DDRL 1333G 4GB dual channel kit has latency of 9-9-9-24. They employ the same special heat sink design, and can effectively reduce running temperature to extend the life of the module.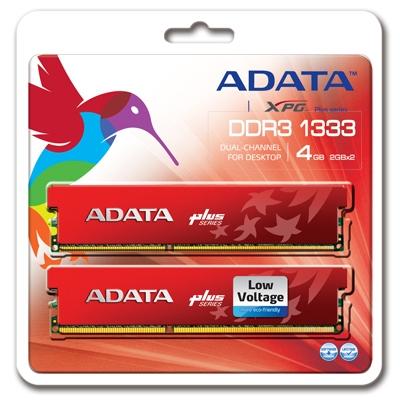 Availability
The new XPG Plus series DDR3L 1333+ and Gaming series DDR3L 1333G memory modules are distributed through designated agents and resellers. For more information about XPG Plus and Gaming series low-voltage memory modules, visit
this page
.
Last updated: Apr 7, 2020 at 12:04 pm CDT