NAVIGON Updates Samsung Navigation App with Enhanced Tablet Support, Weather and Parking Features
May 19, 2011 1:04 AM CDT
Free Update also Available for Android Market Version of MobileNavigator, Helps Drivers to Overcome Unexpected Road Challenges
Sydney, Australia, May 19, 2011-NAVIGON AG, a leading provider of mobile phone on-board navigation, today announced a major free update for its Android navigation app, MobileNavigator. The update is available for MobileNavigator for Samsung, which is preinstalled on selected Samsung Galaxy smartphones and the Galaxy Tab 7" in Australia, as well as for NAVIGON's Google Checkout version in the Android Market. The app is now compatible with Android 3.0 (Honeycomb), turning tablets into premium navigation devices comparable to standalone units. The latest version has several new features designed to help drivers throughout their entire trip, such as live weather information and a new function which can assist in finding parking spaces at the upcoming destination. MobileNavigator is the most feature-rich Android navigation app available. The NAVIGON app boasts premium functions such as on-board NAVTEQ maps, Traffic Live, Lane Assistant, among others.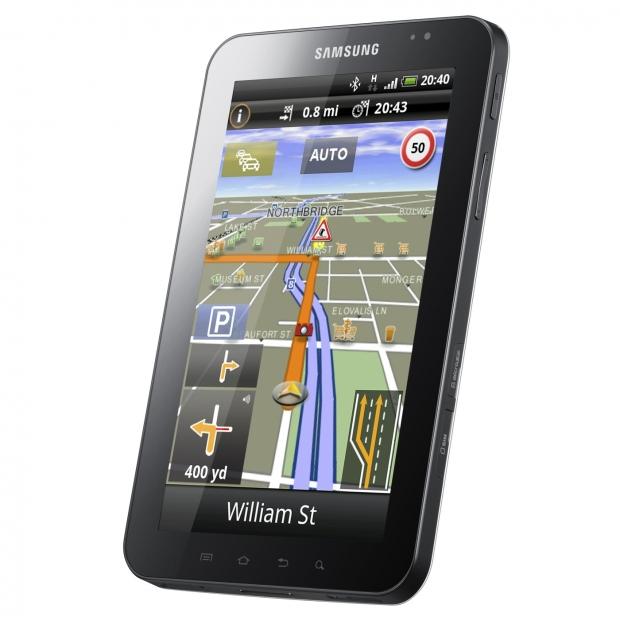 "Drivers face a number of unexpected challenges when they take to the road, such as knowing what points of interest are near the destination, dealing with inclement weather or finding a place to park in an unfamiliar location," said Gerhard Mayr, NAVIGON vice-president worldwide mobile phones business. "The newest version of MobileNavigator Android includes several new navigation features that help minimise these challenges for drivers and makes getting to their destination more enjoyable than ever before."
These new features include:
- Enhanced Android Tablet Support: MobileNavigator now supports tablets running Android 3.0 (Honeycomb), turning them into premium navigation devices comparable to standalone units. The app is optimised to the higher display resolution of many popular tablets, providing clear and crisp map views.
- Clever Parking: This feature takes the guesswork out of finding a parking space, so drivers can spend less time looking for parking and more time enjoying their destination. When approaching a destination, a "P" icon appears in the app's map view. Drivers can tap this icon to see a list of available nearby parking options, complete with distance information, determining where to park before arriving at the location.
- Weather Live: MobileNavigator's Weather Live feature displays real-time weather updates-including temperature and weather conditions. Having this information immediately available helps drivers anticipate any weather conditions, such as rain or snow, and better prepare for weather conditions at the destination. Drivers can also access a three-day forecast using a tap of the finger.
- Destination Information Screen: Using this feature, drivers can easily see a summary of important destination information, which can help with easy decision making on-the-go on where to eat, stay, purchase gas or shop before arriving at their destination. This display can also provide parking and weather information. Since it is customisable, drivers can select only the details they want to see and disregard irrelevant information.
- Route Planning: The new route-planning feature allows to plan out a trip ahead of time. Users can enter up to 50 destinations for a route and save routes for later use.
The MobileNavigator update also includes enhancements such as manual map zoom, which allows drivers to zoom in and out of maps using a two-finger pinch; display of street names in 3D mode; App2SD, which allows users to store approx. 50 percent of the app's memory to an SD card, saving device memory and freeing up space for more apps; Auto-off GPS, which turns off the GPS feature when the app is running in the background, saving power and battery life; and a direct web link to NAVIGON's Android FAQ site so drivers can quickly find answers to common questions.
MobileNavigator transforms Android smartphones and tablets into comprehensive navigation devices, comparable to standalone units. The app helps drivers to arrive stress-free and on time with spoken directions and a unique combination of advanced driving guidance. MobileNavigator relies on the devices' GPS receiver as well as the pre-loaded NAVTEQ maps, providing full function navigation capabilities when a cell signal is not available. Off-board navigation, in comparison, is dependent on a cell phone connection to download map and routing data. Therefore, no cell signal renders navigation useless or interrupted until a connection is re-established. Additional features include lane assistance, traffic rerouting, parking options, safety camera alerts, weather information and much more.
Pricing and Availability
MobileNavigator Australia is preinstalled on selected Samsung Galaxy smartphones and the Galaxy Tab 7" in Australia. Included are many of NAVIGON's hallmark navigation functions that are available free[1]. Additional premium features and services can easily be added via in app purchases. The latest update is available free for existing MobileNavigator for Samsung users.
Three premium packages can easily be added out of the application via in app purchase:
The Safety & Relax Package ($19.95): provides Lane Assistant Pro, Speed & Red Light Camera Warnings, School Zones and Speed Warner.
The Traffic Live Package ($29.95): delivers real-time traffic information and routes drivers around congested roads, 24 hours a day, 7 days a week. The traffic information is provided by Suna Traffic.
The Sound & Fun Package ($14.95): adds text-to-speech, announcing street names in addition to directions, and International Voices with different dialects, to lighten up the journey.
MobileNavigator is also available in the Android Market via Google Checkout. The app is *$20 off until May 30, 2011, selling for *$39.95 (normally *$59.95). Included is a Traffic Live service and high quality maps of leading provider NAVTEQ. The latest update is available free for existing MobileNavigator Android users.
Compatibility
NAVIGON MobileNavigator for Samsung is compatible and provided free-of-charge with Samsung Galaxy TAB, Galaxy S (running Android 2.2+), Galaxy Ace, Galaxy Gio, Galaxy Fit, Galaxy Mini.
NAVIGON MobileNavigator for Android devices via Google Checkout is compatible with most Android phones and tablets and runs with Android 1.5, 1.6, 2.0, 2.1, 2.2, 2.3, and 3.0. The application requires a minimum of 30 MB of free RAM and about 400 MB storage space for maps, voices etc. Supported screen resolutions are 320x240, 480x320, 800x480, 854x480, 1024x600, 1280x800, and vice versa.
For more information, please visit: http://www.navigon.com.
About NAVIGON:
NAVIGON AG is a world-leading provider of premium navigation technology. The company delivers branded personal navigation devices and software for smartphones and the automotive industry. Founded in 1991, NAVIGON led the way for the last 20 years with innovative German technology and design. NAVIGON offers on-board navigation applications for all leading smartphone platforms and is present in Asia, Australia, Europe, North America and South Africa.
Last updated: Apr 7, 2020 at 12:04 pm CDT
PRICING: You can find products similar to this one for sale below.

United States: Find other tech and computer products like this over at Amazon.com

United Kingdom: Find other tech and computer products like this over at Amazon.co.uk

Australia: Find other tech and computer products like this over at Amazon.com.au

Canada: Find other tech and computer products like this over at Amazon.ca

Deutschland: Finde andere Technik- und Computerprodukte wie dieses auf Amazon.de
Related Tags