- GIGABYTE To Launch World's First Z68 Motherboards with Onboard mSATA for Intel® SLC SSDs and Smart Response Technology -
-- Full Range of Over 20 Models Planned for Introduction Before Q3, 2011, Including 4 mSATA SKUs --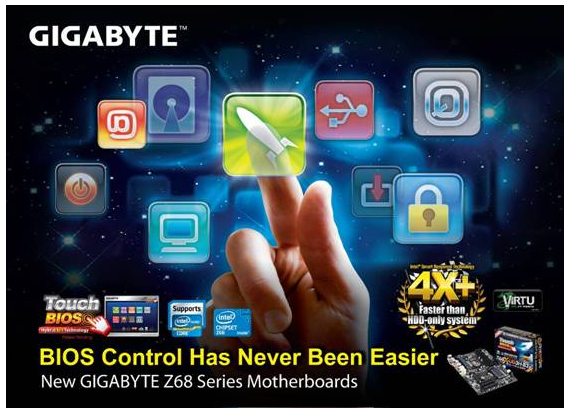 City of Industry, California, USA, May 11th 2011 - GIGABYTE INC., a leading manufacturer of motherboards and graphics cards, today launched their highly anticipated Z68 series motherboards, based on the Intel® Z68 Express Chipset and supporting the new 2nd generation Intel® Core™ processors. Delivering the very best that Intel® 6 series chipsets have to offer, including a significant performance boost with Intel® Smart Response Technology, the first ever mSATA drive connectors on a standard desktop PC motherboard, and GIGABYTE's proprietary Touch BIOS™ technology, GIGABYTE Z68 series motherboards put users in the driver seat, allowing them to take total control over how their system operates and performs to best match their individual computing needs. 11 models are available now, with more than 9 additional models, including at least 4 mSATA versions, to be introduced in June, 2011.
"GIGABYTE is excited to introduce a complete range of Z68 Express Chipset enabled motherboards that deliver exceptional performance and a multitude of unique features like Touch BIOS and onboard mSATA that help them stand out from the crowd," commented Richard Chen, VP of Worldwide Sales and Marketing at GIGABYTE. "Intel has really raised the bar with the performance potential and rich feature set of the Z68 chipset, and as such, we fully expect the Z68 chipset to be the number one choice for users wanting to build their next Intel 6 series-based system."
"We are very pleased to see the exciting new lineup of GIGABYTE motherboards based on the Intel® Z68 Express Chipset," said Zane Ball, Intel General Manager of Desktop Platforms. "These high quality boards will enable users to unleash the full performance and features of our 2nd generation Intel® Core™ Processors."

GIGABYTE Z68 Series Features
GIGABTYE Touch BIOS™ (patent pending)
An Innovative New Way to Modify BIOS Settings (only available on GIGABYTE Z68 motherboards)
Navigating through the BIOS to change system settings can be a daunting task for users not familiar with control "F" functions and mouse-less navigation. While some BIOSes try to address this with a mouse friendly environment, many implementations still lack a certain ease-of-use necessary for most people. With Touch BIOS™, GIGABYTE engineers have completely re-imagined how users can interact with their BIOS, allowing for a more intuitive user experience whether using a keyboard, mouse or touch screen monitor. In fact, with a touch screen monitor, GIGABYTE Touch BIOS™ is as easy to use as most apps on an iPhone.
Icon-based BIOS
GIGABTYE has created easy to recognize icons to represent the main BIOS features. Users can change voltages and CPU ratios using the Overclock icon, or can monitor their system using the PC Status icon,
just to name a few. GIGABYTE has also included icons to quickly access GIGABYTE applications such as Quick Boost and @BIOS, allowing for even greater levels of system customization.
Easy to Navigate
GIGABYTE has designed Touch BIOS™ from the ground-up to make it as easy as possible to navigate. Large icons allow users to navigate with a mouse or finger on a touch enabled monitor. GIGABYTE has
also added several touch-friendly features including easy-to-read fonts, enlarged navigation panes and wider side scroll bars to more easily modify BIOS settings.
Completely Customizable
One of the key benefits of GIGABYTE Touch BIOS™ is that users can customize the Touch BIOS™ homepage according to their needs. Users can easily rearrange icon order using a mouse or finger and can also add frequently used icons or delete unused ones.
No Need to enter BIOS to Modify BIOS Settings
Since GIGABYTE Touch BIOS™ is Windows® based, users no longer need to reboot into the BIOS in order to make system changes. For example, users wanting to change their boot device priority only need to enter GIGABYTE Touch BIOS™ and make their changes. The next time they reboot, the system will automatically load their boot devices according to their new settings. This helps save time for users wanting to make quick system setting changes.
Intel® Smart Response Technology
GIGABYTE Z68 series motherboards are equipped with the much anticipated Intel® Smart Response Technology, allowing users to experience system performance similar to SSD only systems. Intel® Smart Response technology works by using intelligent block-based caching of frequently used applications to improve system performance and responsiveness. In fact, GIGABYTE Z68 motherboards with Intel® Smart Response Technology are able to outperform hybrid drive systems by more than 2X (PC Mark Vantage) and HDD-only systems by as much as 4X (PC Mark Vantage).
GIGABYTE will introduce 4 unique Z68 motherboard models with an onboard mSATA connector that can employ Intel® Smart Response Technology together with new 20GB Intel® 311 mSATA SLC SSDs to boost system performance.
Intel® Quick Sync Video*
Intel® Quick Sync Video makes fast work of creating, editing, synchronizing, and sharing videos-at home and online- without the expense of additional hardware. In fact, Intel Quick Sync Video delivers up to 2X faster media processing than any other solution for incredibly fast conversion of video files for portable media players or online sharing. To see a complete list of independent software vendors (ISVs) that have begun optimizing their products for this new technology, please visit: http://www.intel.com/technology/quicksync/index.htm.
Switchable Graphics with LucidLogix Virtu GPU Virtulization*
GIGABYTE Z68 motherboards are enabled with LucidLogix Virtu™ GPU Virtualization technology which allows users to dynamically switch between their built-in graphics and their high-end, 3D discrete graphics cards. This is ideal for gamers who require high-resolution gaming and still want to enjoy the built-in media features of 2nd generation Intel® Core™ processors. In so doing, switchable graphics helps to dramatically reduce PC graphics power consumption while boosting performance when it is needed most.
To find out more about GIGABYTE Z68 series motherboards and mSATA, please keep an eye on the GIGABYTE Tech Daily blog or visit the official motherboard website.
*Some GIGABYTE Z68 models do not support Intel® Z68 Built-in Visuals. For complete model specifications, please see model listing.
About GIGABYTE Upgrade Your Life
GIGABYTE Technology Co. Ltd., headquartered in Taipei, Taiwan, is known as a leading brand in the IT industry with branch offices located in 24 countries around the world. Founded in 1986, GIGABYTE started as a small research and development team and has since taken a position as one of the in the world's top motherboard manufacturers. In addition to motherboards and graphics cards, GIGABYTE further expanded its product portfolio to include notebook and desktop PCs, datacenter servers, networking products, mobile handsets, and home entertainment devices to serve each facet of the digital life in the home and office. Everyday GIGABYTE aims to "Upgrade Your Life" with innovative technology, exceptional quality, and unmatched customer service. Visit www.gigabyte.us for more information.
Last updated: Apr 7, 2020 at 12:04 pm CDT