Intel Corporation reported record EPS and revenue on both a GAAP and non-GAAP basis. On a non-GAAP basis, revenue was $12.9 billion, operating income was $4.3 billion, net income was $3.3 billion, and EPS was 59 cents. On a GAAP basis, the company reported first-quarter revenue of $12.8 billion, operating income of $4.2 billion, net income of $3.2 billion, and EPS of 56 cents.
The company generated approximately $4.0 billion in cash from operations, paid cash dividends of $994 million, and used $4.0 billion to repurchase 189 million shares of common stock. "The first-quarter revenue was an all-time record for Intel fueled by double digit annual revenue growth in every major product segment and across all geographies," said Paul Otellini, Intel president and CEO. "These outstanding results, combined with our guidance for the second quarter, position us to achieve greater than 20 percent annual revenue growth.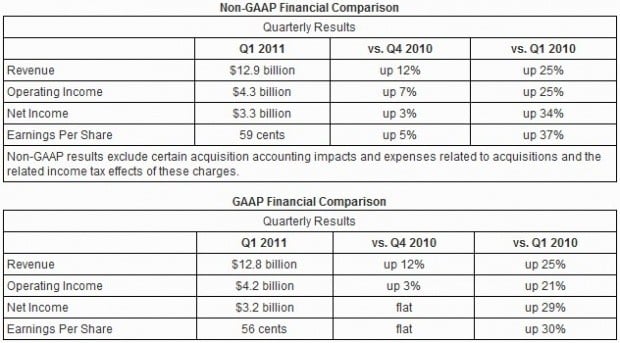 Q1 2011 Key Financial Information (GAAP)
- PC Client Group revenue up 17 percent, Data Center Group revenue up 32 percent, other Intel architecture group revenue up 70 percent, and Intel Atom microprocessor and chipset revenue of $370 million up 4 percent, all year-over-year.
- The average selling price (ASP) for microprocessors was up sequentially. Gross margin was 61 percent.
- R&D plus MG&A spending of $3.7 billion, slightly higher than the company's expectation.
- The net gain of $213 million from equity investments and interest and other, consistent with the company's expectation.
- The effective tax rate was 28 percent, in-line with the company's outlook of 29 percent.
- The company used $4.0 billion to repurchase 189 million shares of common stock.
- During the quarter, the company closed the acquisitions of Infineon Wireless Solutions and McAfee, Inc. The combination of both acquisitions contributed revenue of $496 million.
- The first quarter of 2011 had 14 weeks of business versus the typical 13 weeks, as the company realigned its fiscal year with the calendar year.
For additional information regarding Intel's results and Business Outlook, please see the CFO commentary
here.
Last updated: Apr 7, 2020 at 12:04 pm CDT