FREMONT, Calif. - April 13, 2011 - To help you keep tabs on your home or office anytime, anywhere, Logitech® (SWX: LOGN) (NASDAQ: LOGI) today introduced the Logitech Alert™ app for iPad®. One of a family of apps Logitech is developing for the iPad, Logitech's newest app makes it easy for you to access your
Logitech Alert™ digital video security system
from any place you take your favorite tablet.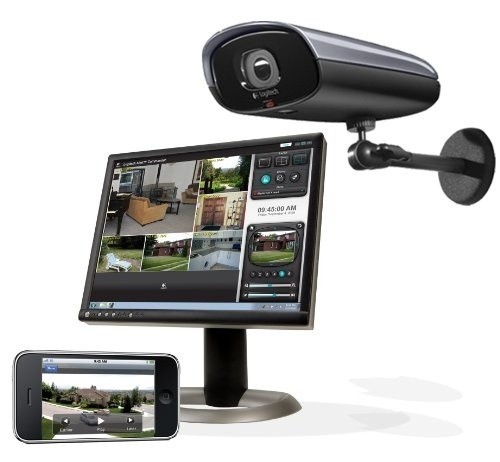 "The Logitech Alert app for the iPad was designed to be a true mobile extension of the Logitech Alert HD video security system, and delivers on our goal to help you protect what matters most anytime, anywhere," said James Lopez, general manager of digital video security for Logitech. "The Logitech Alert app for the iPad enhances our digital video security system by bringing users brilliant and clear HD video combined with rich audio for monitoring on the go."
Remote Access and Alert Management
Adding to the Logitech Alert family of DIY home security cameras and software, the Logitech Alert app for iPad is one of the first iPad apps developed strictly for tablet-based HD digital video surveillance. The app lets you view crisp, clear 720p HD video coupled with rich sound quality that's captured by the user's Logitech Alert cameras - including the Logitech Alert™ 750i Master System, the weatherproof Logitech Alert™ 750e Outdoor Master System and any Logitech Alert™ Add-On Camera - giving you the ability to see and hear what's going on at home or the office even when your miles away.
With the Logitech Alert app for iPad, it's quick and easy to check up on your home or small business by simply using the Logitech Alert app for iPad. The app connects to your cameras anytime, so you can watch the live video and hear the audio coming from your cameras. If you have the Logitech Alert™ Web and Mobile Commander service you can also view video recordings captured when motion was detected and manage system settings, including turning on motion alerts from your iPad.
Pricing and Availability
The Logitech Alert app for iPad providing free, live monitoring is expected to be available in the U.S., Europe and Asia in the Apple App Store at no charge beginning in April. The Logitech Alert Web and Mobile Commander service enables additional functionality on the iPad, Web browsers and mobile apps and is available at a suggested retail price of U.S. $79.99 per year.
The Logitech Alert 750i Master System and the Logitech Alert 750e Outdoor Master System are available for a suggested retail price of U.S. $299.99 (U.S.) and $349.99 (U.S.), respectively. The Logitech Alert 700i Add-On Camera and the Logitech Alert 700e Outdoor Add-On Camera are offered for the suggested retail price of U.S. $229.99 (U.S.) and $279.99 (U.S.) respectively. Please visit www.logitech.com/alert for more information.
About Logitech
Logitech is a world leader in products that connect people to the digital experiences they care about. Spanning multiple computing, communication and entertainment platforms, Logitech's combined hardware and software enable or enhance digital navigation, music and video entertainment, gaming, social networking, audio and video communication over the Internet, video security and home-entertainment control. Founded in 1981, Logitech International is a Swiss public company listed on the SIX Swiss Exchange (LOGN) and on the Nasdaq Global Select Market (LOGI).
Last updated: Apr 7, 2020 at 12:04 pm CDT