MSI, the leading global graphics card and mainboard manufacturer, today launches the N520GT-MD1GD3/LP graphics card utilizing the latest NVIDIA GeForce GT 520 GPU. Featuring MSI's exclusive Predator in-game video capture function with Afterburner 2.1.0, N520GT-MD1GD3/LP allows gamers access to a free utility that captures all of their classic in-game moments and share them amongst friends. With a single slot and low profile design, the N520GT-MD1GD3/LP works perfectly on smaller mainboards and in slim cases. Supporting next-generation DirectX 11 and NVIDIA 3DVision technology, the N520GT-MD1GD3/LP is the perfect choice for HTPC entertainment.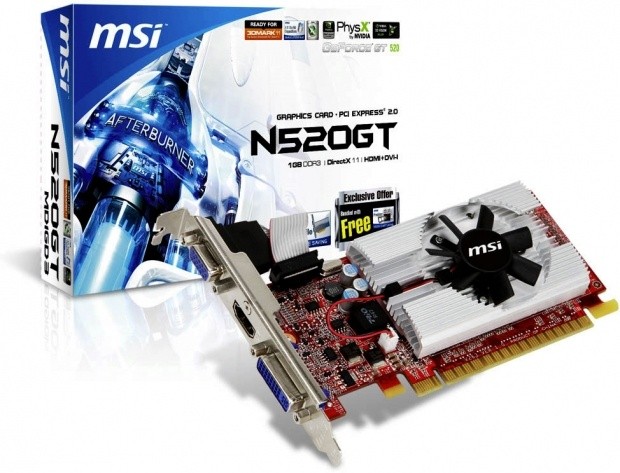 Exclusive Video Capture Function For Free via MSI Afterburner
The latest V2.1.0 of MSI Afterburner overclocking utility adds the exclusive Predator in-game video capture function. Bundled with the N520GT-MD1GD3/LP, gamers can now capture all of their classic moments in their favorite games, custom the video format, quality and size and share them online via sites like YouTube.
Single Slot, Low Profile Design For Minimal Footprint
The N520GT-MD1GD3/LP delivers performance in a small package. With a low profile form factor and single slot cooling solution, this card fits to most small form factor cases for HTPC use. The sleek design allows usage in even the slimmest and fashionable of cases, delivering maximum performance with the smallest footprint.
All Solid Capacitors For The Best Reliability
The MSI N520GT-MD1GD3/LP graphics card implements an all-solid capacitor design. Under high load environments over an extended period of time, the aluminum core can still maintain extremely high stability, reducing the uncertainty due to system instability or hardware component failure. This ensures the optimal user experience under mission-critical performance scenarios.
NVIDIA 3DVision Technology For 3D Blu-ray Video Playback
The MSI N520GT-MD1GD3/LP is 3D Vision ready, supporting the latest in immersive visual technology. With 3D-capable monitor and 3D Vision glasses, the MSI N520GT-MD1GD3/LP graphics card can achieve 3D Blu-Ray playback for a dynamic and realistic entertainment experience.
Last updated: Apr 7, 2020 at 12:04 pm CDT