The ASRock New-Generation Motherboards Bring The Best Kit To Rock The Industry
TAIPEI, Taiwan, April 11, 2011 - ASRock Inc. the global leading motherboard manufacturer released its new-generation motherboards coming with the best kit of feature sets to rock the industry. To deliver the premium product to users, ASRock has thrown everything you could want at its full-line motherboard series. The exciting features include the ASRock signature XFast USB Technology which offers the world's fastest data transfer speed, Graphical UEFI BIOS interface and the advanced Digi Power design. The ASRock latest motherboards come with a bucketful of technologies aimed at bring the ultimate PC experience to users!
XFast USB Technology
One of the joys of owning a PC is that you can upgrade it as you go. Need faster transfer speed? ASRock XFast USB allows users to realize the full potential of their USB performance with an easy to use and intuitive user interface.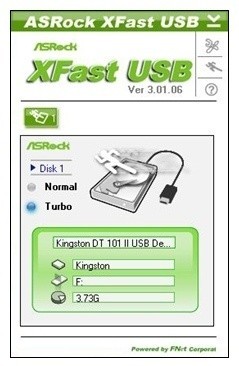 Since Microsoft Windows only assigns 10% resource from one USB device, ASRock XFast USB Technology creates QOS (Quality of Service) to let USB device work more efficiency. It changes USB protocol from single-task to multi-tasks to boost up USB performance. Considering USB 3.0 is becoming a trend, ASRock implements XFast USB Technology on its full range of motherboard series. It is currently the fastest USB transfer in the world, which can possibly double USB transfer speed, hence, users can be assured to make more things done with less time. To create daily tasks in minutes and do your office tasks more efficiently, ASRock XFast USB will do the jobs brilliantly!
Graphical UEFI BIOS Interface
To meet today's most demanding technology - especially the high-end enthusiasts' boards required myriads of settings, the change of old BIOS is a must. The traditional BIOS has been overtaken by the graphical, mouse-workable UEFI BIOS interface - a version with more customize and diverse design.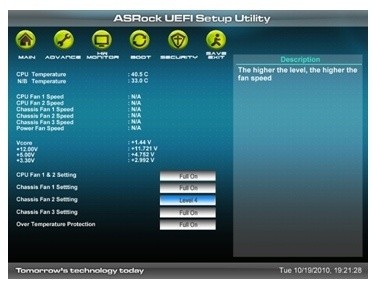 Unified Extensible Firmware Interface (UEFI) is a revolutionary BIOS utility which offers tweak-friendly options in an advanced viewing interface. As the third-largest motherboard manufacturer, ASRock is the first to carry out graphical UEFI support in all new motherboard series. The new graphical UEFI system works with a USB mouse and brings visual graphical interface experience. Plus it's a must if you're intending to use a 3TB hard drive as a boot disk. With the graphical UEFI BIOS interface, users can experience the most optimized BIOS setup screen.
Digi Power
Traditional motherboards are mostly equipped with analog Pulse-width modulation (PWM), which might bring users annoying problems that the CPU power supply is not stable enough, hence affects the computing efficiency. To improve CPU power solution, ASRock new-generation motherboards adapt Digi Power (digital Pulse-width modulation), providing CPU Vcore voltage more efficiently and smoothly. In addition, the unique Digi Power provides the most reliable computing CPU power solution, allowing users to enjoy the amazing performance.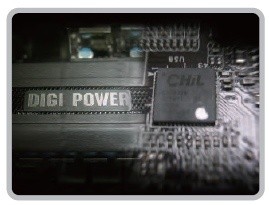 (Available on Fatal1ty P67 Professional, P67 Extreme6, P67 Extreme4, 890FX Deluxe5 motherboards)
ASRock always bring you more than you expected! Both current and the forthcoming models will be supporting ASRock exclusive XFast USB and Graphical UEFI tools. Digi Power design may vary by models. With those exciting features, users can build a pretty impressive and feature-rich ASRock system easily.
For more detail information, please visit http://www.asrock.com/mb/index.asp or http://www.asrock.com/
About ASRock
ASRock Inc. is established in 2002, specialized in the field of motherboards. Instead of just being an OEM manufacturer, ASRock strives to build up its own brand. With the 3C design concept, "Creativity, Consideration, Cost-effectiveness", the company explores the limit of motherboards manufacturing while paying attention on the eco issue at the same time, developing products with the consideration of eco-friendly concept.
ASRock has been growing fast and become world third largest motherboard brand with headquarter in Taipei, Taiwan and branches in Europe and the USA. The young and vibrant company targets at entry to mainstream segment MB business, owning reputation around the world market with its reliability and proficiency. Further information, please visit http://www.asrock.com
Last updated: Apr 7, 2020 at 12:04 pm CDT