The GIGABYTE GA-6UASL Series of single socket motherboards for server offers the best platform to deliver the new world class performances available through Intel's brand new processor microarchitecture and chipset series.
Designed for small and medium business applications, the GIGABYTE GA-6UASL Series offers a multipurpose product perfect for applications such as web server, file & print server, e-mail server, storage server, and any type of vertical-specific business applications, but it is also absolutely suitable for high performance computing and embedded applications.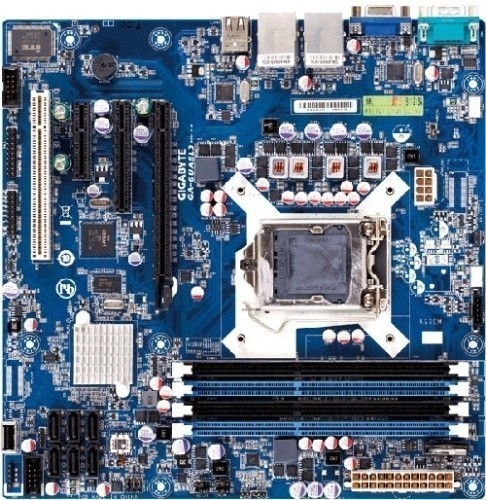 As a cost-effective, high performance, and polyvalent solution, the GIGABYTE GA-6UASL Series integrates all the high-value features your business needs to be geared for the future.
Key Features
1. Designed for Sandy Bridge Microarchitecture
The GIGABYTE GA-6UASL Series supports Intel's new 32nm microarchitecture and the LGA 1155 socket, allowing our motherboards to operate with the new Intel Xeon E3-1200 processor family, which brings, among others, a 25% performance improvement and lower power consumption compared to the previous CPU generation.
2. Multiple LAN Connections
The GIGABYTE GA-6UASL Series offers motherboards with both single and dual LAN ports, and with different class of LAN controllers. The performance and the bandwidth can therefore be controlled and tailored to the requirements of our customers' applications.
3. Memory
The motherboards from the GIGABYTE GA-6UASL Series have 4 DIMM connectors supporting unbuffered ECC DDR3 memory (up to 32Gb) with data transfer rates of 1333 / 1066 MHz, for bandwidth-demanding applications. The DDR3 standard also improves memory performance, lower heat and lower power consumption for the best memory solution.
4. Storage
The motherboards from the GIGABYTE GA-6UASL Series include 6 integrated SATA II 3G ports for a facilitated bandwidth aggregation in a multiple devices environment, enabling this way an maximum data throughput and a higher cache in single drive configurations.
5. Connectivity
The GIGABYTE GA-6UASL Series also provide a rich expansion platform for diverse system deployment, with 1 x high-speed PCIe 2.0 x16, 1 x PCIe 2.0 x4 (x8 mechanical), 1 x PCIe 2.0 x2, and 1 x PCI slots.
6. Durability
The GIGABYTE GA-6UASL Series motherboards are equipped with durable Japanese solid capacitors, which have improved heat characteristics, longer lifespan, and enhanced energy efficiency. They contribute to deliver high quality, stable, reliable and durable motherboards to match the critical requirements of the high-end processors and components' generation that will shape the server computing of tomorrow.
For more information, visit the
product page
.
Last updated: Apr 7, 2020 at 12:04 pm CDT