NewerTech Debuts StoraDrive Media Storage Tray For Organizing Up to Thirteen Pieces of Digital Media
Wed, Mar 30 2011 11:40 AM CDT
NewerTech Debuts StoraDrive Media Storage Tray For Organizing Up to Thirteen Pieces of Digital Media
Anti-static precision cut foam insert expands functionality of NewerTech StoraDrive case to organize and protect multiple storage media formats, including 2.5" hard drives or SSDs, Compact Flash cards, Sony memory sticks, SmartMedia cards, and SD/SDHC/SDXC cards
March 30, 2011, Woodstock, IL -- Newer Technology, Inc. (NewerTech) http://www.newertech.com, a leading developer of Macintosh, PC, iPod, iPhone, and iPad performance upgrades and accessories, announced today that it has expanded its hard drive accessory line with the introduction of the new $7.99 MSRP Media Storage Tray for use with the NewerTech StoraDrive. The Media Storage Tray transforms one of the stackable anti-static StoraDrive cases into a compartmentalized, padded, all-in-one storage solution for protecting and organizing multiple digital media formats.
Holds Up To Thirteen Pieces of Digital Media In Multiple Formats:
Each NewerTech Media Storage Tray can hold:
One 2.5" PATA/SATA Hard Drive or Solid State Drive
Up to two Compact Flash cards
Up to two Sony Memory Sticks
Up to four SmartMedia cards
Up to four SD (Secure Digital), SDHC (Secure Digital High-Capacity), or SDXC (Secure Digital eXtended-Capacity) cards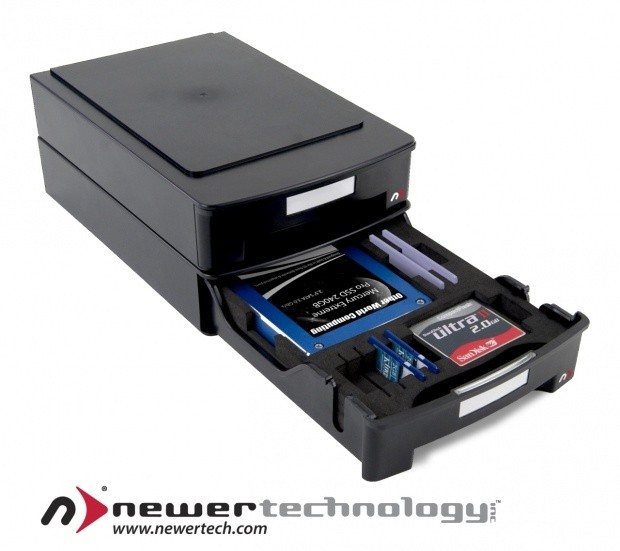 Protect and Organize Vital Stored Data in Custom-fitted, Easy Access Compartments
The NewerTech Media Storage Tray expands the functionality of the NewerTech StoraDrive by adding secure, organized storage compartments to hold the most commonly used digital media devices. Made of ESD foam rubber and weighing a mere 0.8oz., the Media Storage Tray provides fingertip access to five different media formats in a single, space saving desktop location.
"The Media Storage Tray is an effective solution to expand the usefulness of a StoraDrive," said Grant Dahlke, Brand Manager, NewerTech. "Now, one StoraDrive case can be utilized to hold a full sized 3.5" drive and the other case can be fitted with this tray to store and organize the five most popular types of flash memory storage formats."
Enhances Functionality of NewerTech StoraDrive Interlocking Two-Pack Case Solution
The Media Storage Tray insert is the perfect enhancement for the $9.95 MSRP NewerTech StoraDrive stackable anti-static cases. Economical yet highly functional, StoraDrive is a superior value to basic, single unit competing options on the market. A smooth sliding drawer action provides easy access without disrupting other interlocked cases, and each drive drawer includes a convenient label area for easy content identification. The stackable, interlocking design enables more StoraDrive cases to be added as storage needs grow. Made of anti-static injection molded ABS plastic, the StoraDrive features non-skid rubber feet to keep both case and contents securely positioned.
StoraDrive and Media Storage Tray System Ideal for Users Who Hot Swap & Archive Drives
With today's low cost of hard drive storage and Plug and Play hot swap drive access products like NewerTech's $34.99 MSRP USB 2.0 Universal Drive Adapter http://www.newertech.com/products/usb2_adaptv2.php or the Voyager Drive Dock http://www.newertech.com/products/hdddocks.php priced starting from $39.99 MSRP, a greater number of computer users are incorporating the ease and convenience of accessing multiple drives into their workflow. Now, with the StoraDrive and Media Storage Tray system, photographers, videographers, and other multiple drive users and storage archivers have a safe, convenient, and organized way to store and access multiple media storage formats.
The NewerTech StoraDrive stackable case solution and the NewerTech Media Storage Tray are available immediately from NewerTech's exclusive distributor, Other World Computing (OWC), as well as through the retail channel. For more information on these and other NewerTech hard drive accessories, visit: http://www.newertech.com/products/hddacc.php
For more information on NewerTech's complete line of computer accessories and upgrades for Macs, PCs, and iOS Devices, visit: http://www.newertech.com/products.
About Newer Technology, Inc.
Since 1984, Newer Technology, Inc. (NewerTech) has been recognized as the leading developer of performance upgrades and accessories for Macintosh and PC computers, iPods, iPhones, and iPads. NewerTech is headquartered in Woodstock, Illinois. Dealer inquiries are welcome by calling 815-308-7001 or by emailing sales@newertech.com.
Last updated: Apr 7, 2020 at 12:04 pm CDT
PRICING: You can find products similar to this one for sale below.

United States: Find other tech and computer products like this over at Amazon.com

United Kingdom: Find other tech and computer products like this over at Amazon.co.uk

Australia: Find other tech and computer products like this over at Amazon.com.au

Canada: Find other tech and computer products like this over at Amazon.ca

Deutschland: Finde andere Technik- und Computerprodukte wie dieses auf Amazon.de
Related Tags