OWC Mercury Extreme Pro RE Solid State Drive Used To Set Overclocking World Record
Mar 25, 2011 10:06 AM CDT
OWC Mercury Extreme Pro RE Solid State Drive Used To Set Overclocking World Record
Other World Computing teams up with The SSD Review to achieve a PCMark Vantage score of 34311.0RAID controller card review by The SSD Review reveals OWC SSDs capable of 'mind blowing' 3.6GB/s speeds...fast enough to transfer a full Blu-ray movie in less than seven seconds
March 24, 2011 Woodstock, IL -- Other World Computing (OWC®) http://www.macsales.com, a leading zero emissions Mac® and PC technology company today announced its OWC Mercury Extreme Pro RE Solid State Drive was an integral component of a test rig that established a world record in the PCMark Vantage overall point category for a Quad Core system. The SSD Review HWBot Overclocking team (http://www.hwbot.org/community/team/the_ssd_review_), headed by Paul Alcorn, a storage specialist and overclocker who specializes in RAID/SSD performance benchmarking, eclipsed the former world record of 33271 points with a first submission high score of 34311.0 marks.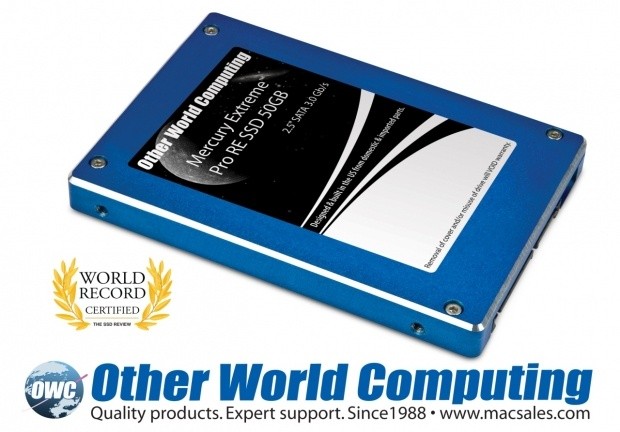 What It Takes To Set A Record
Approximately 30,452 competitors compete over a wide range of benchmarks in an 'overclockers league' maintained by HWBot.org (http://www.hwbot.org/article/news/info). Millions of benchmarks have been run and submitted to Futuremark databases, a central verification system. Once the results are verified with Futuremark, an 'overclocker' is able to submit to HWBot.org.
"We chose the OWC Mercury Extreme Pro RE SSD for our world record attempt because its 28% over provisioning ensures much better performance over many runs," said Paul Alcorn, captain of The SSD Review HWBot Overclocking team. "With the superior performance of OWC SSDs, and the fact that the RE model is specifically tailored for RAID environments, OWC was an obvious partner choice for our record setting test rig".
For more information on the world record results by The SSD Review HWBot Overclocking team, visit:
http://www.hwbot.org/community/submission/2143298_computurd_pcmark_vantage_core_i7_920_34311_marks
Benchmark Testing Benefits Everyday Users
PCMark Vantage is considered the 'gold standard' for benchmark testing by reviewers and storage enthusiasts because it contains real world testing scenarios based on normal, common user activity. What this type of testing reveals is that OWC Mercury Extreme Pro SSD drives are designed to exceed everyday to beyond normal usage patterns and are especially suitable for use in demanding RAID configurations.
"I would like to thank Other World Computing for providing the Solid State Drives that enabled our team to set the world record," said Les Tokar, founder and CEO of The SSD Review. "OWC SSDs have been proven to achieve greater performance than rated, thus making them extremely reliable for everyday use."
For more information on the test system used by The SSD Review HWBot Team to achieve their world record results, visit:
http://thessdreview.com/uncategorized/the-ssd-review-and-owc-combine-to-achieve-hw-bot-pcmark-vantage-world-record/
OWC SSDs Offer 'Mind-Blowing' Speeds
In a recent review of the Areca 1880ix-12 PCIe 6G SAS RAID Controller Card by The SSD Review, eight OWC SSDs in a RAID 0 array delivered what site founder Les Tokar called 'mind-blowing' 3.2GB/s read and 3.6GB/s write speeds with PCMark Vantage results of over 229304.0 points. With speeds that high, a full Blu-ray movie (25GB average movie size) can be transfered in less than seven seconds. For more information on the test results of the Areca controller card utilizing OWC SSDs, visit:
http://thessdreview.com/our-reviews/areca-1880ix-12-pcie-6g-sas-raid-controller-review-ssd-in-raid-0-pcmark-vantage-and-conclusions/
"We're extremely pleased our SSD was used to achieve a benchmarking world record," said Larry O'Connor, Founder and CEO, Other World Computing. "Equally satisfying is that these independent test results continue to confirm that our SSDs deliver exceptional results for everyday users while being fully capable of handling the most demanding performance scenarios without any reliability compromise."
For more information on the complete OWC Mercury Pro SSD line, which includes the world's first and only third party SSD for the MacBook Air, visit: http://eshop.macsales.com/shop/SSD/OWC/
About Other World Computing (OWC)
Other World Computing (OWC) has been providing quality hardware products and support to the computer industry since 1988 and features one of the largest online catalogs of computer, iPod®, iPhone®, and iPad® enhancement products through its e-commerce portal www.macsales.com. As a member of the Apple Developer Program, OWC also provides extensive US based technical support for Macintosh users around the world as well as Internet access via www.fastermac.net and www.owc.net
Last updated: Apr 7, 2020 at 12:04 pm CDT
PRICING: You can find products similar to this one for sale below.

United States: Find other tech and computer products like this over at Amazon.com

United Kingdom: Find other tech and computer products like this over at Amazon.co.uk

Australia: Find other tech and computer products like this over at Amazon.com.au

Canada: Find other tech and computer products like this over at Amazon.ca

Deutschland: Finde andere Technik- und Computerprodukte wie dieses auf Amazon.de
Related Tags