AVADirect Now Shipping Updated Sandy Bridge Desktops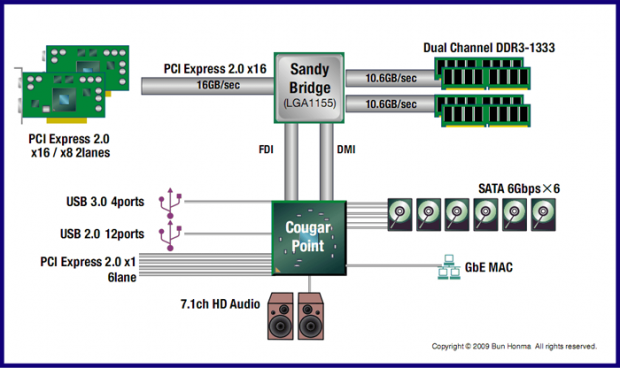 March 4th , 2011 - AVADirect, a leading custom computer manufacturer, announces all Sandy Bridge desktops are now available directly through AVADirect. Intel is currently ahead of schedule to release the awaited B3 Cougar Point chipsets that correct the SATA 6Gb/s data bandwidth flaw from degrading over time. Pending orders will be honored as promised, and newly submitted orders will ship within their standard time frame of 10-14 business days.
Intel's press release in late January was difficult to take in for the entire industry. There was not much that could be done besides accumulating an immense amount of patience until the Cougar Point flaw was dealt with accordingly. The same cannot be said for boutique builders, such as AVADirect. The custom computer manufacturer worked diligently with its customers to provide quick, alternative solutions at no cost to their clientèle. While working along side with premiere partners, replacement options were also extended to those who decided to move forward with current desktops despite the chipset flaw. Customers have the option to contact the manufacturer directly for said replacement to receive the corrected chipsets relevant to the model motherboard within their AVADirect system.
AVADirect would like to thank its customers for their patience throughout Intel's chipset flaw update period, and will continue to assist its customers in building a unique Sandy Bridge system to their exact specification. Potential customers are urged to contact their sales line for further questions regarding availability, and an exact ETA of when a Sandy Bridge system can be expected to ship to their location.
About AVADirect
AVADirect is a privately owned custom computer manufacturer based in Twinsburg, Ohio, (within close proximity to Cleveland) specializing in the design, engineering and manufacturing of personalized high performance computer systems. The systems span the spectrum from Windows or Linux manageable and highly-reliable servers, to high-end workstations and gaming systems, to business PC's, notebooks and barebones systems and parts, focused on the commitment to meet the everyday demands of the marketplace, while creating a footprint within the industry.
For more information, visit
www.avadirect.com
.
To configure a custom Sandy Bridge desktop click
Sandy Bridge Desktop at AVADirect
.
Last updated: Apr 7, 2020 at 12:04 pm CDT