ASRock Unveil Multitudes of Entertainment-Focused Products at CeBIT 2011
ASRock Unveil Multitudes of Entertainment-Focused Products at CeBIT 2011
Next-generation computing is arrived. With advanced techniques, ASRock new products deliver exotic gaming experience performing at home.
February 24, 2011, Taipei, Taiwan - ASRock Inc. is going to expose new products at CeBIT 2011. From 1st March to 5th March, ASRock will introduce several well-featured products which bring the overwhelming gaming environment to your home. Different from last year, this year, ASRock exclusively cooperate with Johnathan Fatal1ty Wendel, the legendary 12x World Champion Gamer, to develop more features on gamer-oriented motherboards - Fatal1ty Gaming Motherboard Series. To demonstrate the amazing performance of ASRock new Sandy Bridge Motherboard, Johnathan Fatal1ty will be playing shootout games with other gamers during the show. In that period, a multitude of entertainment-focused products will be conducted; technology highlights for the coming year will be announced from entry level to advanced users.
MOTHERBOARDS - Gaming Gear
A high-spec PC is a must for playing the latest games. This year, ASRock will be exhibiting its first gaming segment motherboard, the Fatal1ty P67 Professional. For extremely powerful gaming without being tied to a desktop, the serious gamer should look no further than the Fatal1ty P67 Professional: the world's most powerful P67 motherboard. From many aspects, the board fits the requirements of gamers, helping them with gameplay support from many aspects. The red and black colored board suggests its function is impressed as well as its stylish look. One of the unique features, for instance, is Fatal1ty Mouse Port, a customizable technology for F-Stream PC gamers; with a wide range from 125 Hz to 1000 Hz to make adjustment, gamers can obtain more precise control of their mouse. With its top-end components, the Fatal1ty P67 Professional gives your games an adrenaline shot with incredible performance.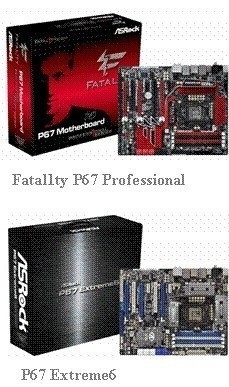 The Ultimate of Computing
In conjunction with Intel's latest Sandy Bridge platform, ASRock will also showcase its flagship P67 motherboard, the ASRock P67 Extreme6. Delivering incredible features for power users and gaming enthusiasts including onboard PLX technology, advanced V16+2 power phase design, Digi Power, NVIDIA® 3-Way SLI™/ATI® Quad CrossFireX™, as well as support for USB 3.0, XFast USB Technology (exclusive from ASRock), and SATA3, ASRock P67 Extreme6 is the perfect tool for any advanced user who value style and performance.
Not only focusing on the static display, ASRock will also live demo this feature-completed P67 Extreme6 motherboard. Utilizing Intel Core i7 Unlocked 2600K CPU, this board allows overclocking performance boost up to 5GHz by air cooling. To see is to believe. All you have to do is just to visit ASRock CeBIT 2011, and you will be assured in the know!
[img]2[/img]
Best Solution for Home Theater
At ASRock CeBIT 2011, a series of brilliant motherboard solutions will be showcased. That is a platform for ASRock H67 series. The ASRock H67M-GE/HT motherboard supports high quality computing process, it can also provide users a chance of experiencing extraordinary media center. The Intel Sandy Bridge processor allows this board to support Intel HD Graphics 2000/3000 and new Visual Features, such as DX10.1, PS4.1 and Blu-ray Stereoscopic 3D with HDMI 1.4a. Users have more options, such as onboard HDMI, DVI-D, D-Sub and DisplayPort, to select as their display outputs. Among the abundant package, there's a set of MCE (Media Center Edition) Remote Controller and its Multi-Angle CIR Remote Receiver, which suggests more flexible and convenient of home entertainment experience. Moreover, to support the newly launched home 3D technology, ASRock H67M-GE/HT motherboard offers a set of 3D Red/Cyan anaglyph glasses in the package. As a result, users can enjoy the lively 3D vision in a simple way.
Most Valuable Motherboard Choice
For PC beginners, ASRock will present several valuable motherboards based on Intel H61 Express chipset. The ASRock H61M/U3S3 motherboard is integrated with Intel HD Graphics that supports Intel Built-in Visuals which include Intel Quick Sync Video, Intel InTru 3D, Intel Clear video HD Technology, Intel HD Graphics 2000/3000 and Intel Advanced Vector Extensions (AVX). As for software aspect, the ASRock H61M/U3S3, like other P67/H67 platforms, are also equipped with XFast USB Technology, UEFI, AXTU programs. To create a simply efficient system, the ASRock H61 motherboard series will help users work smarter and faster.
Ambitious Upgrader
Speaking about the AMD platform, ASRock will showcase an exciting range of motherboards based on AMD 890FX, 890GX, 880G and 870 chipsets. As the flagship of the series, the ASRock 890FX Deluxe5 is designed to PC enthusiasts who demand the most advanced equipment. Featuring AMD 890FX chipset paired with the SB850 south bridge, this board also supports AMD new Vision Technology (Black Edition) that ensures users an amazing visual experience. To improve CPU airflow solution, the ASRock 890FX Deluxe5 motherboard adapts the upgraded Two-Piece Retention Module, providing improved cooling efficiency with AM3/AM2+ CPU coolers. Other noteworthy features on 890FX Deluxe5 include Premium Gold Caps, 2oz copper PCB layer as well as the support for XFast USB Technology. Thanks to stupendous build quality, the ASRock newly unveiled AMD 8 series motherboards are able to deliver the most reliable desktop computing experience yet.
In addition, ASRock will also live demo this outstanding 890FX Deluxe5 motherboard and let users experience how fast USB can boost on this board by using XFast USB Technology. If you are an eagle-eyed user looking for the true exciting computing, do not forget come to experience the new wonder of ASRock located at Hall 17, Stand D35.
A Compact Solution
AMD followed its larger rival by showing off Zacate, a lightweight version of its Bobcat platform that also features CPU and GPU on the same die - APU (Accelerated Processing Unit). ASRock will also demo their latest E350M1/USB3 motherboard and discover how such a mini-ITX board can bring versatility to a compact case. The ASRock E350M1/USB3 model name obviously unveils its capacities. It is built on AMD Fusion Dual-Core E350 APU platform and with the support for USB 3.0. This board brings several advanced improvements, such as DirectX® 11 graphics core that delivers a rich visual experience with a wide set of content. The new APU is designed to vastly improve today's Internet, video processing, playback, and gaming experiences. DirectX® 11 is the very latest in high-speed, high-fidelity gaming and computing. It can enable not just more visually stunning games, but significant performance improvements in some of your favorite websites and everyday applications. To make this board more distinctive, the ASRock E350M1/USB3 motherboard is exclusively equipped with AMD A50 Hudson M1 chipset that allows this board to provide native SATA3 supports.
Meet all the latest gear of 2011 as ASRock showcase their talents at their CeBIT booth Hall 17, Stand D35. We welcome you to test all products at ASRock booth!
For more detail information, please visit http://www.asrock.com/mb/index.asp or http://www.asrock.com/
Last updated: Apr 7, 2020 at 12:04 pm CDT
PRICING: You can find products similar to this one for sale below.

United States: Find other tech and computer products like this over at Amazon.com

United Kingdom: Find other tech and computer products like this over at Amazon.co.uk

Australia: Find other tech and computer products like this over at Amazon.com.au

Canada: Find other tech and computer products like this over at Amazon.ca

Deutschland: Finde andere Technik- und Computerprodukte wie dieses auf Amazon.de
Related Tags