Kingston Digital Delivers a Fully Managed and Cost-Effective Secure USB for Enterprise Solutions
Kingston Digital Delivers a Fully Managed and Cost-Effective Secure USB for Enterprise Solutions
• FIPS 140-2, Military-grade Security Available to Businesses of Any Size
• Best-in-class Security Management from BlockMaster Provides Industry's Most Detailed Control and Protection
• Kingston's Memory Expertise, Chip-Buying Power and Distribution Channels Allow for Worldwide Availability, Delivery, Customer Service
Sydney, Australia -- February 17, 2011 - Kingston Digital, Inc., the Flash memory affiliate of Kingston Technology Company, Inc., the independent world leader in memory products, today announced a series of portable data security solutions - the DataTraveler 4000 (DT4000) and DataTraveler Vault-Privacy Managed (DTVPM) - offering enterprises the most flexible, cost-effective USB options that also deliver unmatched security control. A leader in memory solutions since 1987, Kingston delivers these new products as part of the industry's only secure USB family ranging from general purpose business use to flexible, managed enterprise offerings, and to platforms for the most secure and rigid government standards.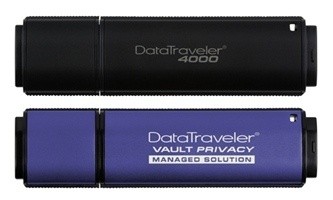 While many organisations depend on the portability and simplicity of USBs for data management, removable media became an unfortunate focal point in 2010 for some of the most troubling security events - from Stuxnet to Wikileaks - and consumerisation only served to raise further issues of control. However, when deployed correctly, the portability and simplicity that characterize USB risk can be its greatest asset, enabling it to serve as a strategic security tool.
Currently, enterprise USB options are limited in their ability to offer both flexibility and stringent security. Existing solutions range from expensive and rigid platforms built to adhere to the highest government security certifications, to lightweight security offerings that offer little in the way of specific device management and are being loosely managed with general purpose endpoint security software. Kingston's new offerings draw from the company's unparalleled expertise with field-proven, government-tested and internationally deployed platforms supported with the industry's best warranty, service and support. The major features include:
- DT4000: brings military-grade encryption to corporations such as finance and healthcare, which require high-level protection for sensitive information. The DT4000 is FIPS 140-2 Level 2 validated for the entire cryptographic module - not just the security processor as with some other solutions. The DT4000 will also be available as a centrally-managed drive later this year.
- DTVPM: offers corporate customers centralised control of all USB activity. Leveraging the world-class SafeConsole server software from BlockMaster, a company with the broadest and most mature management offering on the market, the DTVPM solution offers advanced features including password control, device state management, file audit log and file restrictor options to control what file types may be saved to the drive.
"Managed secure USB drives are a necessity within many professional organisations," said Anders Kjellander, Chief Security Officer at BlockMaster. "The financial, legal and truly practical benefits of getting in control of USB drive usage are driving this movement. BlockMaster's strong relationship with a global leader as Kingston will make managed secure USB drives highly available to customers."
"Kingston is known the world over as the memory company of choice among the Fortune 500. Our expertise in high-level encryption standards, worldwide access to controllers and NAND Flash combined with tremendous purchasing power and distribution channels allow us to extend our heritage further into the corporate space with our secure USB offerings," said Nathan Su, Flash Memory Sales Director, APAC Region, Kingston. "In addition to the DT4000, our relationship with a software security leader like BlockMaster gives our global customer base a back-end, centralized management solution for portable data peace of mind and protection."
Other upcoming Kingston secure USB Flash drives include a centrally managed version of the DataTraveler 4000 for corporations requiring FIPS 140-2 Level 2 security. For more specific product information, please visit: http://www.kingston.com/asia/flash/secure_usb.asp.
Like all Kingston DataTraveler products, Kingston DataTraveler 4000 and DataTraveler Vault-Privacy Managed USB Flash drives carry a guaranteed five-year warranty and free technical support services. For more details, please visit Kingston website: www.kingston.com/anz
Pricing and Availability
Manufacturer: Kingston Digital
Product Name: DataTraveler 4000 (DT4000) and DataTraveler Vault-Privacy Managed (DTVPM)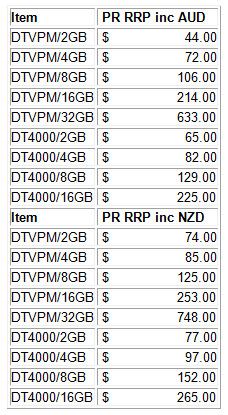 About Kingston Digital, Inc.
Kingston Digital, Inc. ("KDI") is the Flash memory affiliate of Kingston Technology Company, Inc., the world's largest independent manufacturer of memory products. Established in 2008, KDI is headquartered in Fountain Valley, California, USA. For more information, please visit www.kingston.com/anz.
Last updated: Apr 7, 2020 at 12:04 pm CDT
PRICING: You can find products similar to this one for sale below.

United States: Find other tech and computer products like this over at Amazon.com

United Kingdom: Find other tech and computer products like this over at Amazon.co.uk

Australia: Find other tech and computer products like this over at Amazon.com.au

Canada: Find other tech and computer products like this over at Amazon.ca

Deutschland: Finde andere Technik- und Computerprodukte wie dieses auf Amazon.de
Related Tags