Gigabyte Launches New GTX 560 Ti Series Graphics Card
Jan 26, 2011 2:25 AM CST
Gigabyte Launches New GTX 560 Ti Series Graphics Card
GIGABYTE, a leading manufacturer of motherboards and graphics cards, is pleased to present the latest premium graphics card series, GV-N560SO-1GI and GV-N560OC-1GI. Built with next-generation NVIDIA GeForce GTX 560 Ti GPU and GDDR5 memory technology, GV-N560SO-1GI and GV-N560OC-1GI run blockbuster games with amazing performance. Supporting NVIDIA 3D Vision Surround, 3D Vision, PhysX, and 2-way SLI, GV-N560SO-1GI and GV-N560OC-1GI guarantee ultimate extreme DirectX 11 gaming experience. Both GV-N560SO-1GI and GV-N560OC-1GI adopt GIGABYTE's innovative WINDFORCE 2X cooling technology for optimal thermal solution.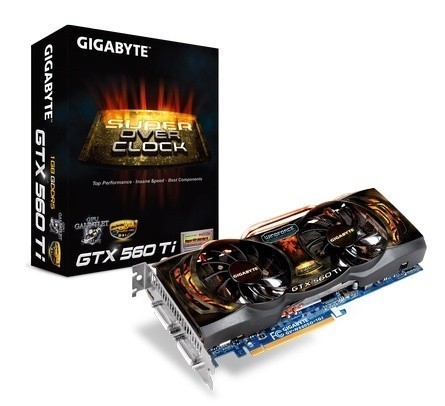 World's Fastest GTX 560 Ti
Of the two GIGABYTE GTX 560 Ti models, GV-N560SO-1GI is the latest new addition to GIGABYTE's Super Overclock Series. GV-N560SO-1GI's core and memory clock are 1G and 4580 MHz respectively whereas the standard GTX 560 Ti is 822/4000 MHz. To qualify for "SOC" series, GV-N560SO-1GI's GPU must go through GIGABYTE's innovative GPU Gauntlet Sorting process and it must be equipped with Ultra Durable VGA or VGA+ boards. Designed specifically for overclocking competition and gaming battle, GIGABYTE's secret weapon GTX 560 Ti Super Overclock Edition is built with NVIDIA GeForce GTX 560 Ti GPU. Based on 40nm processor and advanced GDDR5 memory technology, the powerful new GPU consists of ground-breaking features including Microsoft DirectX 11 and NVIDIA PhysX which lead to incredibly immersive HD gaming experience and unrivaled performance. GV-N560SO-1GI also features WINDFORCE 2X, 7 phase PWM design, OC Guru graphics card smart tuner and voltage read point.
WINDFORCETM 2X: Anti-turbulence Cooling
[img]2[/img]
GV-N560SO-1GI and GV-N560OC-1GI are both equipped with WINDFORCE 2X mirroring-inclined fin cooling solution. WINDFORCE 2X mirroring-inclined fin design is equipped with 2 ultra quiet PWM fans and four pure copper heat pipes. The special inclined dual fan design effectively minimizes the flow of turbulence between two fans and enhances heat dissipation of hot area right underneath each fan. By unique design, WINDFORCE 2X even enlarges air channel on the graphics card vents and creates a more effective airflow system in chassis. This special design helps heat dissipate quickly from GPU. In addition, the 2 copper heat-pipes strengthen the speed of heat dissipation.
Pure Power Architecture
GV-N560SO-1GI has incredibly pure power. It is compatible with ATX standard length PCB. 7 phase PWM design includes 6 for GPU, 1 for memory. This feature ensures a more stable system and better overclocking capability.
GPU Gauntlet Sorting
GIGABYTE's very own GPU Gauntlet Sorting process is the key to the best GPUs for Super Overclock Series. A GPU must pass a sequence of tests to be selected. This unique process offers three major advantages. First, full-throttle performance tuning improves GV-N560SO-1GI overclocking ability by at least 21%. Second, optimized thermal efficiency lowers extra temperatures by 16% (GV-N560SO-1GI compared to stock GTX 560 Ti). Fan speed is guaranteed at standard rpm in high-rated 3D and physics-accelerated games to reduce noise for an absolutely quiet environment. Lastly, expert power switching lowers power switching loss by 12%. With GPU Gauntlet Sorting, GIGABYTE SOC graphics card guarantees higher overclocking ability.
Ultra Durable VGA+
Thanks to Ultra Durable VGA+ that features 5+1 quality components, the Super Overclock Series supports top performance in graphics benchmarking. GIGABYTE Ultra Durable VGA+'s use of proadilizer on GV-N560SO-1GI graphics cards is able to provide purer power supply compared to traditional power design (zero proadlizers). On GV-N560SO-1GI graphics cards, GIGABYTE uses one NEC Proadlizer, also known as film capacitor, to provide amazing current capacity and extremely low ESL/ESR for super overclocking ability. The added proadlizer transmits more stable power even during heavy loading.
OC Guru - Graphics Card Smart Tuner
GIGABYTE proudly improves its graphics card smart tuner OC Guru. This graphics card tweaking utility puts together the best combination of software/hardware overclocking. It now features 3 profiles: OC (for overclocking mode), Gaming (for gaming mode), and Green (for power saving mode). The different modes cater to users' different needs. GIGABYTE's distinctive adjustable software offers gamers to adjust tuners for memory, voltage, and fan speed. OC Guru, the user-friendly software, gives hardcore gamers liberty when overclocking.
Voltage Read Point
GIGABYTE's specific voltage read point supplies hardcore gamers an ultimate benching experience at overclocking competition. Heavy users can change the voltage simply through software instead of manually adjusting any components on PCB. It is easy for overclockers to master the platform and monitor GPU workload at any time just through voltage read point.
Last updated: Apr 7, 2020 at 12:03 pm CDT
PRICING: You can find products similar to this one for sale below.

United States: Find other tech and computer products like this over at Amazon.com

United Kingdom: Find other tech and computer products like this over at Amazon.co.uk

Australia: Find other tech and computer products like this over at Amazon.com.au

Canada: Find other tech and computer products like this over at Amazon.ca

Deutschland: Finde andere Technik- und Computerprodukte wie dieses auf Amazon.de
Related Tags