AMD Reports Fourth Quarter and Annual Results
AMD (NYSE:AMD) today announced revenue for the fourth quarter of 2010 of $1.65 billion, net income of $375 million, or $0.50 per share, and operating income of $413 million. The company reported non-GAAP net income of $106 million, or $0.14 per share, and non-GAAP operating income of $141 million. The non-GAAP net income and non-GAAP operating income primarily excluded a net of tax gain of $236 million, and a pre-tax gain of $283 million, respectively, that the company recognized related to a patent license and legal settlement.
For the year ended December 25, 2010, AMD reported revenue of $6.49 billion, net income of $471 million, or $0.64 per share, and operating income of $848 million. Full year non-GAAP net income was $360 million, or $0.49 per share, and operating income was $553 million.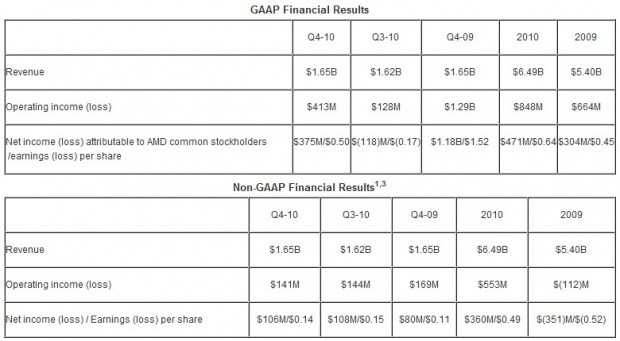 "AMD enters 2011 with significant momentum, amplified by the successful launch of our first Fusion APUs," said Thomas Seifert, CFO and Interim CEO. "I am confident we can drive profitable growth based on the strength of new products we will bring to market. Our customers recognize that Fusion APUs are at the core of delivering the world's most vivid digital experiences."
Quarterly Summary
•Gross margin was 45 percent, down one percentage point sequentially primarily due to lower microprocessor average selling price (ASP).
•Cash, cash equivalents and marketable securities balance at the end of the quarter was $1.79 billion.
•Computing Solutions segment revenue was flat both sequentially and year-over-year.
o Operating income was $91 million, compared with $164 million in Q3-10 and $161 million in Q4-09.
o Microprocessor ASP decreased sequentially and was flat year-over-year. The sequential decrease was due to lower notebook and server ASPs.
+ AMD kicked off the next era of vivid computing with the launch of the industry's first Accelerated Processing Units (APUs) aimed at providing better experiences on the types of visual and data-intensive applications that are becoming increasingly popular. Our first AMD Fusion APUs combine a low-power x86 microprocessor with DirectX®11 capable graphics to deliver optimized mobile experiences.
+ Acer, Asus, Dell, HP, Lenovo, MSI, Samsung, Sony and Toshiba plan to deliver affordable thin and light mobile PCs based on the new APUs that offer full 1080P HD experiences and long battery life.
+ Key software partners announced support for AMD Fusion APUs, including Adobe, ArcSoft, Corel, DivX and Microsoft.
+ Notebooks powered by AMD's new APU received nine prestigious innovation awards, including best innovation and editors' choice awards.
+ AMD introduced its fastest six- and dual-core processors with the AMD Phenom II X6 1100T and the AMD Phenom II X2 565 Black Edition processors.
+ AMD continues to be adopted in the world's highest performance computers. AMD technology powers more top 50 supercomputers than any other processor vendor in the latest Top500 Supercomputing list.
o Graphics segment revenue increased nine percent sequentially and was flat year-over-year. The sequential increase was driven by increased discrete graphics processor unit ASP and a seasonally strong increase in game console revenue.
+ Operating income was $68 million, compared with $1 million in Q3-10 and $50 million in Q4-09.
+ AMD introduced its second generation of DirectX 11-capable graphics cards to widespread acclaim and market reception, receiving more than 120 awards. The unprecedented game performance, energy efficiency and unrivaled feature set drove 50 awards for the AMD Radeon HD 6900 series graphics alone. Popular Science magazine recognized the ATI Radeon HD 5870 Eyefinity 6 graphics card with the magazine's coveted 'Best of What's New 2010' award.
Current Outlook
AMD's outlook statement is based on current expectations. The following statement is forward looking, and actual results could differ materially depending on market conditions and the factors set forth under "Cautionary Statement" below.
AMD expects first quarter of 2011 revenue to be flat to slightly down sequentially.
Last updated: Apr 7, 2020 at 12:03 pm CDT