ECS H67H2-I Brings New Lifestyle for Home Entertaining Enthusiasts
Elitegroup Computer Systems (ECS) is delighted to introduce the latest Intel based mini-ITX motherboard - ECS H67H2-I motherboard, designing to support the 2nd generation Intel Core processors and redefining home theater PC of the new era.
ECS has been very experienced and professional at Research & Development of small form factors motherboards, and we have envisioned that there will be a growing trend for HTPC. At both CeBIT & Computex exhibitions in 2010, ECS H55H-I was the first HTPC platform of mini-ITX form factor; it definitely caught visitors' attention among all similar categories. ECS H55H-I motherboard has successfully fulfilled product differentiation from the origins and ECS H67H2-I motherboard definitely will break the record in 2011. ECS H67H2-I motherboard continues carrying the advantages of space-saving, power-efficiency and surely brings much more vivid 3D visual experience as it supports amazing GPU O.C capability along with features of blu-ray HD playback and 3D gaming experience.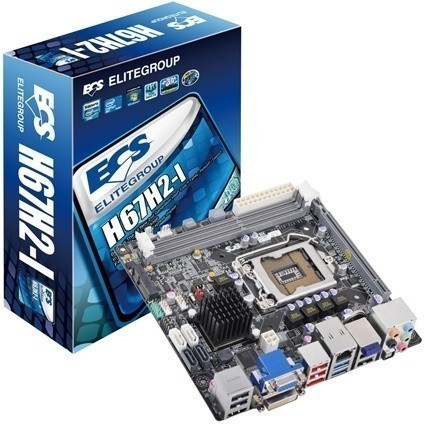 Expand Your Digital Experience
ECS H67H2-I motherboard is not only a successful pioneer, but also rapidly upgrades HTPC specifications. Other than its 95W CPU power design to support the whole series of INTEL Sandy Bridge CPU, the most notable feature is the on-board Bluetooth interface that offers wireless connection to portable devices within 10-meter distance. To integrate Bluetooth on ECS H67H2-I motherboard is a breakthrough in regards of creating a user-friendly PC environment. It avoids your PC to be surrounded by lots of messy cables, which makes your life become easier and more comfortable. Small as it is, ECS H67H2-I motherboard contains on-board mini PCIe slot for expanding usage of WIFI/TV Tuner/mSATA SSD cards. All in all, ECS H67H2-I motherboard definitely creates a new trend to every HTPC dreamer.
The Most Compact Solution Ever
Followings are other amazing features that are included in ECS H67H2-I motherboard:
• Supports Bluetooth devices up to 10 meter distance.
• Mini PCIE slot fully supports mini PCIE and mSATA devices.
• 2x SATA 6 Gb/s ports, providing 2 times faster bandwidth than previous SATA 3G.
• 2x USB 3.0 ports at the rear I/O delivering 5Gb/s super speed transfer rate.
• HDMI 1.4a to deliver 3D Blu-ray HD playback content.
• ECS unique M.I.B III BIOS interface to boost up GPU performance for excellent visual experience.
• ECS Multi-language UEFI contains 10 world-wide languages.
• ECS EZ Charger is designed to apply on Apple devices such as iPad, iPhone and iPod family via USB ports
• ECS exclusive software kits which includes eSF/eBLU/eDLU/eJIFFY.
• Norton Internet Security 2011 bundled.
• Supports Intel VRD - Voltage Regulator-Down 12.0
• 8 channel HD audio with S/PDIF optical output.
Last updated: Apr 7, 2020 at 12:03 pm CDT