ORIGIN Empowers GENESIS and Big O Desktops with Intel's Next Generation Core i7 2600K Overclocked over 5.0GHz
ORIGIN's award-winning desktops available starting

January 9, 2011 with Intel's next generation processors

EON notebooks to ship with new overclocked Core i5 and i7 processors in Q1 featuring the latest & most powerful CPU & GPU combination in a mobile chassis

EON17 now available with the NVIDIA GeForce GTX 485M GPU, the world's fastest notebook GPU

GENESIS on display at CES - Fractal Design Suite in the Venetian

Big O on display at CES - Creative Labs Booth South Hall 1, 20913

Miami, FL - January 5, 2011 - ORIGIN PC is proud to unveil a new era of powerful computing with the introduction of Intel's next generation Core i5 processors and Core i7 processors. The GENESIS and Big O high performance PCs are now equipped with Intel's second generation 32nm Core i7 processor featuring Intel® Turbo Boost Technology 2.0 and Integrated Memory Controller (IMC) - 2ch DDR3, 2 DIMMs/ch, up to 1333. ORIGIN kicks things up a few levels by overclocking this processing powerhouse to over 5.0GHz ensuring you achieve maximum performance from the new Core i7 processor. The revamped systems also feature up to three-way SLI, customized liquid cooling options for processors and video cards and a new user friendly EFI BIOS from ASUS featuring convenient mouse controls and an entirely new user interface.
Origin's EON 15 and 17 high performance notebooks will ship with the second generation Intel Core i5 and i7 processors in Q1. These coveted mobile solutions will feature the latest & most powerful CPU & GPU combination on a Mobile chassis by combining the power of Intel's latest mobile Core i7 processor technology with Nvidia's most powerful Mobile GPUs (GeForce GTX485M) on 15.6" & 17.3" inch platforms. Additional features will include Intel's new Core processor overclocking technology, up to four memory slots supporting dual-channel DDR3 memory, and an optional built-in TV Tuner. More information on the EON-S models can be found here: www.originpc.com/eonteaser
The ORIGIN EON17 is available now with the new NVIDIA GeForce GTX 485M GPU in single or dual configurations running in SLI. The GeForce 485M is the world's fastest notebook GPU featuring DirectX11, PhysX technology, and interactive raytracing.
"Intel's latest technology delivers gamers and creative professionals a new level of processing power and intuitive convenience" said Kevin Wasielewski, CEO and Co-Founder of ORIGIN. "ORIGIN delivers the most aggressive and rock solid overclocking in the industry and we have Intel's Core i7 processors running at over 5GHz while remaining cool and passing every single one of our stability tests. The Intel Core i7 2600K processor is an amazing processor and with ORIGIN's award-winning overclocking our customers will dominate the playing field."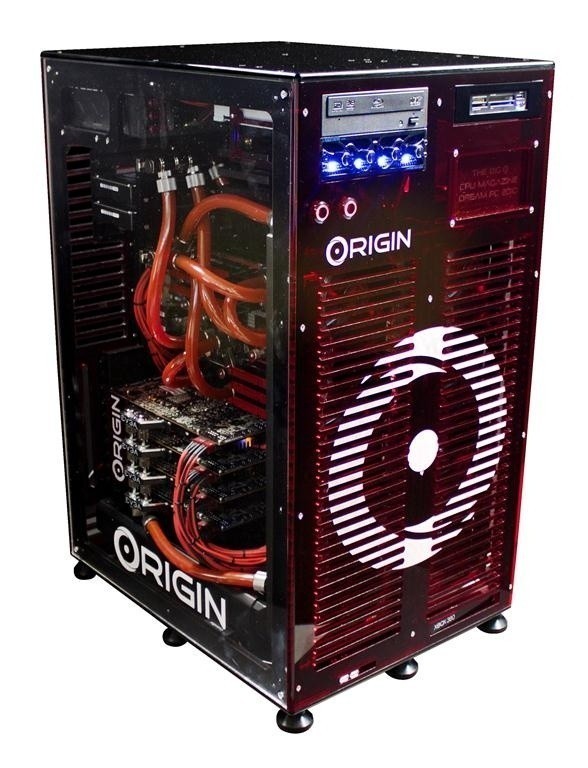 "The ORIGIN GENESIS built with Intel's second generation Core i7 Processors is one of the most powerful platforms on the market for gamers, power users, and professionals" said Eric Thompson, Director of North America Channel for Intel Corporation.
"ORIGIN's GENESIS is powered by ASUS' P8P67 Motherboard to deliver the best experience for gamers and professionals. Leveraging the motherboard's onboard DIGI+ VRM and EFI BIOS for accurate performance tuning, ORIGIN is able to overclock next-generation Intel processors to 5GHz and beyond." said Jerry Dien for ASUS Computers International.
GENESIS and EON systems feature a 1 year free shipping and free part replacement warranty backed with the best in class integration, quality testing and support. ORIGIN offers a free life-time phone and online service guarantee and each customer has a dedicated support team and free life-time labor for upgrade needs. The GENESIS is the only truly custom pc in the industry featuring name brand components with ORIGIN giving customers the option to customize every component including the chassis. Systems can be configured one on one with an ORIGIN specialist through 1-877-ORIGIN-0 or sales@originpc.com.
About ORIGIN:
ORIGIN builds custom, high-performance desktops and laptops for hardware enthusiasts, professionals, and gamers. ORIGIN PCs are hand built, tested, and serviced by knowledgeable gaming enthusiasts, industry veterans, and award winning system integrators. Their staff is comprised of award-winning, experienced experts in the gaming and PC markets who want to share their passion with other enthusiasts. ORIGIN is located in Miami, FL and ships worldwide. For more information, please visit www.ORIGINPC.com or call 1-877-ORIGIN-Ø.
Last updated: Apr 7, 2020 at 12:03 pm CDT