Silicon Power Releases New 2.5h Portable Hard Drive Stream S10 ~ A Glittering Debut and Ultra Fast!
World leading flash manufacturer, Silicon Power is in tune with USB3.0 product technologies and today announces, the Stream S10 ~ a portable 2.5inch 750GB hard drive. Silicon Powerfs Stream S10 is in semblance with Italian sports car with super fast USB3.0 read/write speed. It comes in simple curvaceous design and artistry paint treatment on a delicate casing that is elegant, gracious and trendy!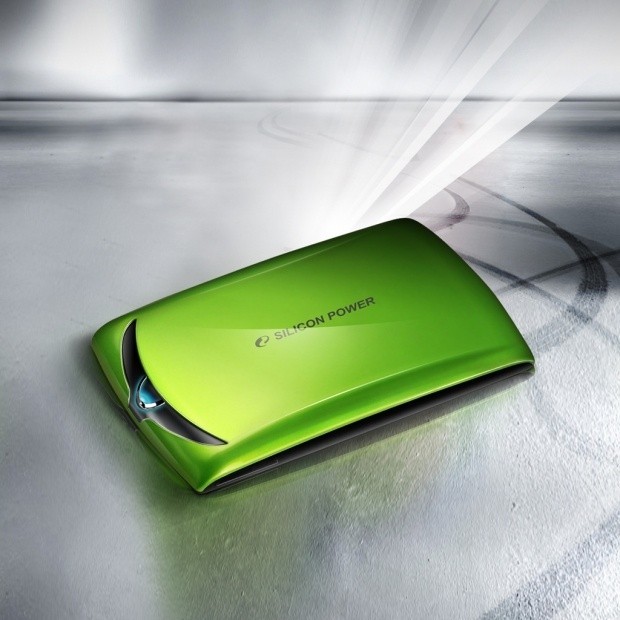 Distinguishing itself from the Armor portable hard drive series, Silicon Powerfs Stream series focuses on light weight, trendy design and performance. The Stream 10 is the first release from the Stream series. It serves to satisfy a broader market and customer needs. At the same time, it completes the Silicon Power external hard drive series of products; whether you are after performance, quality craftsmanship or economical value, Silicon Powerfs external hard drive series has it all!
The Stream S10 weighs merely 145 grams which is approximately 30% lighter than other 2.5inch portable hard drives available in the market. Featuring 640GB of storage capacity, it is light and easy to carry, perfect for Net book users, students or business professionals. In addition, in compliance with USB3.0 specifications, Stream 10 can read up to 98MB/sec, drastically reducing file access times for efficient data sharing.
Apart from its head turning performances, the Stream S10 features sports car like LED status indicator lights. Upon successful connection, LED turns blue and when transferring data, the blue LED flashes. Like all other Silicon Power products, Stream S10 owners can download free of charge and make use of SP Widget, a powerful software that features seven major backup and security protection tools. There is also a 60 day trial version of Norton Antivirus to further boost its added value and practicality.
Features
-USB 3.0 Super Speed (High transferring rate up to 5 Gbps/sec)
-Simple curvaceous design
-Artistry paint treatment, fingerprint free
-Slim, light and easy to carry
-LED indicates power on and data access
-SP Widget free download software features seven main functions to maximize your SP Portable Hard Drive
-Bundles with Case Bag
-Patent Information: patent pending
Specification
-Dimensions: 134.2 x 78.8 x 17.7 mm
-Weight: 145g
-Standard ComplianceFUSB 3.0 / 2.0
-Data Transfer Rates: Max. 5 Gbps (USB 3.0 Mode)
Max. 480 Mbps (USB 2.0 Mode)
-Power SupplyFDC5V (Power supplied through USB)
-Support OS: Windows 7, Windows Vista, Windows XP, Windows 2000, MacOS 10.3X above, Linux 2.6 31 above
-Operating TemperatureF5Ž~ 55Ž
-Storage TemperatureF-40Ž~ 70Ž
-Capacity: 320GB, 500GB, 640GB, 750GB
-Three-year warranty
About Silicon Power
Silicon Power Computer & Communications Inc., founded in 2003 by a group of enthusiastic specialists of flash data storage industry. Well dedicated in brand image and product quality, Silicon Power has been recognized and well accepted by millions of end-users in more than 100 countries, becomes the worldfs leading manufacturer of flash memory cards, USB flash drives, card readers, DRAM modules, solid state disks, and portable hard drives in less than a decade. Headquartered in Taipei, we continuously established various branches throughout the world including Netherlands, Japan, Russia, Mainland China and other emerging market. With superior quality and innovative design, our products stood out in several competitions and awarded Taiwan Excellence and COMPUTEX Design & Innovation Award in 2009 and 2010. Winning trust of global consumers, Silicon Power holds a record of successive double-digit revenue growth for last seven years. For Silicon Power, the product we introduced is not only a digital storage device but also a real promise to create and preserve your most valuable memory in every moment.
Last updated: Aug 9, 2020 at 12:18 am CDT