Lexar Media Introduces the First 128GB Professional SDXC Memory Card
Lexar Media, a leading global provider of memory products for digital media, today announced new Lexar Professional Secure Digital Extended Capacity (SDXC) memory cards. The new high-capacity Lexar Professional 133x SDXC cards enable the capture, storage, and transfer of extended lengths of 1080p high-definition (HD) video and continuous, rapid-fire image capture in a single, high-performance solution. The Lexar Professional 133x SDXC card is the first available in a 128GB capacity, and is also offered in a 64GB capacity. Both cards are speed rated at 133x, providing a minimum guaranteed transfer speed of 20MB per second, and feature a Class 10 speed designation. For additional information about Lexar Professional SDXC cards, visit www.lexar.com.
"The professional photography industry is at a point where digital photo- and video-capture methods are converging, meaning that professional shooters need a memory solution with the versatility and reliability to safely store both photos and videos," said Pachi Chen-Wong, senior product marketing manager, Lexar Media. "The 64GB and 128GB Lexar Professional 133x SDXC cards combine high-speed performance with large capacities to offer solutions for professionals who shoot large volumes of high-resolution images and HD video."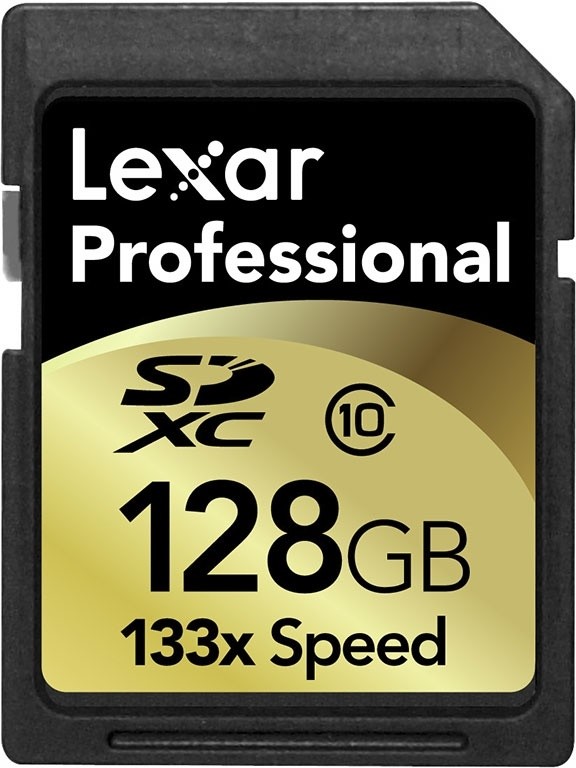 The Lexar Professional 133x SDXC memory cards are compatible with all SDXC-enabled devices. The cards include the latest version of award-winning Image Rescue software to help recover lost or deleted photo and video files. Professional photographers can now capture, store, and manage more of the photo and video content critical to their livelihoods.
Lexar Professional 133x SDXC cards provide consumers with the quality and reliability they have come to expect from Lexar Media. All Lexar product designs are tested in the Lexar Quality Labs, a group of facilities where all Lexar product designs undergo extensive testing to ensure performance, quality, compatibility, and reliability with more than 800 intended digital devices.
The Lexar Professional SDXC cards include a limited lifetime warranty and free, dedicated professional technical support. The new 64GB and 128GB Lexar Professional SDXC memory cards will be available in the first quarter of 2011 at leading retailers and on Lexar.com, with MSRPs of $399.99 and $699.99, respectively.
Last updated: Apr 7, 2020 at 12:03 pm CDT