PQI Releases the SDXC Class 10 Ultra High Spec Memory Card
PQI, an industry leader with one of the top ten brands of flash memory cards in the world, has just released the all-new SDXC Class 10 memory card. With its large storage capacity and high transfer speeds, the SDXC Class 10 answers the call of current market requirements for higher resolutions by providing the capability to support large volumes of high resolution video, images, and music file storage. The PQI SDXC Class 10 memory card smashes SDHC's former high capacity limit of 32GB by doubling capacity to 64GB and upgrading the Class 10 SD 2.0 interface to high speed SD 3.0 specifications in one fell swoop. These advances yield even more outstanding transfer speed performance, and with the exFAT file system format, it can easily reproduce the file interoperability of desktop computers and portable media devices using other operating systems. PQI's latest product delivers the perfect combination of capacity, speed, and compatibility to easily satisfy the high demands of Full HD digital video recorders, high-end, ultra-high resolution single lens cameras, HDTV, Blu-ray disc players, mobile phones, car-based GPS systems, and other specialized entertainment applications.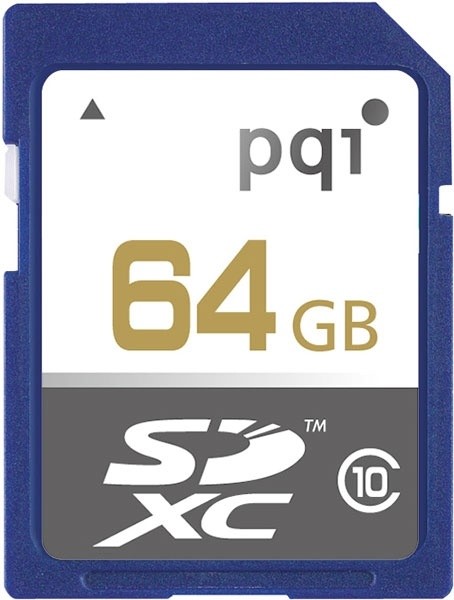 The PQI SDXC Class 10 memory card conforms to the SD Association's SD eXtended Capacity (SDXC) specifications with a card capacity that can be upgraded from 64GB to 2TB. The SDXC's mega 2TB capacity is 64 times greater than current SDHC memory cards, and along with this increase in storage capacity, the need for high read and write speeds becomes even more crucial. One 2TB SDXC memory card can store approximately 100 HD movies, 60 hours of recorded HD video, or 17,000 high resolution images, and also satisfies needs for extended length and high resolution video recording by enabling consumers to shoot continuous high-speed RAW files. It is the superior choice for the latest in SDXC-compatible video recorders.
In order to show off the brand image and achieve product differentiation, PQI SDXC memory cards are packaged in pure white. This offers up a sense of minimalism while transmitting the message of how closely linked technology is with our lives. This concise and attractive portable storage device ensures that memory cards are never again seen as a just a combination of lifeless electronic components. In addition to distinguishing itself from the normal market emphasis on memory card speed and capacity, PQI also places a great deal of attention on enhancing the quality of life for its customers. For the latest information on PQI, please visit PQI's global website at http://www.pqigroup.com.
Last updated: Apr 7, 2020 at 12:03 pm CDT