MSI's all new extreme performance R6970 and R6950 video cards announced;
experience DirectX 11 with FREE select bundles of 3DMark11 Advanced Edition!
Taipei-Taiwan - The pursuit of extreme performance is always the most important consideration for top power users when selecting computer components, and competing manufactures always strive to be the best in the flagship product market. Because of this, world-renowned video card and mother board manufacturer Micro-Star Intl Co. Ltd., in collaboration with graphics processing unit manufacturer AMD, is proud to announce two brand-new R6900-series video card today. The new MSI R6970-2PM2D2GD5 and R6950-2PM2D2GD5 graphics cards, based on AMD's flagship HD6900 GPU , includes an industry-leading 2GB 256-bit GDDR5 large capacity video memory buffer, satisfying the enthusiast's thirst for high-resolution graphics performance. Additionally, with specially marked packages users can receive a free Advanced Version of 3DMark11, allowing the full DirectX 11 experience to be enjoyed. You can also upload your results onto their official website and compare your results against users from around the world!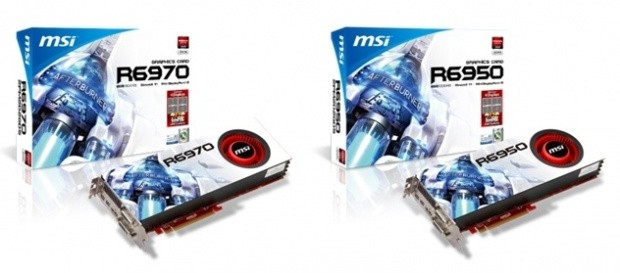 Supports next-generation 3D format and media transfer interface
The new MSI R6970-2PM2D2GD5 and R6950-2PM2D2GD5 graphics cards both support next-generation DisplayPort 1.2 and HDMI 1.4a interfaces with stereoscopic 3D capability, as well as 7.1 channel lossless high quality TrueHD and DTS-HD audio formats. Equipped with AMD Eyefinity multi-screen display technology, up to four screens can be rendered from a single video card using two DisplayPort 1.2 and other output interfaces. This makes the MSI R6900-series a high performance video card with flexible multimedia options and outputs.
MSI's exclusive Afterburner overclocking software
MSI R6800 graphics card leverages MSI's exclusive Afterburner software, allowing adjustment of fan speed by different load conditions. Moreover, Afterburner can save up to 5 overclock setting profiles, achieving the perfect balance between performance and tranquility. In addition, real-time monitoring of GPU temperature, core clock, voltage; load level and fan speed is available, allowing users to easily grasp every detail of the video card.
Free 3DMark 11 Advanced Edition Coupon Provided to Fully Experience the Ultra-astonishing Effects of DirectX 11!
MSI, the official mainboard and graphics card partner of 3DMark 11, continues the celebration of 3DMark11's official release with a special promotion that provides a 3DMark 11 Advanced Edition Coupon inside select N570GTX-M2D12D5 graphics cards with 3DMark 11 boxes as well as packages specially-marked with 3DMark 11 stickers*. Gamers can download the free edition on the official 3DMark 11 website and enter MSI's advanced edition activation code to access 3DMark 11 advanced edition functions. Not only will you get to experience the astonishing effects of DirectX 11, but you will also be able to upload your own system performance and compete with other top gamers online!
All-Solid Caps for High Stability and Performance
Providing increased stability, the MSI R6900 series graphics cards implements an all-solid capacitor design. Under high load environments over an extended period of time, the aluminum core can still maintain extremely high stability, reducing the uncertainty due to system instability or hardware component failure. This ensures the optimal user experience under mission-critical performance scenarios!
* Packaged accessories of MSI R6900-series graphics card may vary dependent on territory. Only R6900-series graphics card with special 3DMark 11 packaging or 3DMark 11 stickers on the box will be bundled with the Free 3DMark 11 Advanced Edition coupon.
Last updated: Apr 7, 2020 at 12:03 pm CDT