HIS Announces its Radeon HD 6900 Series Graphics Accelerators
Today, Hightech Information System (HIS) Limited have the pleasure to announce the HIS 6970 & 6950 graphics card. Loaded with our all-in-one technology - HD3D, Eyefinity 4, EyeDefinition and EyeSpeed, the new HIS Radeon HD 6970 & 6950 deliver flawless image quality and unbelievable performance, making it the ultimate solution for enthusiast gamers. HIS 6950 2GB GDDR5 accelerate advanced PC gaming by running at 800MHz core clock speed and 5,000MHz memory clock speed. HIS 6970 supplies with the same 2GB GDDR 5 but higher core clock speed at 880MHz and higher memory clock speed at 5,500MHz.
Powered by the top-of-the-line 6900 GPU, HIS 6970 & 6950 not only offer incredible HD gaming performance on all the latest games and DirectX 11 support, but also makes multi-tasking easier with features like EyeDefinition and EyeSpeed technology. What's more? The immersive HD gaming experience is brought the next level by AMD Eyefinity 4 Technology. This revolutionary multi-display technology allows you to expand your visual real estate across up to 4 displays with innovative "wrap around" capabilities to maximum your field of view with incredible sharpness and clarity.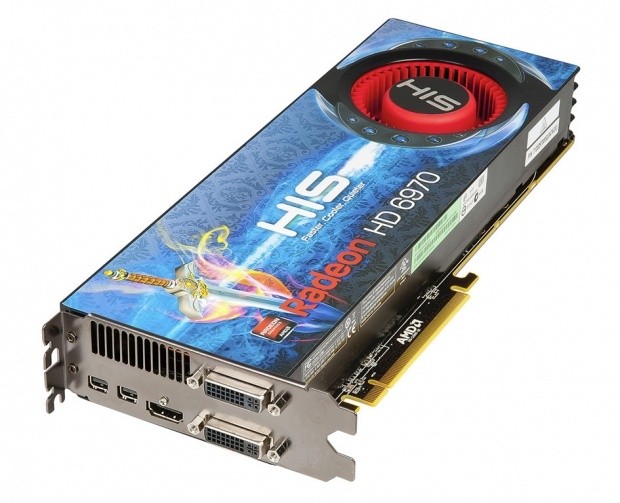 HD3D Stereoscopic Technology
HD3D technology transmits two separate images to each of your eyes at the same time at a resolution beyond 1080p. Supported with HD3D glasses, this technological innovation comes with Stereo 3D gaming, Blu-ray 3D, 3rd Party Stereo 3D middleware software and 6800 Series GPU support. The S3D glasses is the best synchronization between display and eyewear; it is easy to use and excellent in conveying brighter and better images. To meet the ever-increasing demand of hi-tech consumers, HD3D technology streams stunning visuals and offers an unrivaled audio experience with compatible displays - HDMI 1.4a Legacy 3D TVs, 3D projectors and 3D Monitors.
[img]2[/img]
Get immersed with AMD Eyefinity technology
An immersive experience that expands your game across multiple displays. Welcome to surround sight.
Get amazing EyeDefinition graphics with DirectX 11 technology
Play the latest DirectX 11-capable games in true "EyeDefinition" with the AMD Radeon HD 6800 Series graphics. AMD's second-generation DirectX 11-capable architecture enables ultra-realistic effects and lightning fast frame rates for the ultimate HD gaming experience.
Speed up applications and enjoy brilliant video with AMD EyeSpeed technology
Get fast applications and incredible video with AMD EyeSpeed technology. Get more from your system than just great gaming with AMD EyeSpeed visual acceleration technology. Experience enhanced application performance and incredible video quality online or with your favorite Blu-ray movie.
Prices:
• US: $369.99 for the HIS HD 6970, and $299.99 for HIS HD 6950.
• UK: £279.99 inc VAT for HIS HD 6970, and £219.98 inc VAT for HIS HD 6950.
For more information, visit the product pages of the
HIS HD 6970
and
HIS HD 6950
.
Last updated: Apr 7, 2020 at 12:03 pm CDT