Patriot Announces Ultra-Fast Single-Chip USB 3.0 Flash Drive
New Supersonic flash drives deliver blazing-fast external USB 3.0 storage in a portable form factor
FREMONT, CALIF., USA - December 9, 2010 - Patriot Memory, a global pioneer in high-performance memory, NAND flash, storage and enthusiast computer products, today announces the Supersonic USB 3.0 flash drive series with a native single-chip USB 3.0 controller. The Patriot Supersonic series breaks away from typical USB 3.0 flash drive and delivers blazing-fast performance with its Quad-Channel technology in a miniature ultra-light form factor.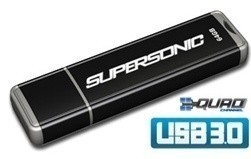 The Patriot Supersonic series eliminates performance bottlenecks introduced when using a separate USB 3.0 bridge chip by integrating a native USB 3.0 flash memory controller. This results in a smaller footprint and higher performance than bridge based solutions - see chart below.
[img]2[/img]
"Patriot is one of the first companies to integrate a native single-chip USB 3.0 flash memory controller. By pairing the controller with our Quad-Channel technology, we're able to maximize performance with the Supersonic series," says Les Henry, Patriot Memory's Vice President of Engineering. "We are able to shrink the physical size of the USB 3.0 flash drives for even greater portability."
An aluminium housing makes the Supersonic series ultra-lightweight, portable and stylish. The housing delivers extreme durability with shock resistance up to 15Gs to ensure safe transportation of your data.
Expect the Patriot 32GB and 64GB Supersonic USB 3.0 flash drives to be available early Q1 2011.
General Details
• Patriot Supersonic Series - single-chip USB 3.0 flash drives
• Quad-Channel technology
• Blazing-fast performance
• 32GB and 64GB capacities
• Sequential read speed: 100MB/s
• Sequential write speed: 70MB/s
For more information about Patriot's products and solutions, please contact your Patriot Sales Representative or visit http://www.patriotmemory.com/
About Patriot Memory:
Patriot Memory designs, manufactures and markets high performance, enthusiast memory modules, flash products, and computing technologies. Patriot products have become world renown for their extreme performance, reliability and innovation. Patriot Memory sells its products through original equipment manufacturers, retailers, e-tailers and distributors. It has operations in North America, Asia and Europe. Patriot Memory LLC, was founded in 1985 and is headquartered in Fremont, California, USA.
Last updated: Apr 7, 2020 at 12:03 pm CDT