NVIDIA SLI Technology and Intel Sandy Bridge Form the Ultimate Gaming PC
Dec 7, 2010 8:48 AM CST
NVIDIA SLI Technology and Intel Sandy Bridge Form the Ultimate Gaming PC
Intel, ASUS, Gigabyte, MSI and EVGA to Offer Sandy Bridge/P67 Motherboards With Full Support for NVIDIA SLI Multi-GPU Technology
SANTA CLARA, CA -- (Marketwire) -- 12/07/2010 -- NVIDIA today announced that NVIDIA SLI technology has been licensed by the world's leading motherboard manufacturers -- including Intel, ASUS, Gigabyte, MSI and EVGA -- for use on their Intel P67 Express Chipset-based motherboards designed for the upcoming Intel Sandy Bridge processors.
As a result, customers who purchase a SLI-certified P67-based motherboard and a Sandy Bridge processor can equip their PCs with a single or a dual combination of NVIDIA GeForce(R) GPUs, including the recently released GeForce GTX 580 GPU and GTX 570, the world's fastest DX11 GPUs. 3-way SLI is also available on supported[i] platforms.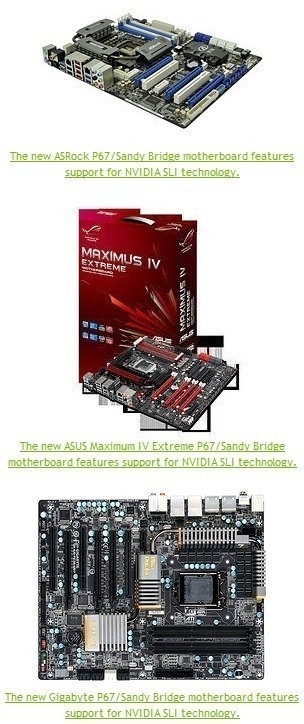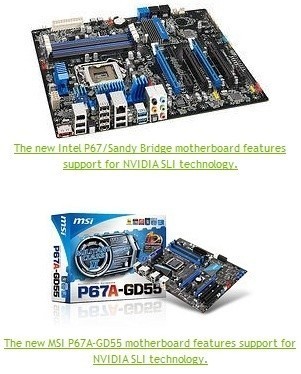 "The combined processing prowess of Sandy Bridge and NVIDIA SLI technology will provide consumers with the building blocks for the ultimate gaming PC platform," said Joel Christensen, General Manager of Intel Client Board Division at Intel Corporation. "Both NVIDIA and Intel continue to share a combined passion for furthering the PC as the definitive platform for gaming, and this combination will surely be attractive to anyone building or purchasing a brand new PC in 2011."
With today's announcement, NVIDIA SLI technology is now available for all consumer-based desktop and mobile PC platforms, including the Intel Core i7, Core i5, Core i3, Core 2 Quad and Core 2 Duo processors, as well as those based on the AMD Phenom II CPU.
NVIDIA DX11 GPUs are designed to deliver the world's fastest performance for DX11 games, and are the only consumer GPUs to feature multiple tessellation engines for advanced graphics rendering capabilities. With a certified NVIDIA SLI motherboard, gamers have the option to add a second GeForce GPU to their PC, which can result in up to 2x the overall graphics performance.
NVIDIA GeForce GPUs also provide gamers with additional features not found on any other discrete graphics solutions, including NVIDIA PhysX technology for deeper gaming immersion, as well as support for NVIDIA 3D Vision technology, delivering eye-popping stereoscopic 3D on a single display or spanning across three screens for an immersive gaming environment.
"ASUS is excited to bring NVIDIA SLI technology to our latest P67 based motherboards for Sandy Bridge CPUs," said Joe Hsieh, Vice President of ASUSTeK Computer Inc. "SLI is the leading multi-GPU technology and is demanded by our enthusiast customers."
For more information on NVIDIA SLI technology, please visit: http://bit.ly/grvFP8
Note to editors: to download images of new P67/Sandy Bridge motherboards from companies listed in this press release, please visit: http://bit.ly/gtIlJZ
Partner Quotes
"With the latest generation of EVGA graphics cards, NVIDIA has made further improvements to SLI technology to even better utilize the GPUs and achieve nearly double the performance," said Bob Klase, VP of Sales at EVGA. "Now with the EVGA P67 SLI motherboard, the latest generation of Intel CPUs can take advantage of this must-have technology."
"SLI has become required equipment for any serious gaming platform since it was introduced in 2004," said Kelt Reeves, President of Falcon Northwest. "The potent pairing of Sandy Bridge CPUs and SLI will be the dominant recipe for designing high-end enthusiast PCs from this point forward."
"Gamers looking for the best bang for the buck will naturally gravitate towards Sandy Bridge and SLI platforms," said Richard Chen, VP of Product Center of GIGABYTE. "This combination will provide enthusiasts with the best gaming platforms for 2011."
"We are excited to offer SLI on our latest Intel platform motherboards," said Scott Yang, Vice President, Motherboard Sales Dept. at MSI. "Our customers demand the best and NVIDIA GeForce GPUs running in SLI configuration on Sandy Bridge platforms will certainly deliver the goods."
About NVIDIA
NVIDIA (NASDAQ: NVDA) awakened the world to the power of computer graphics when it invented the GPU in 1999. Since then, it has consistently set new standards in visual computing with breathtaking, interactive graphics available on devices ranging from tablets and portable media players to notebooks and workstations. NVIDIA's expertise in programmable GPUs has led to breakthroughs in parallel processing which make supercomputing inexpensive and widely accessible. The Company holds more than 1,600 patents worldwide, including ones covering designs and insights that are essential to modern computing. For more information, see www.nvidia.com.
Last updated: Apr 7, 2020 at 12:03 pm CDT
PRICING: You can find products similar to this one for sale below.

United States: Find other tech and computer products like this over at Amazon.com

United Kingdom: Find other tech and computer products like this over at Amazon.co.uk

Australia: Find other tech and computer products like this over at Amazon.com.au

Canada: Find other tech and computer products like this over at Amazon.ca

Deutschland: Finde andere Technik- und Computerprodukte wie dieses auf Amazon.de
Related Tags