A-Data Also Announces S101 Compact and Afforable USB Flash Drive
ADATA Technology, after listening attentively to the voice of the market, ADATA has launched a new product in its Superior series of flash drives, the S101. Produced under advanced COB (Chip On Board) manufacturing processes, the S101 is a compact and delicate technological jewel. High quality black leather exterior with a unique and comfortable toothed texture allows you to manifest your personal sense of elegance, at a price the stays true to your sense of moderation.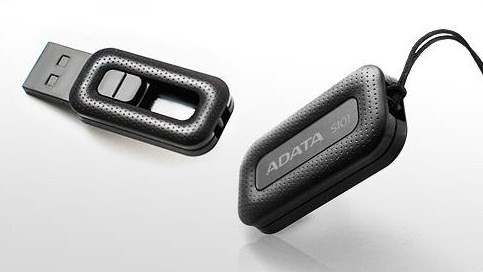 Advanced Manufacturing Process
This new addition to the superior series has a smaller profile due to the COB manufacturing used. With a length of only 3.3 cm, and width of 1.6 cm, the S101 is more compact than traditional USB flash drives, and as small and exquisite as a Bluetooth headset.
Minimum Size, Total Satisfaction
The design of the S101 eliminates unnecessary design elements, resulting in a simple look with a sleek, curved exterior that matches the handy sliding connector function. The one piece strap hole provides easy portability, significantly reducing the risk of loss.
Economical Choice in Elegant Technology
The S101 flash drive has a fine-grade black leather surface, with a bright ADATA logo emblazoned on the glossy side plate. It showcases your desire for quality tech paraphernalia, at a price that is lower than the industry standard.
ADATA pays attention to the voice of consumers, providing subtly elegant design and quality at an affordable price. Now everyone can enjoy trendiness and a touch of extravagance without breaking the bank.
Users can also take full advantage of ADATA's free-download value-add software, including UFDtoGO, OStoGO and the latest Norton Internet Security 2010 (60-day trial) to enhance both mobility and security of their ADATA USB flash drives with just few easy mouse clicks away. S101 is backed by lifetime product warranty.
Last updated: Apr 7, 2020 at 12:03 pm CDT