Huntkey Announces 80 Plus Gold Certified X7 1200W and 300W PSUs
Huntkey Enterprise Group held its Huntkey 80PLUS GOLD Certified Power Supplies launch conference successfully at 2:00 PM on November 23 at Dinghao's meeting hall. With a theme of "Surmounting", this conference released a series of 80PLUS Gold certified power-supplies with rated power of 300W and 1200W. It attracted many famous national IT media and overclockers.
Huntkey Vice President, Mr. Liu, global marketing manager, Mr. Tang, and global product manager, Mr. Villa, shared their opinions with audience. "Today's launch of 80PLUS Gold certified power supplies is dedicated to both overclockers and mainstream users alike. We hope to bring energy-saving, safe, high quality but cost-effective products to more users," Mr. Liu said. "300W and 1200W 80PLUS Gold certified power supplies stand for Huntkey's pursuit of two extremes, one for high-end quality, and the other for entry level users. The surmounting theme shows Huntkey's commitment for innovation." said another Huntkey representative in charge of the conference.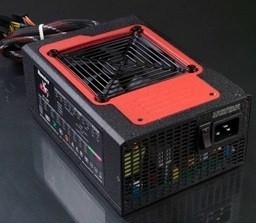 The X7 1200W 80PLUS Gold certified power supply is the upgraded version of the X7 1200W 80PLUS silver certified version. This version adopts four advanced technologies, including phase-shifted full-bridge, CRM interleaved PFC, synchronous rectification and DC to DC module. Six +12V rails with combined output 99A support extreme overclocking. For material choice, Japanese capacitors ensure its good performance during overclocking. Compared to 1200W, the 300W 80PLUS gold certified power supply is dedicated to mainstream groups. It adopts LLC resonant synchronous rectification and DC to DC module design. At typical load, it can reach 91% efficiency. 2X 6-pin PCIe connector support GTX 460/HD 6850 graphic cards and Japanese capacitor adoption make it a better choice for mainstream gamers.
[img]2[/img]
Villa Li, Huntkey global marketing manager, said "The X7 1200W silver version got great feedback from many global overclockers after their testing, and as for its upgraded version, I think it will impress users as well. This version is launching worldwide. For 300W 80PLUS gold version, it will be sold first in mainland China and will come to the global market soon."
Last updated: Apr 7, 2020 at 12:03 pm CDT