AMD and Coulomb Technologies Help Develop the Burgeoning Electric Vehicle Market in Austin and Silicon Valley
AMD installs EV charging stations at its Austin, TX campus and plans to install stations at Silicon Valley site in 2011
SUNNYVALE, Calif. -11/23/2010
AMD (NYSE: AMD) and Coulomb Technologies, Inc. today announced AMD has installed three Coulomb-manufactured ChargePoint® electric vehicle (EV) charging stations at its Austin "Lone Star" campus for employees, and plans to install additional stations at its Sunnyvale campus in spring 2011. The Austin ChargePoint stations were supplied and installed by Verdek, the exclusive distributor for Coulomb Technologies in the Southern States.
The ChargePoint® Networked Charging Stations are being installed to benefit AMD employees seeking sustainable and cost-effective commute options, and are also designed to help develop the EV market. The ChargePoint network will enable AMD to control access to authenticate users, and measure electricity usage.
"AMD is an established leader in environmental responsibility, from being a U.S. EPA Green Power Partner, to its LEED® Gold certified campus in Austin to its international, award-winning Go Green commuter program," said Tim Mohin, Director of Corporate Responsibility at AMD. "AMD's EV charging stations will support the development of the electric vehicle market while providing another option for our employees to commute to work sustainably and give them the confidence they need to seriously consider an EV purchase."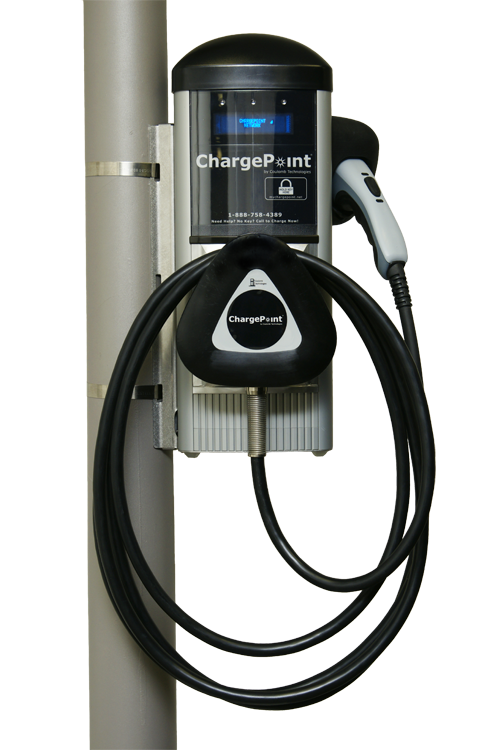 "AMD is preparing for the future of transportation by welcoming infrastructure for electric vehicles," said Richard Lowenthal CEO at Coulomb. "We are proud to be a part of AMD's efforts to reduce emissions, promote corporate responsibility and workplace charging."
AMD Austin's charging stations can support six vehicles simultaneously and are powered by 100 percent renewable energy. The charging stations have dual outputs that deliver energy simultaneously: a 7.2 kW output delivering Level II (208/240 VAC @ 30 A) charging via the standard SAE J1772 connector and fixed 18-foot cable, and a 2 kW output delivering Level I (120 VAC @ 16 A) charging via a standard NEMA 5-20 receptacle protected behind a locking door.
The ChargePoint networked EV charging station is managed by the ChargePoint® Network and provides EV drivers the ability to locate and navigate to the charging station from any smart phone and the ability to detect charging station availability from a smart phone or Google Maps. The ChargePoint Network also facilitates EV trip mapping, driver billing, 24/7 driver assistance, and greenhouse gas and energy savings (kWh) measurement.
Supporting Resources
AMD blog on EV charging stations
About Coulomb Technologies, Inc.
Coulomb Technologies is the leader in electric vehicle charging systems and application services, with the ChargePoint Network now operating in 14 countries, and Network Operations Centers in the U.S., London, and Hong Kong. Coulomb provides a vehicle-charging infrastructure, with an open system driver network: the ChargePoint Network provides multiple web-based portals for Hosts, Fleet managers, Drivers, and Utilities, and ChargePoint Networked Charging Stations ranging in capability from 120 Volt to 240 Volt AC charging and up to 500 Volt DC charging. For more information, follow Coulomb on Twitter at twitter.com/coulombevi. To request a charging station in your area, visit www.mychargepoint.net/request-station.php.
About AMD
Advanced Micro Devices (NYSE: AMD) is an innovative technology company dedicated to collaborating with customers and technology partners to ignite the next generation of computing and graphics solutions at work, home and play. For more information, visit http://www.amd.com.
Last updated: Apr 7, 2020 at 12:03 pm CDT