Noctua presents NH-C14 premium cooler
Vienna, November 23rd 2010 - Noctua today officially introduced its new NH-C14 CPU cooler. Sporting an exquisite, uniquely flexible 140mm dual fan setup of two Noctua NF-P14, the NH-C14 is a highly customisable, premium-class top-flow solution that further boosts the renowned quiet cooling performance of the company's much acclaimed NH-C12 series.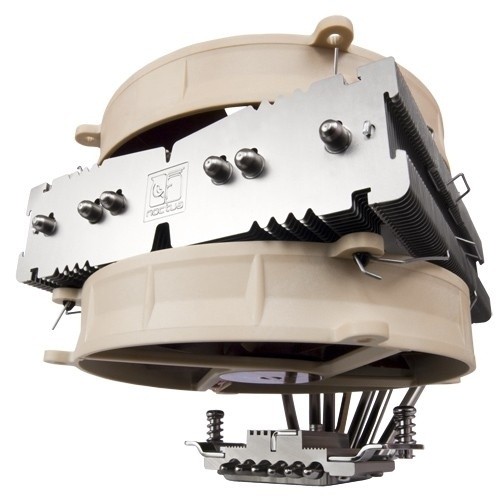 "Our NH-C12 coolers are renowned to rank among the most capable top-flow cooling solutions on the market, so we're truly proud to offer a further substantial improvement in quiet cooling performance with the new NH-C14", says Mag. Roland Mossig, Noctua CEO. "This model really closes the gap to good tower coolers while being much lower in height and ensuring better component cooling."
[img]2[/img]
The NH-C14's six heatpipe c-type design with two NF-P14 FLX 140mm fans brings top-flow cooling performance to a new level while maintaining a much lower profile than today's tower-style coolers and providing excellent airflow over RAM modules and near-socket mainboard components.
[img]3[/img]
The two supplied NF-P14 premium fans can be installed on top and underneath the fin-stack to configure the cooler for maximum performance in dual fan mode and either lower profile or maximum component clearance in single fan modes. Run with a single NF-P14 fan underneath the fin-stack and with the top fan removed, the NH-C14 measures only 105mm in height, which makes it ideal for use in smaller enclosures and HTPC applications. Run with a single fan on top, the NH-C14 provides a full 65mm of clearance for chipset coolers or RAM modules with high heat-spreaders.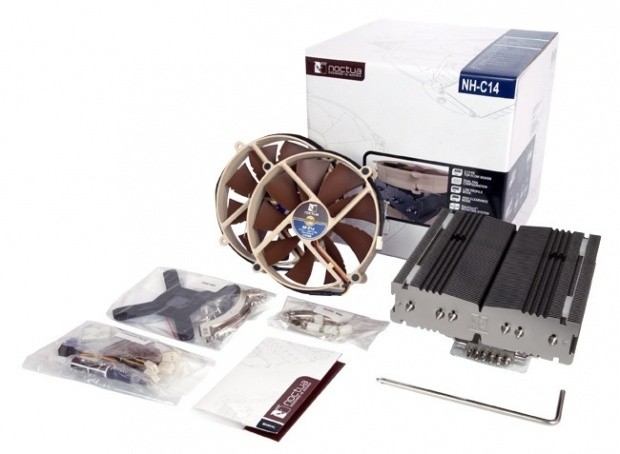 Topped off with a tube of Noctua's award-winning NT-H1 thermal compound, Low-Noise and Ultra-Low-Noise Adaptors (U.L.N.A.) as well as the professional SecuFirm2™ multi-socket mounting system (LGA1366, LGA1156, LGA1155, LGA775, AM2, AM2+ and AM3), the NH-C14 forms a complete quality package for the highest demands.
Price and availability
The NH-D14 will be available in early December at a recommended retail price of EUR 74.90 / USD 84.90.

Details:

http://www.noctua.at/main.php?show=productview&products_id=37&lng=en

Specifications:

http://www.noctua.at/main.php?show=productview&products_id=37&lng=en&set=1


About Noctua

Designed in Austria, Noctua's premium cooling components are internationally renowned for their superb quietness, exceptional performance and thoroughgoing quality. Having received more than 1000 awards and recommendations from leading hardware websites and magazines, Noctua's fans and heatsinks are chosen by more than a hundred thousand satisfied customers around the globe.

Last updated: Apr 7, 2020 at 12:03 pm CDT