Super Talent USB 3.0 RAIDDrive over 370 MB/s
The World's fastest USB 3.0 flash drive just got faster...
San Jose, California - November 22, 2010 - Super Talent Technology, a leading manufacturer of Flash storage solutions and DRAM memory modules, today announced their USB 3.0 RAIDDriveTM is now even faster.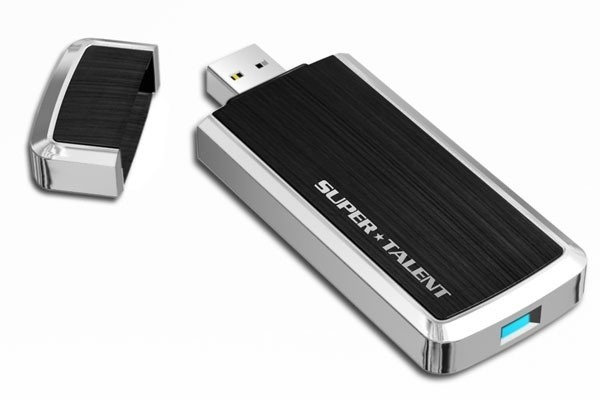 When we introduced the USB 3.0 RAIDDrive, we knew that we had reached the limit of the USB 3.0 host controllers currently available. Now that 2nd generation USB 3.0 host controllers are beginning to emerge, this drive is able to show its true performance. Completely unchanged since its debut in January 2010, this drive now posts scores over 370MB/s; a full 55MB/s faster.
"This product yet again underscores Super Talent's continued leadership in the USB 3.0 storage market. We now have five USB 3.0 flash drives: from the very fastest, RAIDDriveTM, to the ultra-affordable, Express DUOTM", said Super Talent COO, C.H. Lee.
YouTubeTM Video-Benchmark:
http://www.youtube.com/gosupertalent#p/u/12/ik5fFEsvTQg
This drive was benchmarked using the new Fresco Logic FL-1009B, the fastest USB 3.0 solution we have tested to date.
All our USB 3.0 drives are fully backward compatible with USB 2.0 ports, at USB 2.0 speeds. Both our USB 3.0 RAIDDriveTM and USB 3.0 Express DUOTM drive use SuperTalent patented technology and are protected under US Patent # 7457897.
About Super Talent Technology
Super Talent Technology Corporation based in San Jose, California, designs and manufactures a full range of DDR, DDR2, and DDR3 memory modules and Flash based storage devices for computers and consumer electronics. An ISO 9001 certified company, Super Talent utilizes its state-of-the-art factories and leading-edge components to produce award winning products with outstanding reliability. Super Talent is an active member of the JEDEC and ONFI standards bodies. With over 250 patents, the company was ranked 38th in the 2009 Wall Street Journal's Patent ScorecardTM for the IT industry.
Last updated: Apr 7, 2020 at 12:03 pm CDT