Thermaltake Announces Dokker PC Case with SATA HDD Dock
Thermaltake, leading DIY chassis brand, is launching their newest top-mounted HDD single bay docking station PC chassis, the all-black DOKKER. With the DOKKER mid-tower chassis Thermaltake is expanding their successful series of docking station chassis into the mainstream segment. The convenient dual-use single HDD docking station right on the front top of the case can accommodate one 3.5" or 2.5" SATA drive as needed. This hot-swap mechanism allows for fastest on-the-go data transfers without the need to install any software or hardware. As is custom with Thermltake cases, the DOKKER also provides for excellent airflow with the option to install up to 7 fans. A whooping 10 drives can be installed, while the HDD drive bays offer an anti-vibration design, guaranteeing a silent computing experience.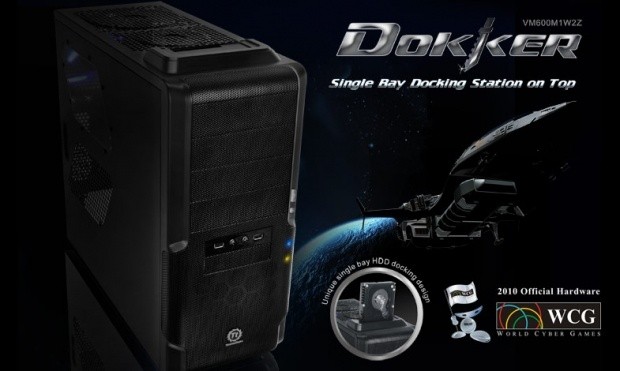 The stylish metal-mesh front panel accelerates cold air intake and therefore dramatically increases overall cooling. At the rear top of the DOKKER, where inside heat usually accumulates most, a 120 cm blue LED fan with 1300 RPM warrants for swift heat exhaust while at the same time creating a unique ambience. Another optional 5 fans can make the DOKKER to a true cooling house when installed. As this case supports even the latest high-end graphics cards up to a length of 12.5" (e.g. ATI 5970) the left side panel has an area with pre-drilled ventilation holes where yet one more fan can be installation in order to specifically cool down the graphics cards configuration. This brings it down to a total of 7 possible cooling fans.
[img]2[/img]
For those who prefer even more powerful cooling, the DOKKER is ready for liquid cooling setups with two holes for 1/2", 1/8" and 1/4" water tubes in back. Also reserved liquid cooling hole supports high-performance 24cm, 12cm water cooling radiator.
[img]3[/img]
An extra large motherboard tray hole design allows for easy removal/exchange of CPU coolers. As the DOKKER provides massive storage capability with 3 x 5.25", 1 x 3.5" (Accessible) and 5 x 3.5", 1 x2.5" HDD/SSD bays, reserved holes for cable routing management are an substantial part of this chassis.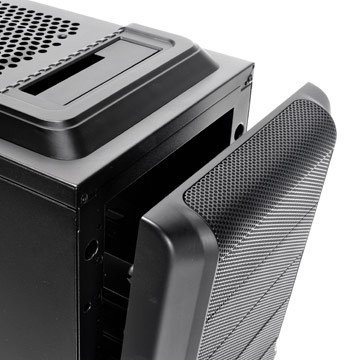 Pre-installed dust filters for fan, PSU and 5.25" drive bays can avoid outside dust to find its way into your power supply and chassis. Especially the dust filter underneath the PSU is easily removable and cleanable.
For more information, visit the
product page
.
Last updated: Apr 7, 2020 at 12:03 pm CDT