SteelSeries Introduces MMO Keyset for Shift Keyboard
SteelSeries, the leading manufacturer of gaming peripherals and accessories today, introduced the SteelSeries MMO Keyset for the Shift gaming keyboard. The SteelSeries MMO Keyset transforms the Shift into a feature-rich MMO Keyboard with an intuitive, preconfigured layout of keys that are labeled for movement, communication, and emotes. The new keyset brings gamers a superior and more cost-effective keyboard option compared to buying an MMO-only keyboard.
"The new MMO Keyset is an excellent example of how the SteelSeries Shift Keyboard is offering gamers an entirely new set-up, specific to the type of game they're currently playing, without having to commit to a big purchase, " said Bruce Hawver, SteelSeries' CEO.
[img]2[/img]
Each SteelSeries Shift Keyset is identified and made compatible with the Shift's base through the SteelSeries ID2C, a unique, programmed chip found on the backside of each keyset that is powered by SteelSeries Engine Software. The software provides easy, intuitive drag-and-drop macro management and recording capabilities for every key. Gamers can toggle between three layers of F keys including two emote layers, enabling 24 of the most common pre-programmed MMO emotes. While, on the right side of the Keyset, players can shift between three layers of A keys, which are preconfigured for custom mappings. Users will also appreciate quick access to the voice key for instant push-to-talk.
[img]3[/img]
Compatible with all current MMO titles, the MMO Keyset can be entirely customized, providing gamers with the ability to record a sequence of actions with delays and then map that sequence to any key. Every key can be further remapped in 3 layers allowing several different actions on a single key. With its anti-ghosting capability the Shift allows up to 7 simultaneous keystrokes making it an ultimate tool for keyboard-extensive MMO games.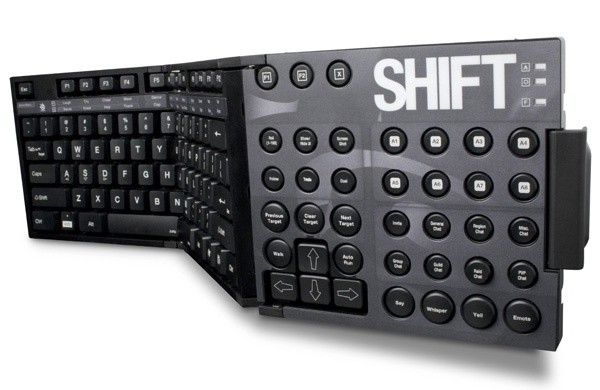 The SteelSeries Shift MMO Keyset is sold separately from the SteelSeries Shift Keyboard for $24.99 USD/ €24.99.
Last updated: Apr 7, 2020 at 12:03 pm CDT