ASUS GTX580 sets New World Records with the Latest DirectX® 11 Graphics Technology from NVIDIA®
-- The ASUS GTX580 features the award winning ASUS Voltage Tweak technology with NVIDIA's latest GTX580 GPU for the best game play experience and GPU compute performance --
Fremont, CA (November 17, 2010) - ASUS, the world's number 1 motherboard manufacturer and leading innovator in graphics cards, is proud to introduce NVIDIA's new flagship GTX580 Graphical Processing Unit (GPU). The ASUS GTX580 easily surpasses previous performance levels in single GPU designs, ushering in unprecedented levels of realism in cutting edge DirectX 11 game titles.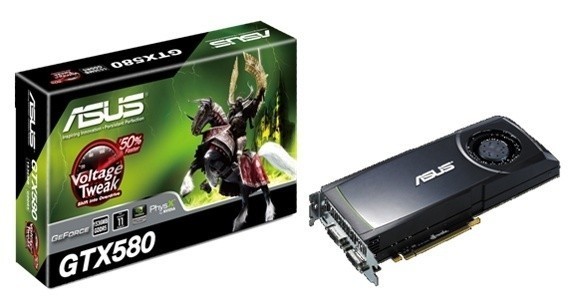 At the heart of the ASUS GTX580 are 512 CUDA cores along with a refined design offering substantial increases in performance while running cooler and quieter than the previous generation. ASUS has added its exclusive Award Winning Voltage Tweak technology to the GTX580 allowing performance enthusiasts to reach higher clock speeds for improved game performance or benchmark scores.
ASUS' GTX580 also offers support for the latest in immersive gaming technologies such as NVIDIA 3D Vision™ and NVIDIA Surround technologies. ASUS' GTX580 redefines the user experience by pushing on-screen resolution and image quality to new performance levels with NVIDIA SLI™ technology by combining multiple NVIDIA graphics solutions in an SLI-Certified motherboard.
Product Highlights
• ASUS Voltage Tweak technology gives users a quick and easy way to overvolt the graphics card to achieve new levels of performance. ***
• The ASUS GTX580 is factory overclocked at 782MHz with 512 CUDA cores, 1536MB of GDDR5 video memory running at over 4GHz and a 384-bit memory interface that opens up performance by removing data transmission bottlenecks and allows a higher level of graphic fidelity.
• Support for NVIDIA® 3D Vision™ Surround in full 1080p HD - users can expand 3D games, movies and photos on up to three* screens at once for the most immersive PC multimedia experience around.
• With its over-the-top power, ASUS GTX580 opens up optimal utilization of DirectX® 11 features such as advanced tessellation and real time ray tracing. This enables high resolution PC gaming in unprecedented detail, allowing even the most taxing titles to run smoothly at maximum frames rates.
• HDMI 1.4a offers users the fastest, highest-bandwidth standard available for high definition video and audio output.
3DMark Vantage World Records
ASUS is proud to announce a new world record in Futuremark's 3DMark Vantage. Featuring ASUS' innovative hardware designs and the skill of top overclocker NickShih, the combination of the ROG Rampage III Extreme motherboard, Intel's Flagship 980X processor and Voltage Tweaked GTX580 in SLI broke the 70K barrier with a score of 71,167**. This world record continues to show why ASUS is the 1 choice for overclockers and gamers those looking for the absolute best in performance.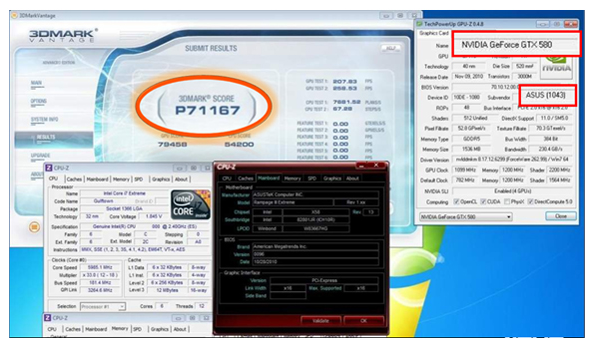 http://hwbot.org/community/submission/1078564_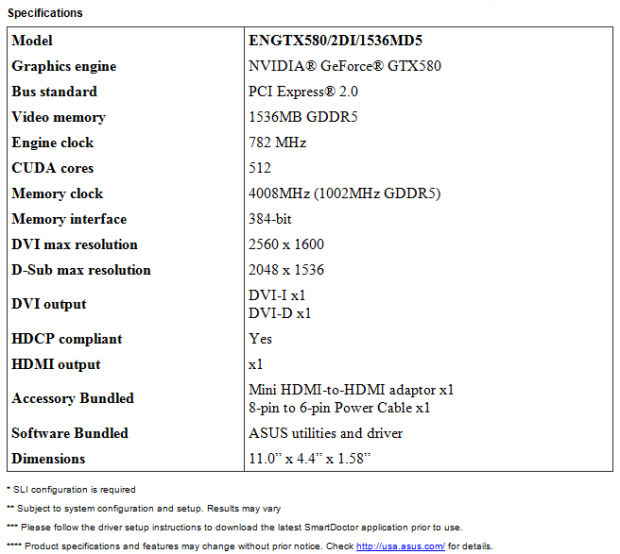 About ASUS
ASUS, the world's top 3 consumer notebook vendor and the maker of the world's best selling and most award winning motherboards, is a leading enterprise in the new digital era. ASUS designs and manufactures products that perfectly meet the needs of today's digital home, office and person, with a broad portfolio that includes motherboards, graphics cards, displays, desktop PCs, notebooks, netbooks, servers, multimedia, wireless solutions, networking devices and mobile phones. Driven by innovation and committed to quality, ASUS won 3,268 awards in 2009, and is widely credited with revolutionizing the PC industry with the Eee PC™. With a global staff of more than ten thousand people and a world-class R&D team of 3,000 engineers, the company's revenue for 2009 was US$7.5 billion.
Last updated: Apr 7, 2020 at 12:03 pm CDT